Kyiv: Ukrainian presidential adviser and peace talks negotiator Mykhailo Podolyak said on Saturday that any agreement with Russia could not be trusted, adding the only way to stop Moscow's invasion was by force.
"Any agreement with Russia isn't worth a broken penny," Podolyak wrote on the Telegram messaging app. "Is it possible to negotiate with a country that always lies cynically and propagandistically?"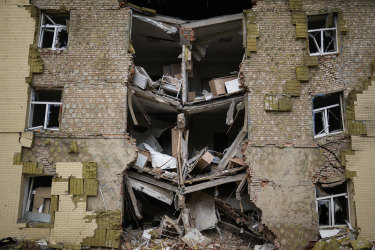 Debris hangs from a residential building heavily damaged in a Russian bombing in Bakhmut, eastern Ukraine, on Saturday.Credit:
Russia and Ukraine have blamed each other after peace talks stalled, with the last known face-to-face negotiations on March 29. The Kremlin said earlier this month Ukraine was showing no willingness to continue peace talks, while officials in Kyiv blamed Russia for the lack of progress.
Ukrainian President Volodymyr Zelensky said the only person worth talking to was Russian President Vladimir Putin, since he made all the decisions.
"It doesn't matter what their foreign minister says. It doesn't matter that he sends some negotiating group to us … all these people are nobodies, unfortunately," he told Dutch television in an interview filmed on Friday.
Putin says Russian forces are on a special operation to demilitarise Ukraine and rid it of radical anti-Russian nationalists. Ukraine and its allies call that a false pretext.
"Russia has proved that it is a barbarian country that threatens world security," Podolyak said. "A barbarian can only be stopped by force."
His comments came as the Russian navy on Saturday conducted another test of a prospective hypersonic missile, a demonstration of the military's long-range strike capability amid the fighting in Ukraine.
The Defence Ministry said the Admiral Gorshkov frigate of the Northern Fleet in the White Sea launched the Zircon cruise missile in the Barents Sea, successfully hitting a practice target in the White Sea about 1,000 kilometres away.
Ukrainian presidential adviser and peace talks negotiator Mykhailo Podolyak said on Saturday that any agreement with Russia could not be trusted.Credit:
The launch was the latest in a series of tests of Zircon, which is set to enter service later this year.
Putin has said that Zircon is capable of flying at nine times the speed of sound and has a range of 1,000 kilometres. He has emphasised that its deployment will significantly boost the capability of Russia's military.
Putin tried to shake European resolve on Saturday to punish his country with sanctions and to keep supplying weapons that have supported Ukraine's defence.
The Russian Defence Ministry said Lyman, the second small city to fall to Russia this week, had been "completely liberated" by a joint force of Russian soldiers and Kremlin-backed separatists, who have waged war for eight years in the industrial Donbas region bordering Russia.
Ukraine's train system has ferried arms and evacuated citizens through Lyman, a key railway hub in the country's east. Control of it also would give Russia's military another foothold in the region; it has bridges for troops and equipment to cross the Siverskiy Donets river, which has so far impeded the Russian advance into the Donbas.
The Kremlin said Putin held an 80-minute telephone call on Saturday with the leaders of France and Germany in which he warned against the continued transfers of Western weapons to Ukraine and blamed the conflict's disruption to global food supplies on Western sanctions.
German Chancellor Olaf Scholz and French President Emmanuel Macron urged an immediate cease-fire and a withdrawal of Russian troops, according to the chancellor's spokesperson. Both urged Putin to engage in serious direct negotiations with Zelensky to end the fighting, the spokesperson said.
Reuters and AP
Most Viewed in World
From our partners
Source: Read Full Article