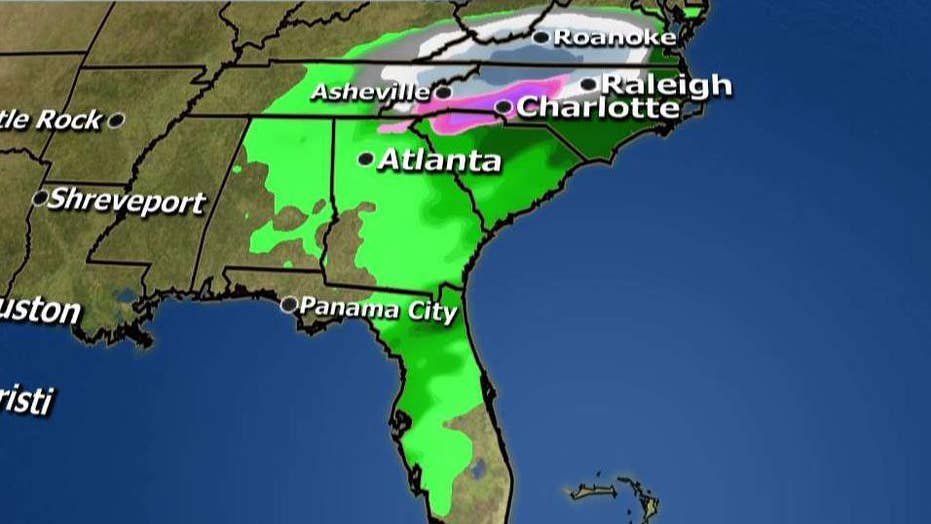 National forecast for Sunday, December 9
Snow hits the Carolinas; Rick Reichmuth has your FoxCast.
A storm system that's bringing heavy snow and freezing rain across a large section of the South is leaving thousands without power Sunday as wintry precipitation blasts the region.
Over 140,000 customers in North Carolina are without power as of 9 a.m. ET Sunday as snow and freezing precipitation continue to fall, according to North Carolina Emergency Management.
The majority of the power outages are in North Carolina, where the highest amounts of snowfall are expected to fall. The National Weather Service said that more than a foot of snow is possible from North Carolina into south-central Virginia.
"Travel will be severely affected across much of these areas, and some power outages are likely," the NWS said in its advisory.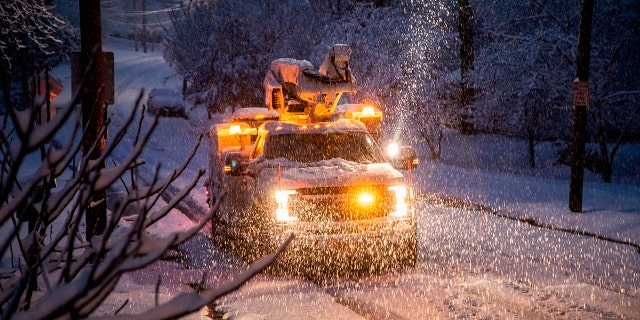 A Duke Energy crew works to restore power in Raleigh, N.C,. as snow continues to fall Sunday morning, Dec. 9, 2018.
(Travis Long/The News & Observer via AP)
North Carolina Emergency Management said that the threat of ice and freezing rain increased Sunday, especially along the Interstate 85 corridor. There is now a "high probability" of widespread power outages.
In the western part of North Carolina, officials told FOX Carolina that some areas had been 14 to 15 inches of snow, creating "treacherous" travel and leaving crews unable to get to some areas.
Governors and local officials in several states declared emergencies ahead of the storm crossing several Southern states and poised to hit particularly hard in portions of North Carolina and Virginia.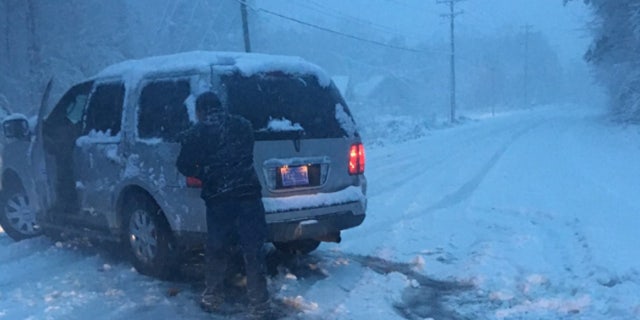 A motorist needed help after at least six inches of snow fell across parts of North Carolina on Sunday.
(Durham County Sheriff's Office)
North Carolina Gov. Roy Cooper said Saturday that residents in some parts of the state should be ready for a lengthy fight with the storm.
"We're preparing for days of impact, not hours," Cooper said, urging caution. "This weekend isn't the time to head out to see the winter wonderland. Stay safe where you are. Getting out on dangerous roads could put your life at risk."
MIGRANT MAN DROWNS IN CALIFORNIA CANAL AFTER ILLEGALLY CROSSING US-MEXICO BORDER DURING STORM, OFFICIALS SAY
Charlotte Douglas International Airport, the sixth busiest airport in the country, said American Airlines would reduce its operations starting Saturday evening and scattered cancellations are expected through Monday morning.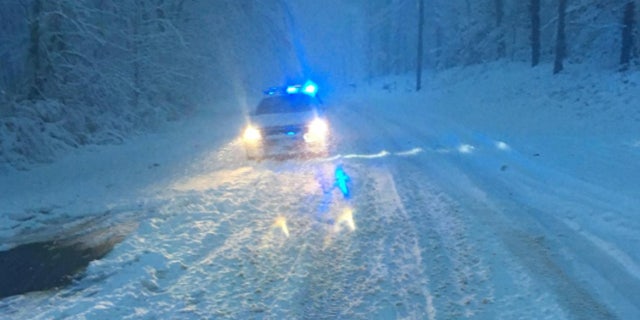 The storm was expected to bring up to a foot of snow in parts of North Carolina and Virginia.
(Durham County Sheriff's Office)
Over 1,000 flights were canceled as of Sunday, according to flight-tracking website FlightAware.
"Travelers are encouraged to frequently check with their air carrier for any cancellations or delays before coming to the airport," the airport said.
Officials have warned residents to prepare emergency kits and staff off roads in impacted areas.
"Roads are slick and driving is not something you want to attempt this morning," the Durham County Sheriff's Office said. "Keep roads clear for plows and emergency vehicles."
The Associated Press contributed to this report.
Source: Read Full Article