A West Australian public servant who stole more than $22 million from the Department of Housing began his fraud just one day after being recruited to a general manager position.
A Corruption and Crime Commission hearing examining what went wrong during Paul Whyte's tenure at the authority revealed the disgraced bureaucrat sent an email asking for his corporate credit card limit to be increased from $20,000 a month to $50,000 on October 6, 2009 – his second day on the job.
Paul Whyte (left) was hired by former Department of Communities Director General Grahame Searle, and committed his fraud during Searle's tenure. Credit:Nine News Perth/Supplied
In his email requesting the increase, he said he "used to often have to pay for stuff up to that amount in the past, especially for Grahame [Searle]", and it was approved.
He then began paying his shell company, Boldline, close to $50,000 each month, with Department of Communities Director General Grahame Searle – Whyte's old colleague – signing off on the expenses without concern despite the three other general managers only claiming amounts in the hundreds for food and travel expenses.
In total, Whyte stole $1.5 million through his corporate credit card over two years, with payments to his fake company accounting for 99 per cent of the transactions.
During an evidence hearing on Wednesday, Searle conceded the checks and balances in place to prevent rorting hadn't worked.
"The gamekeeper was the poacher, the person in charge of our finances was the person who knew the most about it and was the person doing the damage," he said.
"Twenty-20 hindsight is a wonderful thing, but at the time I thought we had all the appropriate measures in place between the internal auditor and external auditors."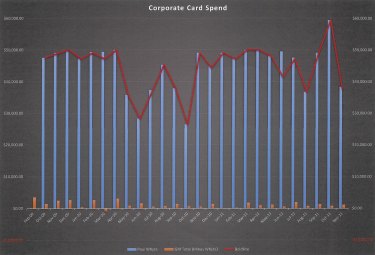 A chart showing the monthly expenditure on Paul Whyte's corporate credit card compared to other general managers within the department.Credit:CCC
Searle's comments came as he detailed how he overhauled the department when he was appointed to the top job in late 2008 and recruited a new executive team, with three out of the four being his former colleagues from Landgate.
Counsel assisting Anthony Willinge described the recruitment process for the executives as "cosy", with the staff at times sitting on the panels to hire each other, and sometimes providing references.
Searle, who retired from public service in 2019, said he trusted Whyte, and that he was well regarded in the public service when he was selected from a strong pool of 60 to 70 candidates to head up commercial business, including oversight of finance and spending.
The department's chief financial officer, Lorne O'Mara, had previously criticised the decision by Searle to combine finance and accountability responsibilities under the one general manager.
However, Searle claimed it was pressure from Treasury which meant he had to merge five executive roles into four.
In her evidence to the commission, then-deputy director general Tania Loosely-Smith said "it was a damn shame" she had not been asked to sign off on Whyte's monthly credit card acquittals during the times she was acting director general, as the large transactions would have "struck her as odd" and she would have been concerned.
Searle declined to comment on his former colleague's statements, other than to point out the benefit of hindsight, and conceded he was not conscientious when checking Whyte's expenditure forms.
"To my understanding there were no reports from the CFO to anybody that anything inappropriate was going on, so it's very easy with hindsight for people to come out and say, 'This is wrong, this is wrong, this is wrong', but where were they at the time?" he said.
"I relied on assurances that appeared to have been false," he added, before agreeing with Willinge that fraud could flourish when simple checks were not carried out.
Searle said he couldn't recall a company called Boldline and claimed his oversights were due to his focus on the bigger picture of reforming the agency.
"I was about strategic direction and moving the agency and getting it to think and act appropriately. Did that create the opportunity for Paul? Maybe. Would it have happened anyway? Probably," he said.
"Clearly Paul was 'very good' at what he did. My understanding is at the end it wasn't detected inside the agency what was going on, it was actually an external report that related to other things and I'd been gone a while."
Searle's examination continued on Wednesday afternoon in a private hearing.
In an auditor-general report released on Wednesday, titled 'Fraud Risk Management – Better Practice Guide', it was revealed some state government departments still lacked the structure and preparedness to prevent fraud.
Shadow treasurer Steve Thomas claimed the report showed the government was continuing to turn a blind eye to the risk of corruption.
"This is a massive concern that the government has obviously been ignoring despite the risks of reputational damage to the public service," he said.
"It's as if the recent discoveries of corruption have been ignored."
Whyte is serving 12 years in prison after being convicted of fraud in 2021.
Follow WAtoday on Instagram, LinkedIn, Facebook and Twitter for handpicked selections of the day's biggest local, national and international news.
Most Viewed in National
From our partners
Source: Read Full Article