Boston: In a sprawling campus about 40 kilometres from downtown Boston, four biotech workers are gathered around a laboratory computer, making a vaccine that is changing the world.
Dressed in white medical coats, blue scrubs and mesh hairnets, they're poring over sequencing numbers on a big screen, examining batch records, and synthesising the technology that is being used to combat COVID-19: messenger ribonucleic acid, better known as mRNA.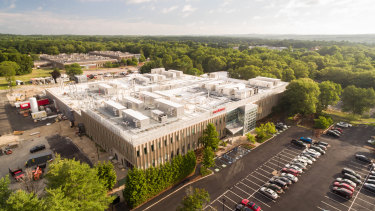 The Moderna plant in Norwood, Boston, will be the template for Australia's first mRNA manufacturing plant.
"MRNA is the software of life," says Moderna's chief technical operations and quality officer, Juan Andres, during an exclusive tour of the company, which is about to set up a similar state-of-the-art production plant in Australia.
"We believe the sky's the limit."
Victoria will soon become the first place in the southern hemisphere to manufacture mRNA vaccines, thanks to an agreement between Moderna, the Victorian government and the Commonwealth.
The company is expected to pick one of two shortlisted greenfield sites in Melbourne for its expansion into Australia as early as next month, according to Victorian Innovation Minister Jaala Pulford.
Under the deal, the US pharmaceutical giant will establish a manufacturing and research plant on a soon-to-be chosen greenfield site, giving Australians direct access to domestically manufactured mRNA vaccines.
Put simply, mRNA teaches our cells how to make copies of the spike protein that will trigger an immune response to fight off the illness.
By the time the facility opens in 2024, it will be capable of producing about 100 million doses of mRNA vaccines a year, not only to combat coronaviruses but also future pandemics and other diseases.
The move is a boon for Australia, whose vaccine rollout last year was plagued in part because it was at the mercy of stretched global markets when trying to procure vaccines.
Now – more than a year after scientists and medical researchers began lobbying the Morrison government to establish a home-grown facility to reduce the country's reliance on offshore producers and avoid potential supply chain delays – a deal has been inked.
The template for Australia's first mRNA production plant is Moderna's $110 million manufacturing lab in the Massachusetts town of Norwood, in greater Boston, which opened in July 2018 as the company sought to expand its offerings of therapeutic drugs.
Today it has about 44 products in the pipeline, Andres says, including some in clinical studies and trials to combat HIV, respiratory syncytial virus, cancer and cystic fibrosis.
But it's the COVID-19 vaccine and booster that helped bring in $US17.7 billion ($24.6 billion) in sales last year, and changed the game for the 11-year-old company, whose main mRNA rival is the 173-year-old pharma powerhouse, Pfizer.
Moderna biotech workers in the company's mRNA lab in Norwood, greater Boston.
This week – as case numbers rose in Victoria partly due to a new coronavirus sub-variant – Pulford travelled to Boston to take her first look at the Norwood facility and meet with the officials who will be responsible for setting up the company in Melbourne.
"This is a really significant initiative because we won't just have COVID vaccine manufacturing, we'll also have a really exciting research pipeline that goes to the frontiers of curing all sorts of awful diseases and illnesses," she told The Age and The Sydney Morning Herald.
"I think there's also an amazing opportunity for some people from Moderna's operations here in the US to come and be a part of our amazing ecosystem in Victoria, and also for our people to come on [scientific] exchange here."
Jaala Pulford, Victorian Minister for Innovation, Medical Science & Small BusinessCredit:Justin McManus
Located on what was once a Polaroid plant in the 1970s and '80s, Moderna took a punt on the Norwood facility long before December 30, 2019, when the International Society for Infectious Diseases posted an alarming report online. Numerous people in Wuhan China, had been diagnosed with "unexplained pneumonia" potentially coming from a market that sold live animals, prompting fears that the strain had jumped from bats to humans.
Ten days later, Chinese scientists posted the genetic sequence of the new coronavirus, SARS-CoV-2. Within weeks, the company had made its first small trial batch of a relevant vaccine.
Then US president Donald Trump sponsored "Operation Warp Speed" to fast track COVID-19 vaccine development in 2020.Credit:AP
While then US president Donald Trump would eventually push health authorities to fast track the process under his aptly titled program, Operation Warp Speed, it took a while for his administration to understand the urgency of the pandemic.
Andres distinctly recalls a meeting in Washington in January 2020, where he and Moderna chief executive Stephane Bancel told American officials they needed to get the vaccine out to market by the end of the year.
"They laughed out loud, saying it would take a minimum of three years to get it done," he says. "And we said: no, we need to get it done by the end of the year and we need your help. But we were nobodies back then."
Much has clearly changed since. Today, Moderna has sites in Europe and plans in place for facilities in Kenya – to supply the African continent – and possibly Canada.
Pulford says the Victorian plant will create up to 500 jobs during construction, and a further 500 ongoing roles across the industry.
"This is a testament to Victoria's place as the biotech centre of the southern hemisphere – and that's not happened by accident," she says.
"We have brilliant research institutes, we have exceptional universities, and those things are, and have always been, a magnet for talent."
Get a note direct from our foreign correspondents on what's making headlines around the world. Sign up for the weekly What in the World newsletter here.
Most Viewed in World
From our partners
Source: Read Full Article