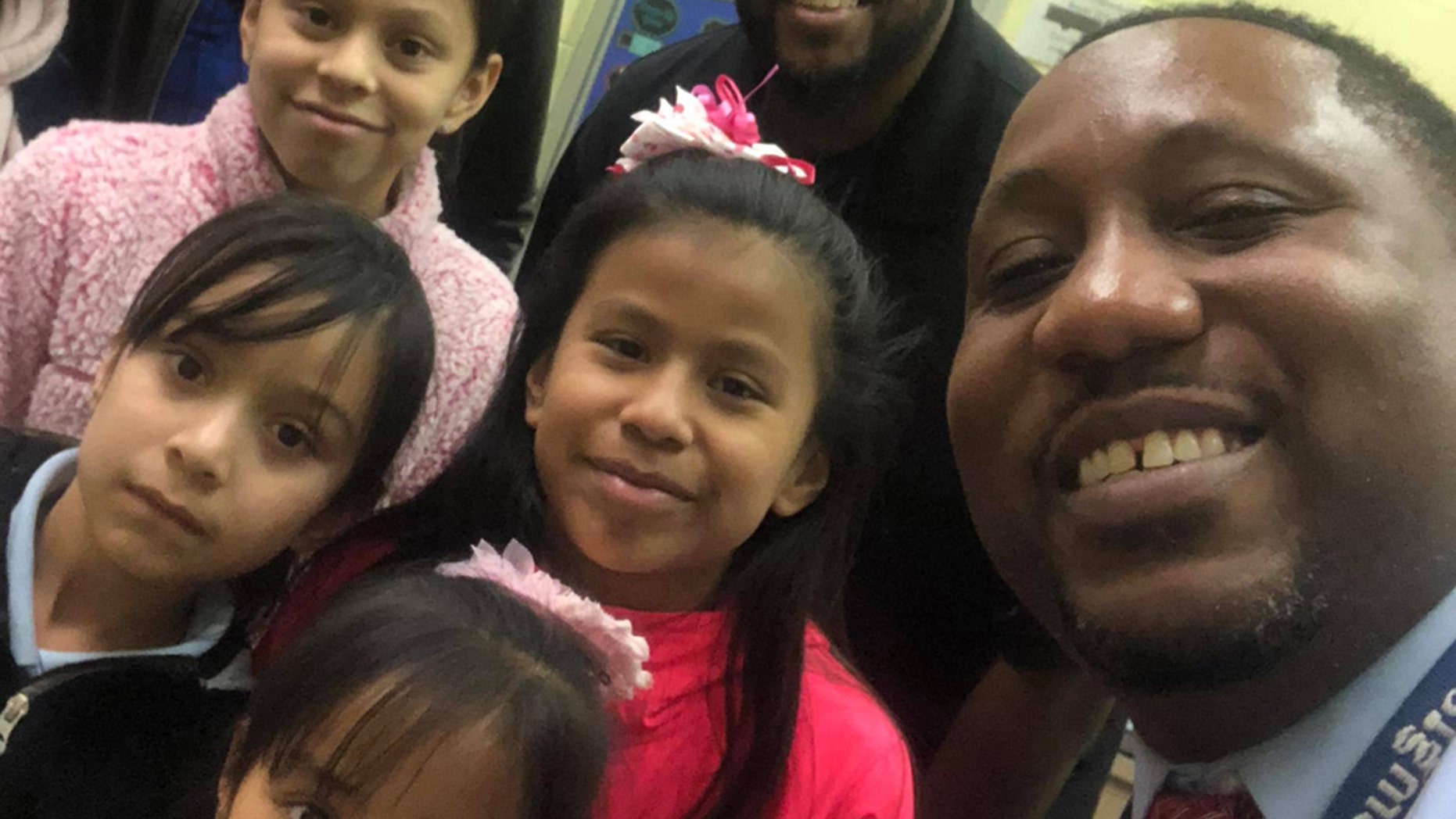 Wesley Lee (right) uses his gift of singing to inspire students in the classroom and at church on Sunday.
(Wesley Lee)
Whether Wesley Lee is in a school helping kids or at church on Sunday morning, you can be sure he's doing one thing: singing.
The Dickinson Fine Arts Academy staff administrator in South Bend, Indiana went viral after the community shared a video of him singing the Star Spangled Banner at a girls' basketball game.
"My simple gift to sing is just an avenue for God to allow me to impact the students and the families I come in contact with every day," Lee told Fox News.
He didn't realize he was being recorded after being asked to sing the National Anthem at the last minute, but he found out pretty fast after people starting calling him and even had some stop him in Walmart, telling him, "I saw you on Facebook and I love your voice," "You're going to be on Ellen or Steve Harvey," and especially after some of his students at the girls' basketball game saw it live and gave him high praise.
"I didn't know he could sing," 7th-grade student, Lorionna Burdine, told WSBT 22. "I was like 'Wow! He's really good!'"
HAITI BOY GETS 'MIRACLE' TREATMENT FOR TUMOR WITH HELP OF CHRISTIAN MISSIONARY, JEWISH DOCTOR, MUSLIM FAMILY
Lee hopes to inspire confidence in the students he works with every day.
"The attention is so cool, but what would really be cool is that some attention and resources could possibly come to the students and families in our fine arts school," Lee added.
For Lee, it's all about reaching the next generation with whatever means necessary, especially for him, note-by-note.
CALIFORNIA CHURCH'S UNTOUCHED WOODEN CROSS BECOMES SYMBOL OF HOPE IN WILDFIRE AFTERMATH
"Church is where I learned about music and how it can change an atmosphere," Lee said, "how music can bring you joy and comfort. I believe that God places you in places and allows your experience to fuel your purpose and destiny."
Source: Read Full Article