By Eleanor Bourke
Wergaia and Wamba Wamba elder Professor Eleanor Bourke, chairperson of the Yoo-rrook Justice Commission.Credit:Justin McManus
We are not leaving this place, our land. This is our Country. Only on these lands can others come to hear our stories and languages. We, Aboriginal Australians, cannot be packaged with other so-called disadvantaged groups. Regardless of circumstance, people who come here from other lands have another country where their languages, history and social systems reside and thrive.
I was born Eleanor Anne Anderson, eldest child of Ormond Anderson and Nina Stewart, in Hamilton, Victoria. They corresponded through The Weekly Times′ Miranda column for three years. They met in person only after they had decided to marry.
After the birth of my brother John we moved to Swan Hill to be near my mother's family. My mother was the daughter of a Wamba Wamba man and a Wergaia woman.
From an early age I was aware of being in the midst of a large Aboriginal family and, because of my Wergaia grandmother, I developed a strong sense of identity.
This was severely challenged when I went to school. I was a skinny brown girl and noticed that I was the only dark-skinned child there.
For a time, I was bashed by some boys going home from school. I lived about a mile and a half from the school and rode a little bike to and from home. A couple of boys would ambush me, knocking me off my bike. This did not stop until two older cousins, being cared for temporarily by my mother, came to stay. They belted the boys and I was left alone.
I knew that my grandmother was born on Ebenezer Mission, an Aboriginal mission station at Lake Hindmarsh near Dimboola, in Victoria's Wimmera district, but did not know what that meant. I did not know that both my great-grandmothers were caught in the web of "protection" through early legislation. Nor did I know that my great-grandfathers would be designated by "caste" as adults.
The 1869 Act to Provide for the Protection and Management of the Aboriginal Natives of Victoria enabled the government to control where Aboriginal people could live and work. Subsequent regulations allowed for the removal of any child deemed neglected by their parent or, left unprotected, to be removed to an Aboriginal mission. These powers of removal affected both of my mother's grandmothers.
Minutes of the Board for the Protection of Aborigines: "… removal of the half-caste girl Mary Jane from Coranderrk to Lake Hindmarsh submitted to the Board (1/12/1875) [my paternal great-grandmother]."
3/2/1876 Thank-you letter [from the Board for the Protection of Aborigines] to the police for their services in obtaining and handing over the two Aboriginal children Sammy and Jessie Maine [my maternal great-grandmother]. Their removal was listed in the Government Gazette of 1875. Their journey was from Swan Hill to Melbourne to Coranderrk and then finally to Ebenezer.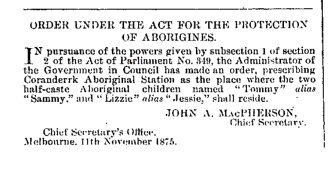 Victorian Government Gazette, 1875: Jessie Maine, maternal great-grandmother of Yoo-rrook Commission chairperson Eleanor Bourke, is ordered to live at Coranderrk Aboriginal Station. Credit:
By contrast, the 1877 Royal Commission on the Aborigines noted: "The care of the natives who have been dispossessed of their inheritance by colonisation is a sacred obligation upon those who have entered upon the land."
My family's story continues through the records: "January 3, 1881, Jessie Maine runs away from Ebenezer mission with Archie Pepper … They are later brought back and Jessie and Archie marry and have a number of their children at Ebenezer mission."
The Aborigines Protection Act 1886 modified the 1869 legislation and represented a change from segregation to absorption and assimilation.
For the first time, a legal distinction was made between "full-bloods and half- castes". This caused further disruption and dislocation to families when some "half-castes" under 34 years of age were expelled from the stations and taken away from their families.
Leading up to 1900, most of the Protection Board stations were closed because governments wanted full-bloods separated and protected, and assimilation for those of mixed race.
It took until the 1930s for authorities to recognise that the Aboriginal population was not dying out, and there was growing concern that many people continued to identify themselves as Aboriginal.
Breaking up families has an impact on the passing down of oral histories. While some may have access to family information, others were removed to another place, the start of a different journey and therefore a different story and possibly another identity.
It is ironic that I find myself chairperson of the Yoo-rrook Justice Commission along with three other First Nations peoples and a former justice of the Supreme Court. That we are required to develop a shared understanding among all Victorians of the collective impact of systematic injustice and intergenerational trauma that has flowed from this treatment is the greater irony.
There is plenty of evidence. That evidence will come from the work that Yoo-rrook is required to undertake in establishing an official public record based on those experiences of systematic injustice since colonisation.
Commissioners are all aware of the heavy emotional burden that this will place on all who engage in truth-telling about how our relatives have been treated since the occupation of Victoria.
The letters patent notifying us of our appointments acknowledge the First Peoples of Victoria and that First Peoples have experienced grave historic wrongs arising from past injustices and that we have not ceded sovereignty.
Victorian First Peoples have embarked on a land justice journey whereby we wish to be recognised for who we are, enabling us to lead culturally rich lives and maintain connection to Country.
Professor Eleanor A. Bourke is chair of the Yoo-rrook Justice Commission.
Most Viewed in National
Source: Read Full Article