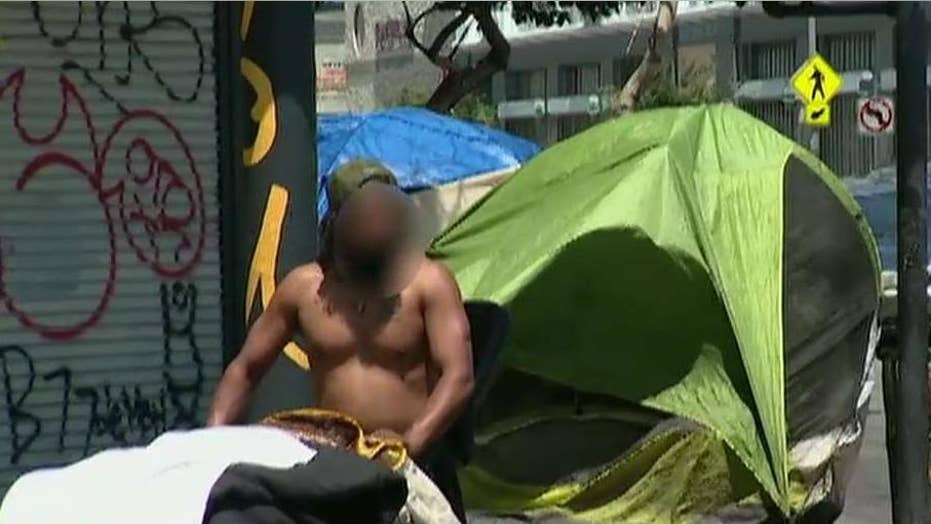 Los Angeles' expanding homeless population could create a public health crisis
Fox News contributor Emily Compagno and Dr. Drew Pinsky investigate the conditions on Skid Row.
A former Los Angeles city administrative officer stepping down from a committee overseeing a homelessness program said this week the citywide problem is going to get worse before it gets better, according to a report.
Miguel Santana helped draft a $1.2 billion homeless housing bond measure (Proposition HHH) more than three years ago and has been urging Mayor Eric Garcetti to speed the project up, The Los Angeles Times reported.
"We're not at a point where we should be celebrating what's been done," Santana said. "The public's frustration and anger around what they're seeing as a lack of progress is legitimate."
Between 50,000 and 60,000 people sleep on the streets in Los Angeles County every night, according to the Los Angeles Homeless Services Authority – a number second only to New York City.
Proposition HHH's first project is set to be completed by the end of this year – three years after it was approved by voters, according to The Times. Over the next three years, more than 6,000 housing units are scheduled to open.
Garcetti said Santana had done an "excellent job" and he's working to use every dollar for the project as "efficiently" as possible.
Santana told The Times in the future he plans to be involved in rethinking how the city handless homelessness.
Source: Read Full Article