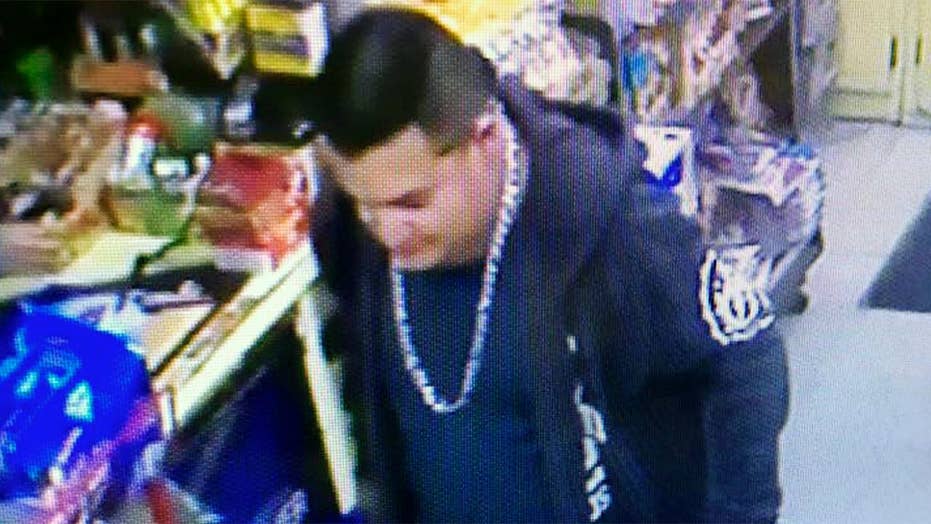 Arrest made in murder of California police officer, law enforcement sources say
The illegal immigrant fugitive who was wanted in the murder of a California police officer was taken into custody Friday after being on the run for more than two days, according to an official, who made the case that the fatal incident was potentially preventable.
Stanislaus County Sheriff Adam Christianson announced the arrest of the suspect – identified as Gustavo Perez Arriaga — in Bakersfield, about 280 miles southeast of Newman, where Police Cpl. Ronil Singh was gunned down early Wednesday. The arrest was also confirmed by the Fresno County Sheriff's Office and Kern County Sheriff's Office.
Christianson, whose department has been handling the case, told reporters at a news conference that Arriaga is from Mexico and was in the U.S. illegally after previously crossing the Arizona border. It wasn't clear when that occurred, however Christianson said the suspect had been in the country for a number of years and was seeking to cross back over the border before the shooting occurred.
The suspect had known gang affiliations, as well as two prior DUI arrests, Christianson said.
The suspect was stopped by Singh for a DUI investigation before engaging in a gunfight with the officer, during which Singh tried to defend himself, Christianson said at a separate news conference Thursday.
Authorities also arrested two others –  25-year-old Adrian Virgen and 27-year-old Erik Razo Quiroz – who Christianson said had attempted to mislead investigators in an effort to protect the suspect. The sheriff's office on Facebook said Arriaga would be charged with homicide. Virgen and Quiroz were arrested for accessory after the fact to a felony, the post said.
Kern County Sheriff Donny Youngblood told reporters at a separate news conference that three others were also arrested on suspicion of helping the suspect elude authorities.
Christianson noted that had law enforcement previously been able to report the suspect to Immigration and Customs Enforcement because of his criminal record, the slain officer's death might not have happened.
"While we absolutely need to stay focused on Officer Singh's service and sacrifice, we can't ignore the fact that this could've been preventable," Christianson said. "And under SB54 in California, based on two arrests for DUI and some other active warrants that this criminal has out there, law enforcement would've been prevented, prohibited from sharing any information with ICE about this criminal gang member. Ladies and gentlemen, this is not how you protect a community."
CLICK HERE TO GET THE FOX NEWS APP
The announcement of it came nearly a day after Newman Police Chief Randy Richardson made an emotional plea for the suspect to turn himself in.
"A coward took his life," Richardson said. "We need closure. His family needs closure."
The suspect may have connections to a violent Mexican-American street gang, according to an image circulating on social media confirmed as authentic by investigators early Friday.
The photo shows the alleged "cop-killer" posing in a tank-top shirt, with a metal chain necklace draped around his neck and a large flaming skull tattoo visible on his right arm. Underneath the tattoo is the word "$ur3no$," which, according to police in Washington State, is Spanish for "southerners".
"Sureños are a group of Mexican-American street gangs with origins in southern California (south of Bakersfield)," reads a profile on the group in a police gang recognition guide. "The gang has allegiance to the [California] prison gang, Mexican Mafia, aka "La Eme".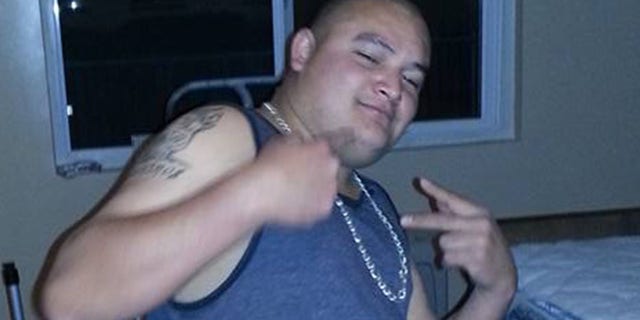 An image of the suspect in Officer Singh's murder, confirmed to be authentic by California police.
(Facebook)
The gang recently has been blamed for murders and human smuggling crimes along the U.S.-Mexico border.
Christianson said Thursday that police have possession of a truck believed to have been driven by the suspect in Singh's killing.
The man appears to have at least five Facebook profiles, each with a different alias. Four of the pages say he is from Mexico's Colima State on its Pacific Coast and contain images of him with the "Sureños" tattoo and silver chain necklace visible. Some of the pages are Facebook friends with one another.
One of the profiles purportedly belonging to the individual contains numerous images of pistols and weapons, and several images of him crossing his arms while holding a pistol.
Singh was a native of Fiji and left behind a wife and 5-month-old son. The officer, who joined the force in the summer of 2011, was remembered fondly by the Newman police chief, who said Singh "truly loved what he did."
"He came to this country with one purpose, and that was to serve this country," Richardson said.
The Stanislaus Sworn Deputies Association has established a memorial fund in Singh's honor.
Fox News' William LaJeunesse and The Associated Press contributed to this report.
Source: Read Full Article