In the mood for romance, but don't feel like parting ways with your couch or bed? Not to worry, Netflix's got your back (and your heart). Whether it's a fresh take on the teen rom-com genre, a Disney live-action remake, or something with a good dance sequence, these movies will surely make you feel all lovey-dovey inside and out. Always have an extra pillow, blanket, and tissues on hand because you never know what might open up those floodgates.
1. To All the Boys I've Loved Before
Stream It
Lana Condor and Noah Centineo made teen romance cool again in 2018. Watch this for the 45th time or introduce the film to that one friend of yours who's finally ready to fall in love with everyone's boyf, Noah Centineo.
2. Must Love Dogs
Stream It
Long before Tinder, there were online dating sites like PerfectMatch.com. Our star-crossed lovers Sarah (Diane Lane) and Jake (John Cusack) kinda sorta meet on here. While they're both technically not dog owners, that's just a minor detail. Come for the cheesy one-liners, stay for the big mush that is "Mother Teresa," a Newfoundland dog belonging to Sarah's brother.
3. Strictly Ballroom
Stream It
Baz Lurhmann's debut film has everything: the familiar opposites attract storyline, kooky supporting characters, and music that will make you get up and sway your hips. Find us another movie dance sequence that makes the Coca Cola sign look this romantic. We'll wait.
4. Set It Up
Stream It
This Netflix original doesn't have any grand romantic gestures or emotionally-charged dialogue, but you will definitely swoon at the sight of two people falling in love over pizza when they're not busy "Parent Trapping" their bosses.
5. Ali's Wedding

Stream It
Ali's wedding is the least of his worries in this Australiam rom-com. There's loyalty to his family, betrayal (after he lies about getting into medical school), and of course, following his heart.
6. Beauty and the Beast
Stream It
Disney knows how to whip romance up into a nice four-layer cake of singalong songs, talking household objects, Emma Watson, and the strong arms of Gaston.
7. The Break-Up
Stream It
Yes, it's strange for a movie about two people breaking up to be on a list that's all about romance, but Jennifer Aniston and Vince Vaughn's performances make it hard to hate this movie, OK?
8. The Kissing Booth
Stream It
There's a reason The Kissing Booth was Netflix's most re-watched movie of 2018. OK fine, there are several: Joey King, Jacob Elordi, and basically every cute thing that happens in this 110-minute adventure.
9. Sixteen Candles
Stream It
'80s screen darling Molly Ringwald (who has a small role in The Kissing Booth and is Archie's mom on Riverdale) made hearts flutter in this breakout performance as a girl who has anything but a normal 16th birthday.
10. P.S. I Love You
Stream It
Is there anything more romantic than the ghost of Gerard Butler sending letters to Hilary Swank after his character suddenly dies from a brain tumor? Tissues are definitely required for this film.
11. The Lake House
Stream It
In 2006, Sandra Bullock and Keanu Reeves dumped their Speed characters to play two people who communicate through letters (and fall in love) at a lake house they both live in during separate times. If you manage to stay with the plot, you will fall in love with Sandy and Keanu (again).
12. Love Actually
Stream It
Look, there's no written rule that you have to watch Love Actually during the holidays. Sure, the movie is best enjoyed when your own Christmas drama is in full force, but the storylines (and their charms) are relatable year round.
13. She's Gotta Have It
Stream It
From the music to the beauty of Brooklyn in the 1980s, Spike Lee's first film about a young woman juggling between three men while trying to remain sexually liberated, hits all the right spots.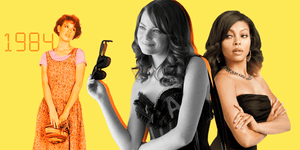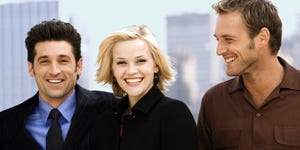 Source: Read Full Article