Any fan of "American Horror Story" knows that while the show is an anthology and the seasons' plots vary greatly, the core cast has been pretty consistent over the years. Since its debut in 2011, "AHS" has become one of the most popular shows around, and it's helped shed light on some pretty impressive actors, including Sarah Paulson, Jessica Lange, Lily Rabe, Taissa Farmiga, and Evan Peters.
It was pretty easy to get used to seeing familiar faces across the seasons of "AHS," and in particular, Peters became an absolute fan-favorite. Despite playing some pretty horrific characters, including his debut as Tate Langdon in "AHS: Murder House" to his scarily convincing role as cult leader Kai Anderson in "AHS: Cult," fans became enamored with Peters' impressive performances and especially looked forward to who he would play in upcoming seasons. 
Naturally, it was pretty shocking when Season 9 of "AHS" rolled around and Peters announced that he would "sit [the] season out." Immediately, "AHS" fans began to worry. Would Peters ever return to the show? And, after starring in eight seasons thus far, why was he taking a break? Fortunately, Peters would eventually make his return to "AHS" — but keep reading to learn why he decided to take a break in the first place. 
Evan Peters admitted he doesn't like playing such horrifying characters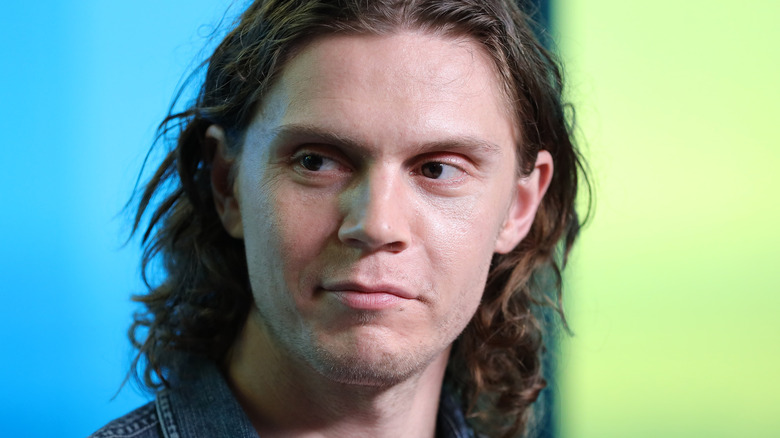 Evan Peters went through quite a bit of emotional turmoil when it came to his roles in "American Horror Story" — so much so that the actor needed to take a step back and take a break from Season 9 of the show.
Peters starred in every season of the series up until "American Horror Story: 1984," and as it turns out, he had a pretty good reason for taking a break from the show. While speaking to GQ in 2018, Peters admitted that playing such horrific characters was a huge challenge for him. "I'm goofy, I'm silly, I like to have fun. I don't like to yell and scream," he explained. "I actually hate it. I think it's disgusting and really awful, and it's been a challenge for me. 'Horror Story' sort of demanded that of me." 
At the time of his interview, Peters also finished filming for another popular show, "Pose," and was reaching an emotional breaking point. "It's hurting my soul and Evan as a person," the actor said of his emotionally draining roles. "There's this massive amount of rage that's been called upon from me, and the emotional stuff that's been called on me for 'Pose' has been heartbreaking, and I'm sick. I don't feel good."
Evan Peters later clarified that he was experiencing intense 'burnout'
After speaking pretty negatively about "American Horror Story" and the characters he played in his 2018 GQ interview, many fans worried that Evan Peters was done with the franchise for good. Fortunately, this wasn't the case, and Peters later clarified that "burnout" was the biggest cause behind his break from the show.
In a different interview with GQ U.K. in 2019, Peters clarified his statements from the year before, explaining that he simply felt more overworked than anything else. "I think it was a full-on burnout," the actor explained, before adding that he wanted to "take a break" and focus more on his personal desires. "Not that I didn't want to do any of those roles –- they're exactly what I wanted to do," he clarified. "It was just zero to 100 instantaneously. I want to play music."
Peters did indeed take a much-needed break from "American Horror Story," though the actor has definitely found his groove once again. He's fresh off of a starring role in the hit HBO show "Mare of Easttown," and most excitedly for fans, he's slated to star in the 10th season of "AHS," which will begin airing in August 2021 (via Deadline). Here's hoping that Peters' character won't be too horrifying this time around!
Source: Read Full Article