Bridgerton came onto Netflix at Christmas but it's not exactly the show you'd want to sit around the fireplace with your family and binge-watch. Or rather, not if there are small children around. 
It's similar to Gossip Girl, in that there's a town newsletter that gossips about the inhabitants, with Lady Whistledown's identity — the author of it — hidden from everyone. And the sex scenes and the mess are definitely pretty juicy. Something The CW couldn't show in such detail.
While a lot of the actors are unknown or haven't had the chance to lead a show yet in their careers, here is where you might have seen — or heard — a few of the leads before.
Phoebe Dynevor
Phoebe Dynevor plays the eldest Bridgerton daughter and the diamond of the season. She is in the business of looking for a husband during this seasons and finds herself in a precarious situation with the Duke of Hastings, whom she doesn't particularly like right away.
Dynevor hasn't led a show before, but she has been acting since she was 14. She started on Waterloo Road's fifth season, playing Siobhan Mailey. The show follows students at a "comprehensive school" in the UK, which is basically just a public school that you don't have to test into. She did that for a year and did a lot of other British shows in the meantime. She also appeared on Snatch and most recently had a role as Clare on Younger, which starred Hilary Duff and Sutton Foster.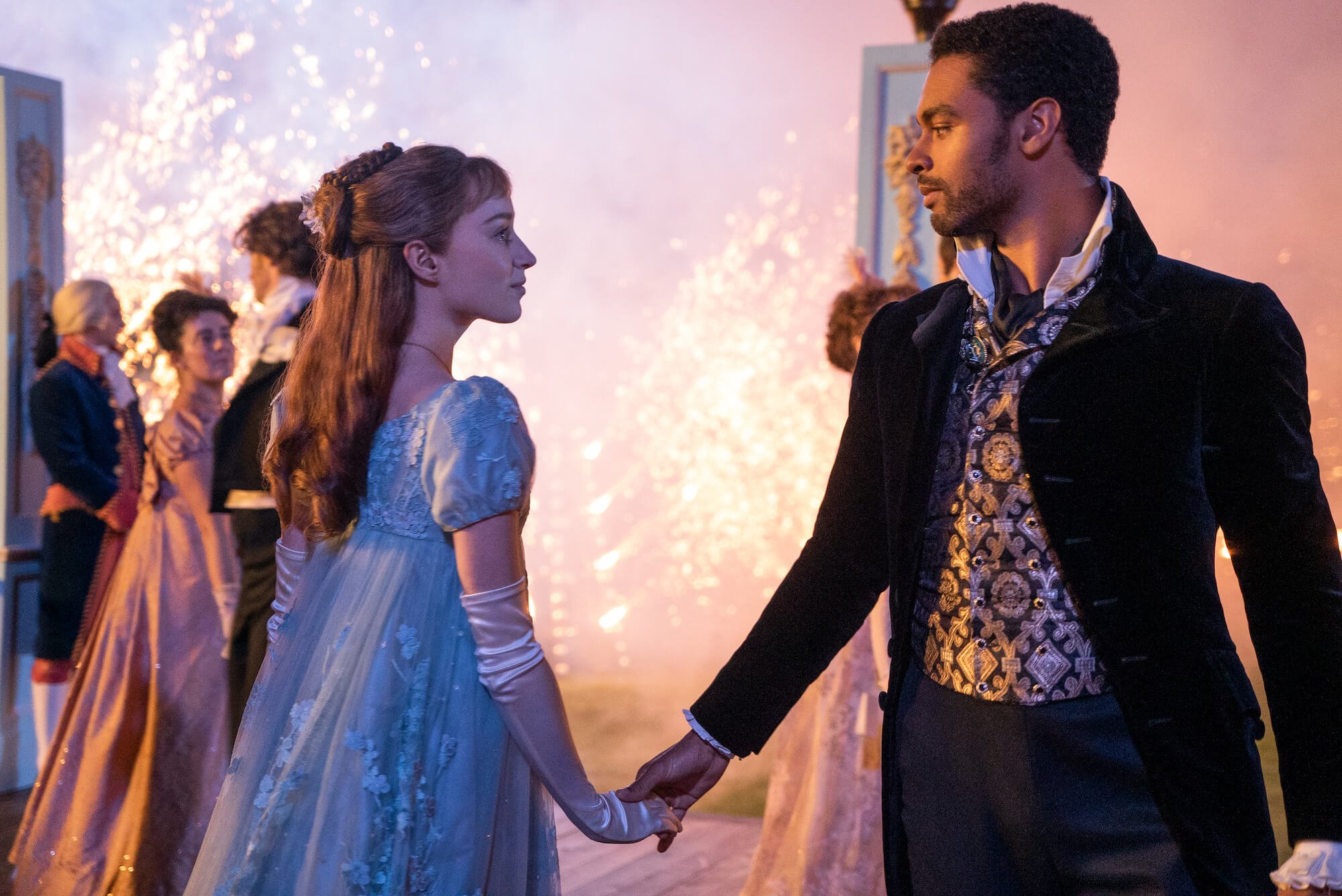 Regé-Jean Page
Spoon-licking and all, Regé-Jean Page is the talk of the ton with his performance as Simon Bassett aka the Duke of Hastings. He's charming, feverishly good-looking, and has pretty good chemistry with Dynevor's Daphne. Even when they're fighting. 
Interestingly, he also appeared on Waterloo Road, and played Guy Braxton. However it wasn't when Dynevor was on the show, but rather in Season 10. He also had a small role in Harry Potter and the Deathly Hallows – Part 2. If you head on over to Amazon Prime, though, you can find him as Chico, one of the background bandmates in Sylvie's Love. The movie stars Tessa Thompson and Nnamdi Asomugha.
Nicola Coughlan
Nicola Coughlan is truly a delight in everything she's in, and her role as Penelope Featherington is no different. Penelope is the quieter sister of the three who is quite fine sitting out the season, but whose mother won't allow it. She doesn't really see herself marrying, but who knows what's in store.
Coughlan has been in the main cast for the hit show Derry Girls, which is hilarious and should definitely be your next binge after Bridgerton. She plays Clare, who's also kind of the shier friend, she has a heart of gold. And if you're thinking, "I'd love to see Nicola in another period piece," then you're also in luck. Because she's in Harlots in a main role in the second season as Hannah Dalton.
Jonathan Bailey
The young viscount Anthony Bridgerton is played by Jonathan Bailey. Anthony is all about appearing like he's the head of the family, but doesn't actually want to take on a bride of his own and assume full responsibilities that come with being head of a family. However, he does have good intentions sometimes, even if they're a little misguided with Daphne. Regardless, Bailey is great in the role. 
You might recognize Bailey from a slew of things from the semi-raunchy British comedy St Trinian's to 2013's Broadchurch where he played Olly Stevens. He also played the memorable Ash on Chewing Gum who had a fetish for Michaela Coel's character.
While Bailey has appeared in TV and film, he's also done a lot of theater, including his role as Jamie in the West End revival of Company in 2018, in which he won a Laurence Olivier Award.
Julie Andrews
Lastly, but not least, is Julie Andrews. While she's never on screen, Andrews is always present. She voices Lady Whistledown who is the ton gossip columnist with her newsletter. It spreads all the good and juicy news no one really wants to verbalize, and drops a lot of truth bombs some aren't ready for.
Andrews is known for so manyy things, we can't list them all. There's The Sound of Music, Mary Poppins, The Princess Diaries, and more.
Source: Read Full Article