Dr. Sandra Lee, also known as the famous Dr. Pimple Popper, is back at it again, trying to help ailing clients cure their bumps. In this upcoming episode, Dr. Lee has a consultation with a beautiful bride-to-be named Lita, who has been living with a mysterious growth on the side of her left leg for 10 years (!!!).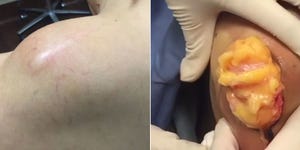 Dr. Lee, a literal sweetheart, asks Lita a bunch of questions about her condition. "Is it under you? Do you have to sit down on it?" she asks before lifting up the bride's dress to take a look at the lump.
"It gets heavy on you, it weighs you down, doesn't it? It's like your booty starts lower. It's supposed to start higher," Dr. Lee jokes, while poking and prodding the Lita's growth. After feeling around for it, she comes to a worrying conclusion.
"It feels like a lipoma. It has a little dimpling when I move it around, which means it's kinda connected a little bit," Dr. Lee concludes. So….exactly what is a lipoma? Well, Dr. Lee explains that there is a band of tissue holding together the material that's inside Lita's bump, which could make popping a hassle.
Naturally, Lita has a lot of anxiety about the removal process, but Dr. Lee assures her that once the surgery is over, she can buy a new wardrobe and look great in her wedding dress. Want to see Lita go through surgery? You're gonna have to tune in to this week's episode, but in the meantime, you can watch the exclusive sneak peek below.
Dr. Pimple Popper airs Thursdays at 9 p.m. on TLC.
Source: Read Full Article