Justin Theroux provides the self-sabotaging inner voice of Munn's unhappy studio exec
Mark Williams/Relativity
You know that critical voice in your head? The one you once had, or still have, or dread having? The one that tells you when to feel doubt, or shame, or fear?
"Violet" gives voice to that voice, with so much urgency that it often feels as though writer-director Justine Bateman is reaching out through the screen. Sometimes it appears as though she wants to shake us into waking up; sometimes it seems she wants to comfort us into calming down. But from the start, it's clear she intends to shock us into listening to Violet's self-destructive thoughts so that we can recognize our own.
Olivia Munn plays the titular studio executive, a woman who has everything on the outside and feels like nothing within. Her emotional instability is both caused and represented by her Voice (Justin Theroux), an audible internal bully who second-guesses every decision she makes. While we see someone who is impeccably professional, the Voice persistently insists otherwise.
When she wants to date her seemingly perfect roommate Red (Luke Bracey, "American Dream"), the Voice reminds her she's not good enough for him. She'd like to produce an indie passion project, but the Voice insists she make the movies her philistine boss (Dennis Boutsikaris) prefers. Will she leave a party when she's ready? Of course not; she needs to network herself into exhaustion. Should she reach out to an old boyfriend after running into him? Come on; he surely hates her. Can she let loose and have fun when she meets her best friend (Erica Ash, "Real Husbands of Hollywood") for drinks? As if.
The film's narrative is so simple — slender, even — that it requires a steady hand and strong conviction with which to build sufficient depth. Bateman possesses both.
Though this is Bateman's feature debut, her prior experiences are evident in a range of ways. Having achieved stardom on "Family Ties" as a teen in the 1980s, she's seen firsthand the LA snake pits that nearly swallow Violet whole. She's already analyzed the ugliest facets of her industry in her books "Fame" and "Face," which share Violet's stream-of-consciousness sincerity. She's also a designer and artist, and the movie is built as a pastiche, with one visual or aural layer after another piling on until we can feel the visceral overwhelm of anxiety.
Indeed, although it's written as an aspirational drama, Bateman structures "Violet" more like an experimental horror film. A simple scene between two characters is likely to be interrupted by the Voice, whose cruelty is accompanied by a quick cut to rotting flesh or a brief flash of a punch to the face. Then Violet's desperate response is scrawled in white script across the scene: "I'm fine. I don't feel fine. Everything's fine. Why can't I feel fine?"
A defiantly uneasy score from VUM only increases the tension, until the entire screen washes red. Meanwhile, the person Violet is talking to thinks they're still having a friendly and casual conversation, with no idea of the battleground we've just seen raging inside her head.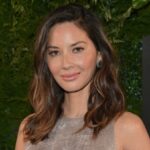 Because Munn wisely underplays, she's able to creep across the high-wire Bateman has stretched out, in which Violet perpetually balances deadpan external calm with overwhelming internal detonation. Theroux's voiceover does feel a little too malevolent at times, and a few of the characters — like Violet's volatile brother (Todd Stashwick, "Love, Weddings and Other Disasters") and manipulative aunt (Bonnie Bedelia) — are more broadly sketched than others.
But overall, Bateman has gathered an unusually strong cast for both larger and smaller roles. Ash is lovely and grounded as Violet's concerned best friend, while Boutsikaris ("Better Call Saul") is believably odious and pathetic as her boss. And while most directors might pepper the background with unknowns, Bateman has deftly chosen veterans (Laura San Giacomo, Jim O'Heir, Anne Ramsay, Colleen Camp, Jason Dohring) who know how to turn fleeting moments into memorable shading.
The focus, though, remains on Violet. She'd hate that, of course. If only she knew how glad we are to spend this time with her.
"Violet" opens in New York and Los Angeles Oct. 29 and premieres on demand Nov. 9.
https://youtube.com/watch?v=6rXj3HuMgQw%3Ffeature%3Doembed
Source: Read Full Article