It's happened to all of us. You're on the couch, cozy in your sweatpants, midway through an epic Netflix binge and family-sized bag of Funyuns, when the first episode of the eight season starts auto-playing and… wait. Did they replace the mom with someone else? Who is this woman, and why is she taking the place of the zany-but-loveable actor we've adopted as our own mother for the past seven seasons? Is there any greater betrayal?
For viewers who are sucked into a show's universe, it may seem incomprehensible that the characters we know and love may be absent or replaced from a series. But actors are — gasp — real people, and everyone has their reasons for skipping out on a storyline. Whether the writers took a joke too far, on-set drama became too much, or contract negotiations went sour, plenty of actors have had to say "no" to an episode of a series on which they were a recurring character.
Patrick Warburton felt a Family Guy line was 'horribly offensive'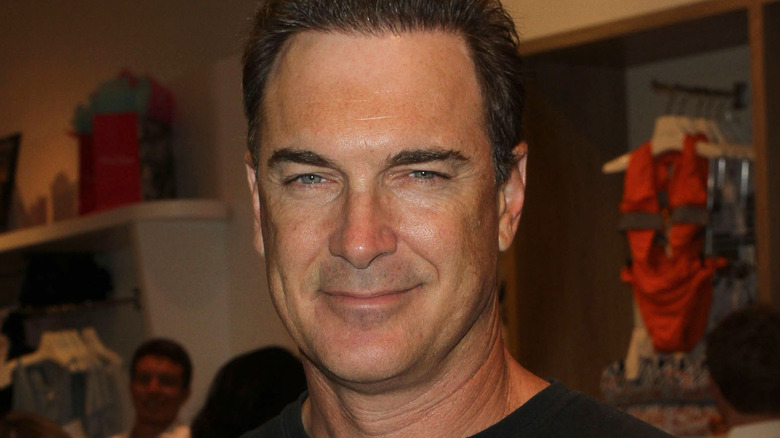 Anyone who's seen an episode of "Family Guy" knows the show doesn't shy away from wildly offensive humor. The animated hit regularly features jokes about race, sexual orientation, religion, and a myriad of other topics — Vice noted that the bits are "often so repulsive that watching can be painful"— and we imagine that anyone involved in creating the program has a limited sense of self-censorship.
Patrick Warburton, who voices Joe Swanson, has had his share of crude lines — but one joke crossed the line for the actor, who said in Digital Spy that he believes the series has gone too far "a number of times." He said some bits were so objectionable he "can't repeat" them today, sharing only that the episode "had to do with Christ on the cross" but had "no humour in it" and was "so, so horribly offensive."
Warburton told Digital Spy that the incident was the only time in the series' decades-long run that he felt he couldn't participate, and that he feels the show's humor usually speaks for itself: "In 20 years, there's only been this one episode. We have great communication all the time. They are all great and listen to you. They know I'm a team player. They know how offensive that was."
Danny DeVito was pranked on April Fool's Day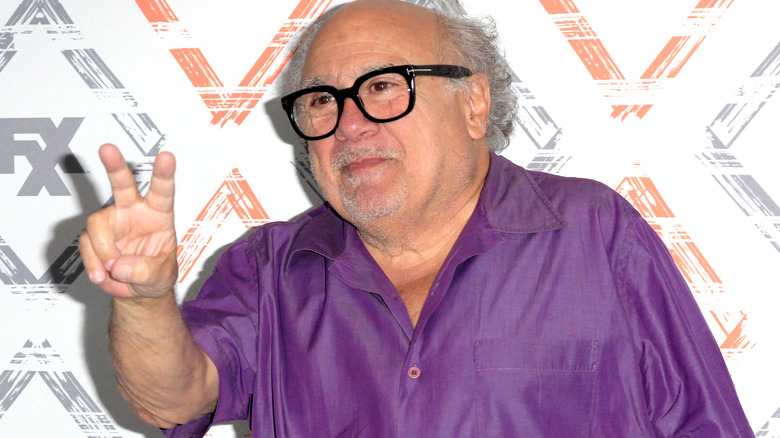 The addition of Danny DeVito to the "It's Always Sunny in Philadelphia" cast has brought us some truly horrendous (and horrendously beautiful) moments in television. Whether he's being birthed by a couch or espousing the virtues of his toe knife, the character of "Frank" has plenty of cringeworthy screen time. Evidently, DeVito will do nearly whatever it takes for the role — a theory that showrunners Glenn Howerton, Rob McElhenney, and Charlie Day put to the test.
In a Reddit AMA, Howerton was asked if DeVito "ever refused to do anything" on "It's Always Sunny in Philadelphia." Howerton replied that the team once gave DeVito a script which featured the character of Frank being sent to prison, joining a gang of white supremacists, and being assaulted multiple times. According to Howerton, this was the first time DeVito ever called the showrunners to say he couldn't do an episode. The storyline was never in serious danger of airing — apparently, the script was sent to DeVito as an April Fool's Day joke.
Charlie Day told a slightly more dramatic version of the story in an interview with Conan O'Brien. Day shared that the team "freaked Danny out" with their "descriptive" and disgusting prank script. After DeVito read the episode, Day said that he "called his lawyer," explaining that while he "loved these guys… this is too far."
Isaac Hayes reportedly quit South Park over Scientology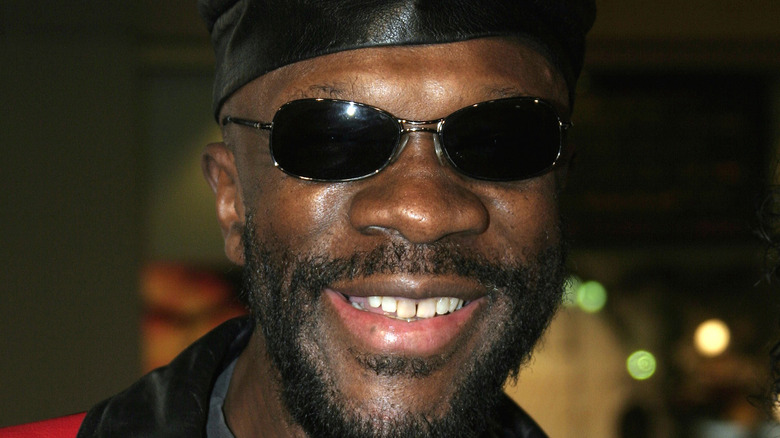 Singer Isaac Hayes voiced the beloved character of "Chef" on "South Park" from 1997 until 2006 — when he suddenly quit the show. Where does a voice actor finally draw the line in a series as infamous as "South Park?" Was it the Satanic woodland creature blood orgy in Season 8's Christmas special? Or the episode where Cartman fed a classmate his own parents ground into chili? Nope. For Hayes, the show apparently crossed the line in Season 9, when an episode aired mocking Scientology.
Hayes, a devout Scientologist, caused a media firestorm when he chose to leave "South Park." The episode, which Today described as featuring the character of Stan being "hailed as a reluctant savior by Scientology leaders," portrayed Scientology in a less-than-flattering light. At the time of Hayes' resignation, Today reported that showrunner Trey Parker told the AP that he "never heard a peep" out of the actor when the show was mocking other religions, and that Hayes "wants a different standard for religions other than his own."
Years later, Hayes' son Isaac Hayes III came to his father's defense in an interview with "The Hollywood Reporter," insisting that his father wasn't "hypocritical." According to Hayes III, Hayes had a stroke in January 2006, and "was in no position to resign under his own knowledge." Hayes III suspected that his father was manipulated: "At the time, everybody around my father was involved in Scientology… So someone quit South Park on Isaac Hayes' behalf. We don't know who."
Katherine Heigl skipped out on Grey's Anatomy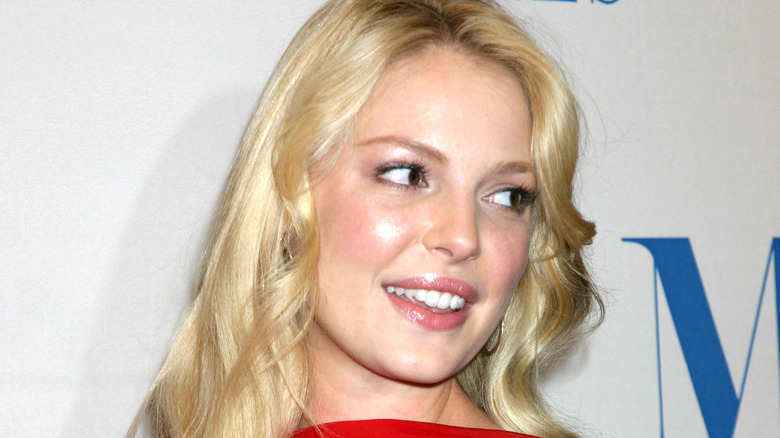 Katherine Heigl rose to fame playing Dr. Izzie Stevens at the height of the "Grey's Anatomy" mania that afflicted nearly everyone with a television in the mid-2000s. But just three years after she won an Emmy for her work on the series, Heigl suddenly parted ways from the roster. She told EW that her decision to leave "Grey's Anatomy" 18 months before her contract was up stemmed from her wish to spend more time with her family, saying that adopting her daughter "changed everything" for her. "I felt it was the right thing to do; we just didn't quite know how to do it appropriately, gracefully, and respectfully to the audience," she said. As EW reported at the time, Heigl bounced before filming the last five episodes of Season 6. And so, she wasn't in those episodes. 
In a 2021 interview with People, Heigl reaffirmed that she didn't "regret leaving 'Grey's Anatomy.'" She did, however, express that she wished she'd learned how to mitigate her anxiety earlier on in her career: "If I'd known anything about meditation then, or had been talking to a therapist or someone to help me through some of the fear that I was steeped in, I think I would have been more calm in how I approached what boundaries I needed to create to thrive." Heigl added that she harbors no ill feelings towards her time on "Grey's Anatomy" — going so far to say that she'll "never say never" to returning to the role.
Shannen Doherty turned down the Charmed finale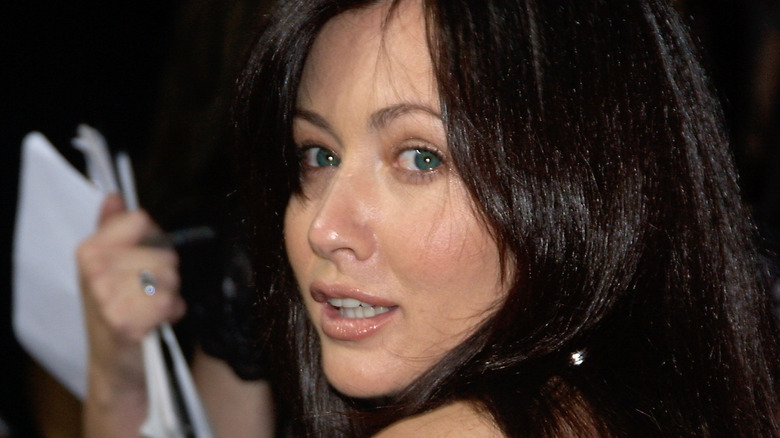 Shannen Doherty played Prue in the original iteration of "Charmed," which ran from 1998 to 2006. However, Doherty was only on the first three seasons. At the top of Season 4, the show revealed Prue Halliwell had been killed by a demon. Fans wondered why the star made such an early and abrupt exit from the roster, and one of the theories was centered around the rumored feud between Doherty and co-star Alyssa Milano. However, according to Express, Doherty revealed at Comic Con 2015 that she wanted to leave because she was often "bored" and that "playing the same character all the time was extremely difficult."
Doherty was invited back to appear in the 2006 series finale of "Charmed," but declined the role. While some might've assumed it had something to do with the supposed tension between members of the cast, Doherty told fans in a Q&A that drama was not a factor in her decision not to reprise her role as Prue. "Honestly," Doherty said in the 2015 event, "the way that they wanted to bring Prue back into it was just not authentic, and there was nothing interesting and good. And it wasn't true to the character. That's why I said no." Prue's character instead received a one-line acknowledgement in the final episode.
Elizabeth Perkins was too busy to return to Weeds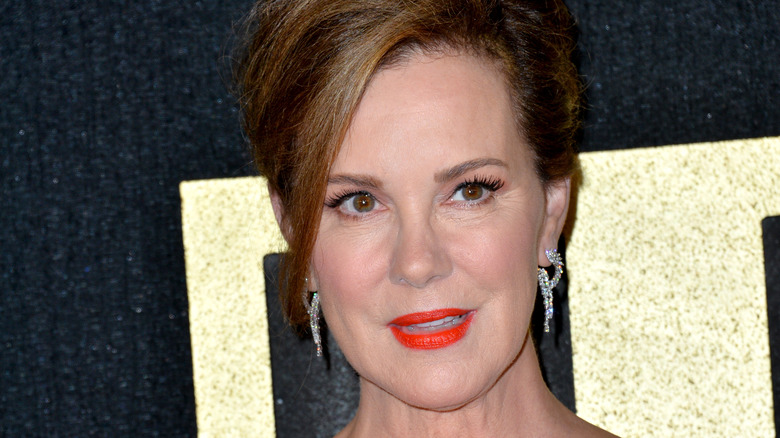 When a character is written off a TV show, viewers expect some sort of resolution or explanation will be written into the script. That was not the case for one of the characters on "Weeds." 
As ET recalled in a 2019 interview, actor Elizabeth Perkins quickly became a "fan favorite" on the series while playing the role of Nancy Botwin's "frenemy," Celia Hodes. However, when Perkins exited the show after Season 5, the character's fate was punctuated with a big question mark. "We never really knew what happened to her," she told the outlet. "She didn't die; she wasn't killed. Personally, I think they should've pushed her off a cliff. That would've been, like, a proper goodbye to Celia Hodes."
Although she was offered a chance to reprise her role for the season finale, Perkins declined, telling Yahoo! Entertainment that Celia's appearance in the last episode consisted of standing "around at the bar mitzvah." She said she ultimately could not do it because she was "busy shooting a new show," but perhaps she would have found some pocket of time if the character was given a violent, more climactic end? "I just felt like, no, Celia should die," she said. Fans will just have to imagine their own bloody end to Celia Hodes' story.
Christopher Eccleston declined the Dr. Who reunion special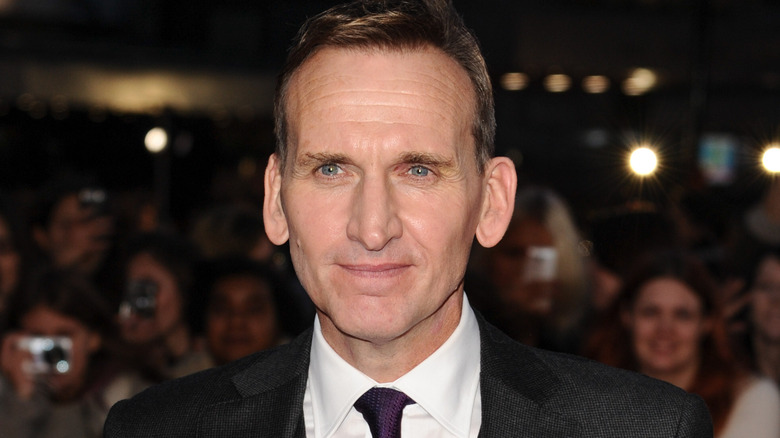 As the first actor cast as the Doctor in the modern reboot of "Dr. Who," Christopher Eccleston has earned his place in television history despite his short time in the role. Eccleston played the Ninth Doctor for just one season in 2005, until he left the show after his relationship with the showrunners "broke down irreparably," as he told the Radio Times. Eccleston was also frustrated with the show's tone as he was not the "natural light comedian" the role required.
Unsurprisingly, Eccleston turned down an opportunity to join the other Doctors for the show's 50th anniversary special. He told fans at the 2019 New York Comic Con that while there were "political" reasons that he did not reprise the role, he also "didn't feel like the narrative was strong enough" to justify the Ninth Doctor's return, especially considering the "abuse" he endured after leaving the show.
In 2020, Eccleston announced that he would once again be playing the Ninth Doctor — but not on television. BBC noted that Eccleston would voice the role of the Ninth Doctor in Big Finish Productions' "The Ninth Doctor Adventures," "a brand-new series of twelve fantastic full-cast audio adventures" to be released beginning in May 2021. Rejoice, nerds.
Matthew Perry apparently nixed an episode of Friends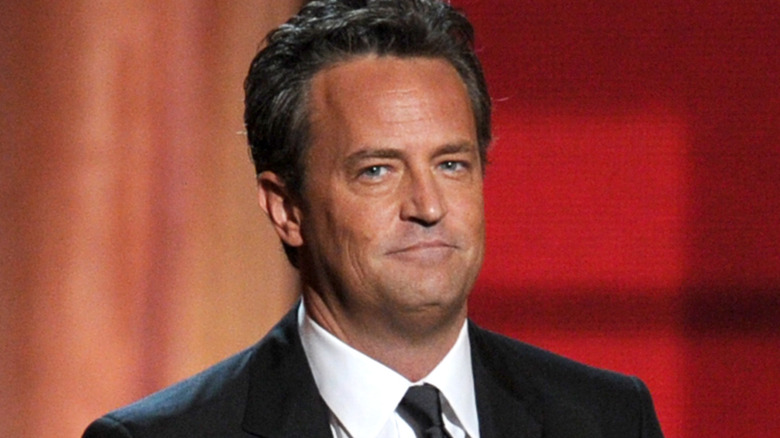 Now that years have passed since the series finale of "Friends," folks are finally speaking up about one of the show's more problematic characteristics — namely, its near-constant need to make the LGBTQ+ community the target of homophobic jokes. While "Friends" was groundbreaking in some ways — according to Pride, it was only the second network television episode to feature a gay wedding, airing just weeks after "Roseanne" made small screen history with Leon and Scott's wedding — it had a frustrating habit of creating LGBTQ+ storylines that were far more hurtful than helpful.
The show, which Out aptly described as having a "tendency toward gay panic for cheap laughs," had a notably painful episode in which neurotic funnyman Chandler Bing visits Las Vegas to invite his drag queen father to his wedding. According to Saul Austerlitz' book "Generation Friends: An Inside Look at the Show That Defined a Television Era," actor Matthew Perry nixed another potentially homophobic "Friends" episode in which Chandler frequents a gay bar because of his obsession with bar's tuna melts. As Metro wrote, "Presumably, a straight man in a gay bar being the butt of the joke."
It's unclear whether Perry's objection to the script was because he found it embarrassing to play or because he found it offensive, but let's just count our blessings and be thankful that "Friends" didn't get yet another opportunity to make a mess out of an LGBTQ+ storyline.
Luke Grimes didn't like the LGBTQ+ storyline in True Blood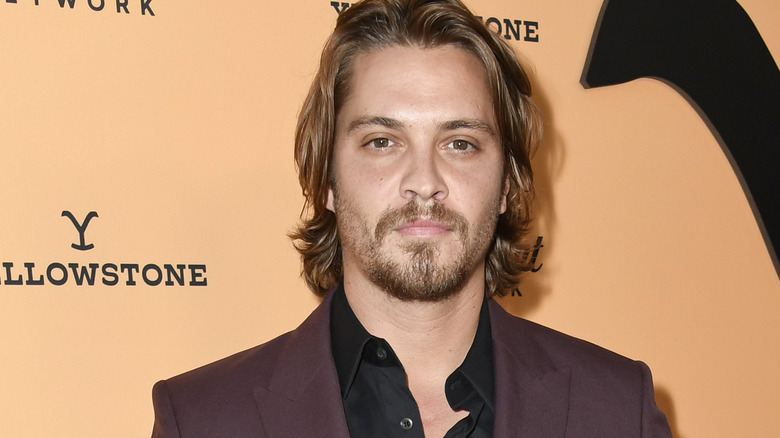 Luke Grimes, who played James in "True Blood," is another actor that refused an LGBTQ+ storyline. In 2013, TVLine reported a statement from HBO announcing that "the role of James is being recast due to the creative direction of the character." At the time, the reason for Grimes' sudden exit was unclear — but BuzzFeed later reported that a confidential source revealed that Grimes was uncomfortable with playing a gay character.
According to BuzzFeed's tipster, Grimes became upset when he realized that his character was going to be romantically involved with the character of Lafayette. In an attempt to negotiate, "He countered that he would be willing to play the role if Lafayette were attracted to him, but not if the attraction was mutual." BuzzFeed's source also claimed that Grimes "also did not want to do any same-sex kissing or sex scenes" and that his negotiations fell flat when "the writers were unwilling to change the scripts on his behalf."
Regarding Grimes' decision, Nelsan Ellis, who played Lafayette, said in Vulture, "We're all sitting there going, 'You quit your job because … really?' I'm just… I'm over him. You quit your job because you don't want to play a gay part? As if it's … You know what? I'm going to stop talking." In the aftermath of Grimes' exit, the show recast Nathan Parsons as James — and James and Lafayette got their romantic storyline after all.
Nora Dunn refused to perform on SNL with Andrew Dice Clay
On May 12, 1990, "Saturday Night Live" cast member Nora Dunn made the bold and controversial choice of boycotting the episode in protest of that week's host, edgelord comedian Andrew Dice Clay. In an interview with Salon, Dunn said she refused to perform with Clay because "The Diceman" character he took on in his stand-up act "was an abuser of women" and a "homophobe" with "terrible" material. The move garnered flak from viewers, the press, and fellow cast members.
Cast member Jon Lovitz famously derided Dunn for her decision. In a 2014 episode of "The ABC's of SNL," Lovitz said that the whole cast was angry with Dunn and gave her the "cold shoulder" when she returned to the set "because she just made us look like we were sell-outs for doing the show" (via Uproxx). Apparently, bad blood between Lovitz and Dunn remains even years after the fateful episode. When asked by Salon why Lovitz became so upset, Dunn responded, "I will never know what his problem is… Don't tell me something isn't garbage when it's garbage, because I know what garbage is."
Source: Read Full Article