Queen of the sexist shut-down! Scarlett Johansson is, sadly, no stranger to a misogynistic comment or two but, thankfully, she's not afraid to put a stop to them, either. The star has repeatedly hit back at journalists who crossed the line when it came to their interview questions. She also speaks out about women's rights and her feminist views.
Johansson shines a light on the way women in the entertainment industry are treated, particularly when it comes to the gender pay gap. "It's always an uphill battle and fight. My experience with my close female friends and family is that the struggle is real for everybody," she told Marie Claire in 2017. "Just because I'm the top-grossing actress of all time does not mean I'm the highest paid. I've had to fight for everything that I have. It's such a fickle and political industry," she added, noting, "Everyone has been discriminated against or harassed. Sexism is real."
Scarlett Johansson has talked the talk and walked the walk many times. See the actor's strength in action as she stands against inappropriate remarks.
Scarlett Johansson didn't want to discuss 'rabbit food' during an Avengers press conference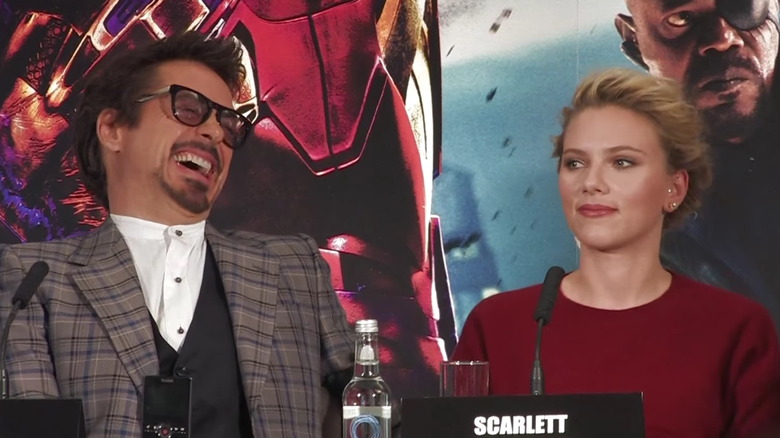 Scarlett Johansson wasn't planning to answer questions about her figure in 2012 while promoting "The Avengers" alongside her co-stars, including Robert Downey Jr. Johansson was in the U.K. to chat about the movie at a press conference. A reporter asked Downey Jr. about how "Tony Stark started off as a very egotistical character but learns how to play as a team," before questioning how he "approach[ed] this role" as an actor.
The reporter attached a question for Johansson with much less depth. "To Scarlett, getting into the shape of Black Widow did you have anything special to do in terms of the diet, like [did] you have to eat certain specific foods, or that sort of thing?" Well, understandably, the star wasn't so thrilled about the stark (pun intended) contrast between the question she was asked and the one given to her male co-star.
"How come you get, like, the really interesting, like, existential question, and I get the, like, rabbit food question?" she asked, turning to Downey Jr. as she gave the reporter a little side-eye and looked noticeably annoyed. Johansson then gave a somewhat brief answer, pretty bluntly sharing that she trained hard and ate some "green things" before sharing a laugh with her co-star.
Black Widow won't be called 'the sexy one'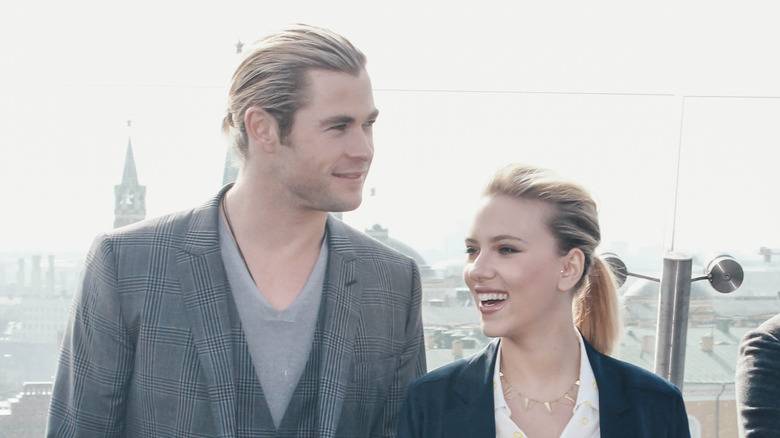 Black Widow isn't the sexiest Avenger, at least if Scarlett Johansson has anything to say about it. In 2015, the actor appeared alongside her co-stars, including Robert Downey Jr., Mark Ruffalo, Aaron Taylor-Johnson, Jeremy Renner, Chris Evans, Elizabeth Olsen, and Paul Bettany, while the gang gathered to promote "Avengers: Age of Ultron" in Europe.
The cast sat with director Joss Whedon in front of journalists during a press conference, when one emboldened reporter somewhat misogynistically asked Johansson how it felt to know that her character, Black Widow, "could have easily just been kind of written off as the sexy one of the team." Well, Johansson, being the strong and sassy person we know she is, wasn't having that. The star expertly turned the tables on one of her male co-stars after her looks were once again the focus of questioning, responding, "Really!? Have you seen Chris Hemsworth!?"
Scarlett Johansson took the opportunity to speak a little more in-depth about her character, praising the fact that she's not dependent on anyone else and is strong enough as she is. "I think one of the qualities … that I love and am interested in is that she … put in the work and she's at a place where she's able to … do something for herself and maybe even have a relationship with somebody and maybe even open up in that way," the actor explained. There's more to life than being sexy or beautiful, according to Scarlett Johansson. 
It's 'more flattering' for Scarlett Johansson when girls enjoy her movies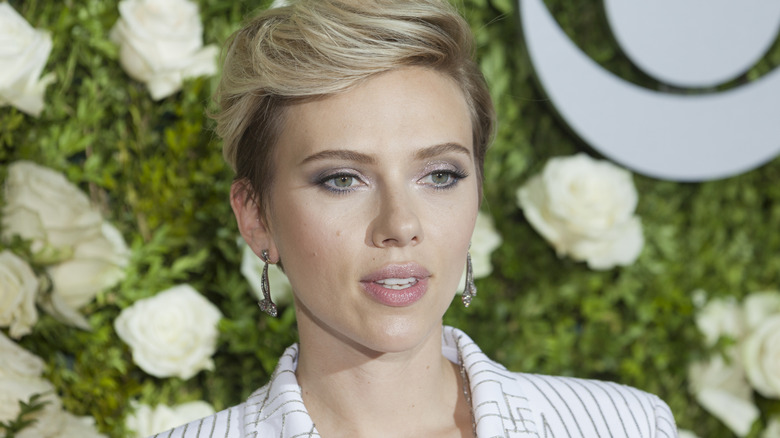 Scarlett Johansson had an A+ reaction during an interview with Russia's RT network in 2012 when a female reporter pointed out something that was seemingly meant to be a compliment but didn't exactly come across that way.
The journalist explained to Johansson that she had the attention of men all over the world, including her own boyfriend, boldly stating that "all of men" like her. Johansson then joked that she'd reached a major goal, teasing with a straight face that she'd "finally got them, all generations!" as she put her hands up in the air in triumph.
The actor went on to admit that, although she was "always happy to put out films that garner a good response from a strong male audience," she found it "more flattering" to have "girls that come up to [her]" and tell her they enjoyed her movies. "I think girls … we want, kind of, the approval of other girls. I think a lot of times guys think that we dress for them and, you know, all that stuff, but it's really not true. We actually just do it for girls," she shared. 
Scarlett Johansson called out Ryan Seacrest's 'ridiculous question'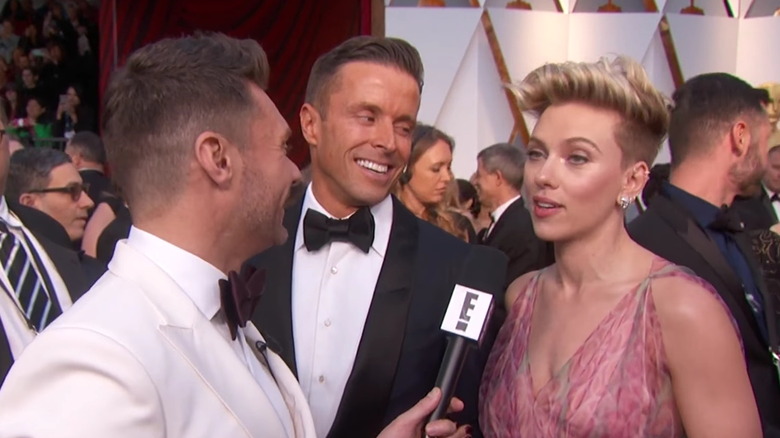 Sorry, Ryan Seacrest! Scarlett Johansson wasn't exactly here for your line of questioning on the red carpet at the 2017 Oscars. Proving that even the longtime pros get it wrong sometimes, footage from E!'s "Live From The Red Carpet" coverage went viral after Johansson slammed the "American Idol" host during his interview with her. Seacrest asked Johansson, erm, not exactly the most insightful question before she headed into the prestigious event.
For some reason, Ryan Seacrest thought it would be a good idea to ask Scarlett Johansson, "Do you actually wear the shoes that you are wearing tonight for the rehearsal?" while seemingly looking down towards her feet. Well, Johansson wasn't a fan of the question and equally wasn't afraid to make it known, replying with a laugh, "What a ridiculous question!"
Seacrest then attempted to save things by pointing out that he asked because it had been reported that fellow actor Halle Berry had revealed she rehearsed in her shoes, to which Johansson somewhat sarcastically responded, "I did not. I couldn't imagine having to put these on two days in a row. Not that they're not gorgeous…"
Scarlett Johansson has been asked about her underwear by interviewers multiple times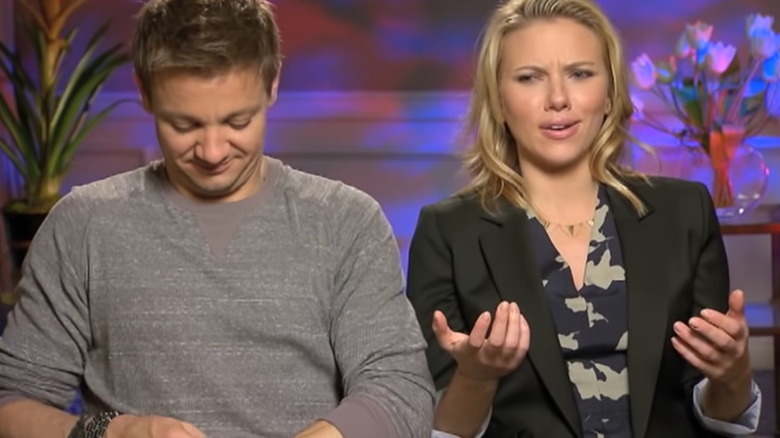 It's hard to imagine an interview situation where the subject of someone's underwear would come up, but that's, somehow, exactly what's happened to Scarlett Johansson on more than one occasion. In a video that's gone viral on social media for all the wrong reasons, the star was sitting down alongside fellow actor Jeremy Renner during an interview with Extra's Jerry Penacoli back in 2012.
For some reason, Penacoli thought it would be appropriate to ask Johansson to go into detail about the "undergarments" she was "able to wear" under her "skintight" Black Widow suit. Really. She was understandably taken aback by the conversation's sudden turn to her underwear, though she sadly admitted that Penacoli was around the fifth person to ask her about what she wore underneath. Those circumstances didn't mean Johansson was about to give an answer.
"What is going on? Since when did people start asking each other in interviews about their underwear!?" she hit back, adding, "I'll leave it up to your imagination. Whatever you feel like I should be wearing or not wearing under that costume." Penacoli then asked if his question was "inappropriate." Johansson, understandably, looked pretty surprised by his lack of awareness. "Was I wearing underwear? Gosh! Ask Joss [Whedon]" she added, looking pretty disgusted. "What kind of interview is this?" Shut. Down. Cosmopolitan UK flipped the script in 2015 by asking Mark Ruffalo, and not Johansson, the appearance-based questions.
Scarlett Johansson is not just 'a sparkly object'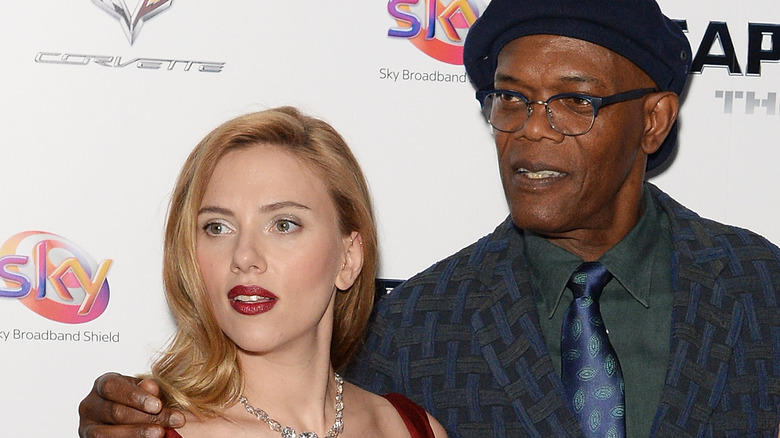 Scarlett Johansson is certainly not just something pretty to be looked at, and she's not afraid to make that known. The sassy star held her own during an interview with Samuel L. Jackson as they discussed women in movies while promoting their 2008 film, "The Spirit," during a press junket interview, via Real Video UK. 
Jackson pointed out that Johansson's character was "the one person that can bring [his character] down off the ledge sometimes," to which the reporter interjected, "Well that's what women do though, isn't it? … There's always a good woman behind a good man." Johansson responded to the silly comment, "Yeah, I think that's probably true." The actor noted that women can also be "in front of" or "on the side" of the theoretical man, before the interviewer added, "Either way, looking gorgeous." Though the remark was seemingly said as a compliment, Johansson insinuated that she had more to offer than being just an "object" on the screen for people to gaze at.
"Thank you very much. Well, you know that's… I can also be used as a sparkly object to distract the spirit … he's just like, 'Look at this shiny thing!'" The actor knew that she's got so much more to offer than her looks.
Fashion questions aren't within Scarlett Johansson's remit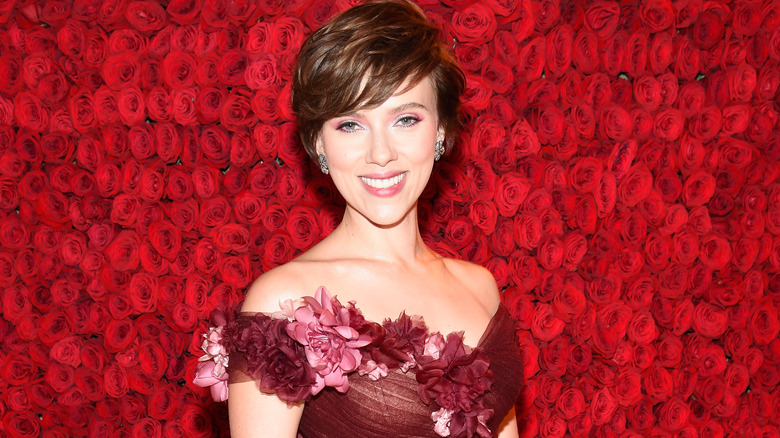 Scarlett Johansson is not a fashion prop, and she's not afraid to tell people that. One of her most notable sexist shut-downs came in April 2018 when the cast of "Avengers: Infinity War" gathered in Los Angeles to promote the movie with a press conference. The cast and some crew sat in front of the reporters, who then shot out a range of questions.
But when it was Johansson's turn to speak, she didn't exactly get a topic she was fond of. Instead of asking her a more in-depth question, a male reporter instead chose to inquire about "the fashion elements" in the blockbuster superhero movie. "I got the fashion question?" she exclaimed as her co-stars applauded. "I honestly really don't know how to answer that question." Far from being rude, the star gave it her best shot to tackle the somewhat misogynistic inquiry with a little dose of her signature sarcasm and sass.
"I wear a leather unitard for most of this film. And I have been for the last 10 years. So if you think of any fashion elements that you would like to include, please let us know," she teased, before sardonically adding, "I have a new vest, everyone, so that was pretty exciting. And I have a new hairstyle, as well, if you haven't noticed already. It's a little bit polarizing, I can see, it's fine. It was a choice I made, and I'm sticking by it."
The 'sexist' Hollywood Foreign Press Association felt the wrath of Scarlett Johansson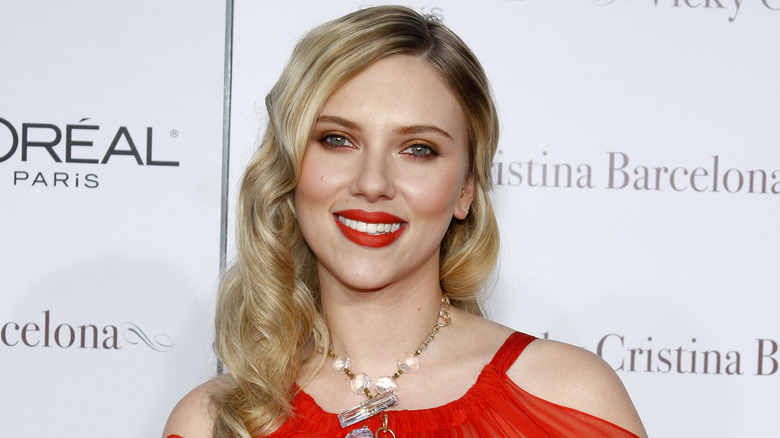 It's not just in interviews that Scarlett Johansson has spoken up and spoken out. In May 2021, she directed her attention towards the Hollywood Foreign Press Association (HFPA) after the company was accused of a lack of diversity. The HFPA is a non-profit organization made up of entertainment journalists and photographers which donates its proceeds to charities within the entertainment industry.
In a courageous statement sent to The Hollywood Reporter, Johansson highlighted the fact that she had repeatedly experienced sexist moments from certain members of the organization throughout her career. She claimed she had faced "sexist questions and remarks by certain HFPA members that bordered on harassment" while promoting various movies. Such incidents were the "exact reason why" Johansson has "refused to participate in their conferences" multiple times before. 
But she wasn't done there. Johansson also vowed to "take a step back from" the organization and urged others to do the same, "[u]nless there is necessary fundamental reform."
Scarlett Johansson wasn't happy with the sexualization of Black Widow in Iron Man 2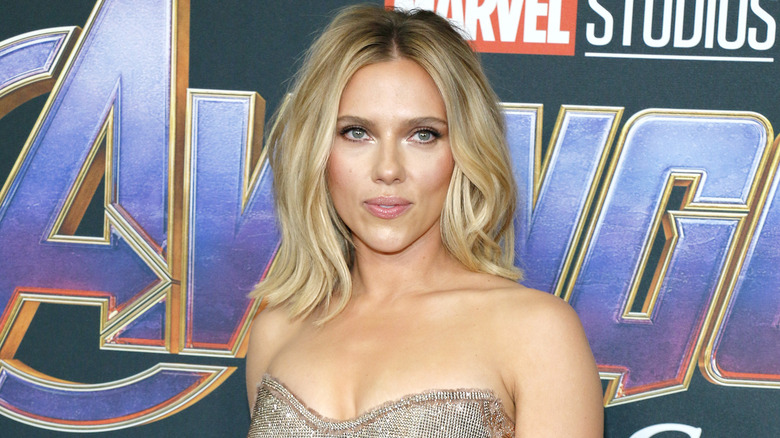 Scarlett Johansson clearly isn't one to shrink in the face of injustice, and she proved that once again by speaking out against the way her own character was portrayed in the 2010 blockbuster "Iron Man 2." Scarlett Johansson plays Black Widow in the movie, and she called out the production for a sexist line 11 years later in an interview with Collider. Speaking in June 2021 while promoting her own movie, "Black Widow," Johansson referenced a particularly problematic line uttered by Robert Downey Jr.'s Tony Stark, who said, "I want some," about her character.
She shared she was happy "Black Widow" marked a "move away from the kind of hyper-sexualization of this character," explaining that "Iron Man 2" "was really fun and had a lot of great moments in it" but "the character is so sexualized." She added that Black Widow was "talked about like she's a piece of something, like a possession or a thing or whatever — like a piece of a**, really," before pointing out that Tony Stark "at one point calls her a piece of meat and maybe at that time that actually felt like a compliment."
She added, "It's changing now. Now people, young girls, are getting a much more positive message, but it's been incredible to be a part of that shift and be able to come out the other side and be a part of that old story, but also progress. Evolve." We love to see it!
Source: Read Full Article