Jameela Jamil has become an icon in more ways than one. Though she first rose to public consciousness in the UK as a TV presenter starting in 2009, she became a household name around the world when she took on the unforgettable role of Tahani Al-Jamil on NBC's "The Good Place" alongside Kristen Bell and Ted Danson.
But although Jamil's stellar career has earned her the support of legions of fans, it's her activism that has truly propelled her into the limelight. Whether people agree or vehemently disagree with the points she makes through her social media accounts or during interviews, Jamil certainly can't be accused of not speaking her mind — and she refuses to be silenced.
One societal issue that the actor-slash-activist isn't about to let fly? Sexism in all shapes and sizes. True to form, Jameela Jamil has made a point of calling out sexist remarks and actions whenever she encounters them, whether that means responding to a dissenter bold enough to utter an inappropriate comment directly to her, or explaining in no uncertain words why something is totally unacceptable.
Jameela Jamil called Kim Kardashian 'a double agent for patriarchy'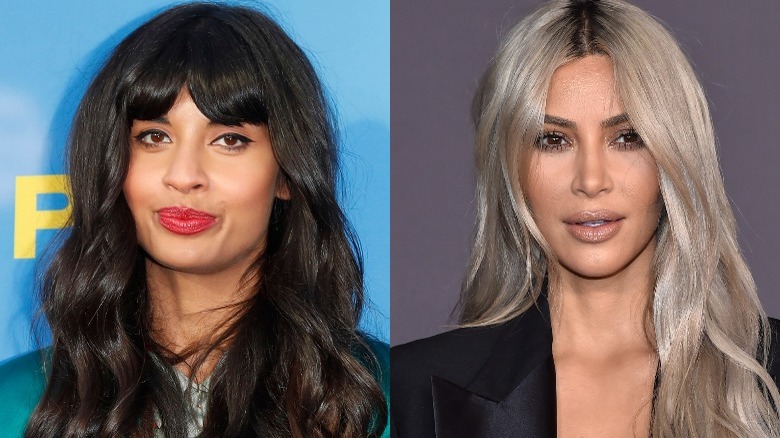 Jameela Jamil has a long history of calling the Kardashian family on behaviors she deems problematic. In a 2018 interview with Channel 4's Krishnan Guru-Murthy which went viral at the time, Jamil came for Kim Kardashian, whom she believes promotes products and sends messages that are harmful to her followers — especially the women among them. "So, the double agent for the patriarchy is basically just a woman who perhaps unknowingly is still putting the patriarchal narrative out into the world, is still benefiting off, profiting off, and selling a patriarchal narrative to other women," she said, implying that that's what she thought Kardashian was doing.
Jamil has also hit out at Kim K's younger sister Khloé Kardashian several times. In 2019, Kris Jenner's third eldest had posted an ad for Flat Tummy Co weight-loss shakes on Instagram, on which Jamil commented, "own up to the fact that you have a personal trainer, nutritionist, probable chef, and a surgeon to achieve your aesthetic, rather than this laxative product…" She added that this post was hurting "other girls." The interaction was reposted by Instagram account @commentsbycelebs after Khloé deleted the post. Addressing the promotion of these kinds of products in the aforementioned Channel 4 interview, Jamil said, "it feels like a betrayal against women." In a 2021 Instagram post, she also called Khloé Kardashian and her sisters' promotion of "diet culture" a prime example of "anti-feminist behavior."
Jameela Jamil hit back at a headline that insulted Demi Lovato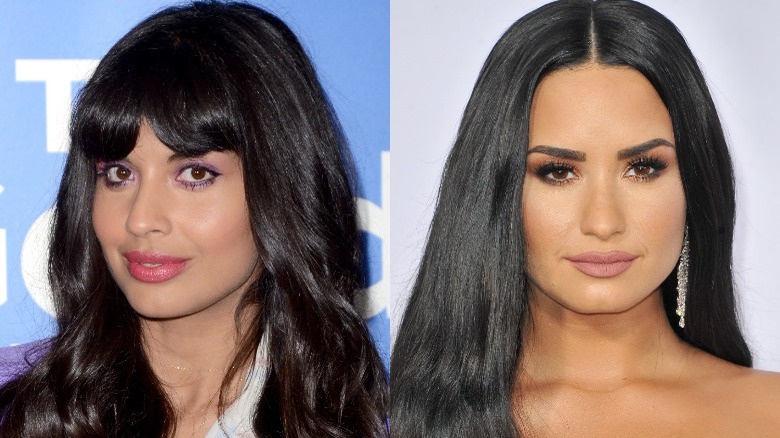 In March 2019, the following headline appeared on The Inquisitr: "​​Demi Lovato Appears To Have A Fuller Figure After Working Up A Sweat In LA." Lovato unfortunately came across this headline, and called it out on their Instagram Story, writing, "I AM MORE THAN MY WEIGHT" (via Upworthy).
In response, Jameela Jamil took to Instagram to defend the singer's perspective. To accompany an image featuring a profanity-filled declaration of support for Lovato, Jamil wrote, "[They deserve] so much more respect. We all do. Nothing on earth makes your weight relevant unless you are an MMA fighter/wrestler/suitcase. Thank you to @ddlovato for always being a source of strength and light."
For Jamil, weight discrimination is a feminist issue at its core, because women (and nonbinary people like Demi Lovato) are so often picked apart for their weight — especially if they happen to be famous. In an interview with British Glamour, Jamil decried the expectation that women spend all this money on losing weight and trying desperately to achieve a narrow beauty ideal. "Where's all this extra money coming from?" she said. "Why isn't the patriarchy giving us more money if we're expected to spend all this money on ourselves for the bloody men? You can't have your cake and eat it too."
Piers Morgan is 'problematic' and 'a misogynist' in Jameela Jamil's eyes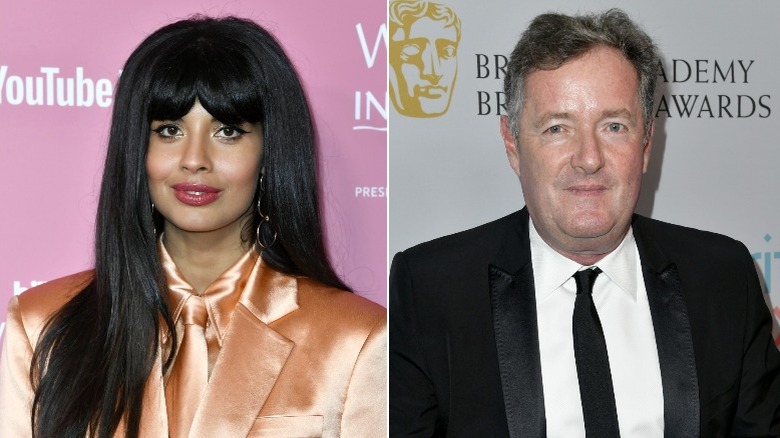 Here's one area where the "Legendary" judge aligns with a whole lot of people: Jameela Jamil has a bone to pick with Piers Morgan. She is in good company there, with the likes of Kim Kardashian, Jennifer Aniston and Lady Gaga all having found themselves in spats with the controversial TV personality.
After Meghan Markle chose Jamil as one of the inspiring women featured in the issue of British Vogue she guest-edited, Morgan reminded his Twitter followers of some of Jamil's unkind past comments towards other famous women. But it wasn't exactly the "gotcha" he thought it was, as Jamil's pinned tweet at the time owned up to the mistakes she'd made in the past, and the continual learning process that she was committed to. "It is never too late to check yourself and right your wrongs," it read (via Cornwall Live). "Nobody is born perfectly 'woke.' Listen, read, learn, grow, change and make room for everyone. We aren't free til ALL of us are free."
In her direct response to Morgan, Jamil didn't mince her words quite so much — he tried to make it sound like she was the problematic one, but she wasn't having any of it. "My PINNED tweet is all of the mistakes I made, owning up to being problematic when I was young," she wrote. "I have nothing to hide. You are old, and still a problematic sl*t-shaming, fat-shaming, misogynist, irrelevant sh*t stain, smeared across our country." Now that's what we call clear communication.
Hypothetical sexist comments are no match for Jameela Jamil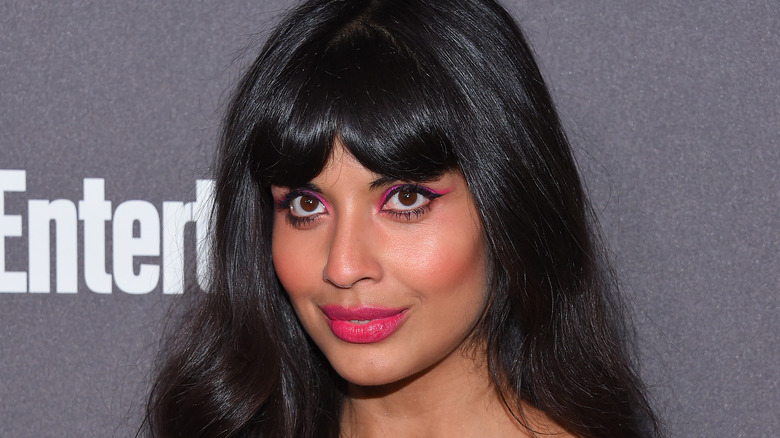 Aiming a sexist comment at Jameela Jamil is not for the faint of heart (nor should it be for anyone at all, but that's another problem). The star has seen it all, and she is wonderfully prepared to clap back against any misogyny that's thrown at her. Spoiler alert: It involves a whole lot of swearing.
Filming a short segment for the UK's Stylist magazine, Jamil was asked how she would respond to various hypothetical sexist comments, including, "stop being so sensitive," "have you lost weight?" "MeToo's gone too far," "you should smile more," "you look great for your age," and "oh just chill out." Her response to all of them was essentially a spin on the old classic, "f*** off." If it ain't broke…
Addressing some of the harmful messages and products influencers use their platforms to sell at a #BlogHer event with SheKnows, Jamil demonstrated some more of that no-holds-barred British wit, and you can be sure there's plenty more where that came from. "If you've got thousands of followers and those followers are young and you have a platform, use it responsibly, or just go to hell where you belong," she said. Ouch.
Misogynistic tabloid stories don't sit right with Jameela Jamil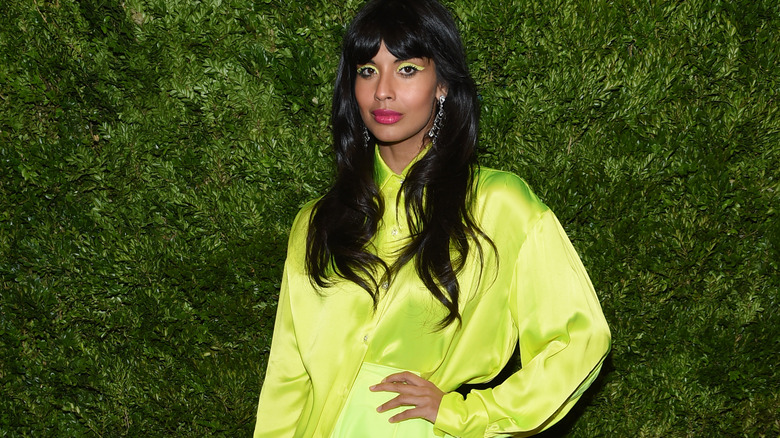 Jameela Jamil knows how important the media is in forming its audience's identities — especially when it comes to women and girls. That's why, when guest-editing an issue of Stylist for the magazine's tenth anniversary, it was very important for Jamil to shape it into the antithesis of the kinds of magazines she'd grown up with, which were often really sexist even though they were aimed at female readers. "Women's magazines never challenged or informed us in their articles, we were just fed fluff that almost always carried subliminal messaging about how to be more attractive towards the patriarchal gaze," Jamil said. "This all F***ED ME UP as a young person — and I didn't grow up with social media."
If women's magazines have improved since that era, for Jamil, tabloids are still deeply misogynistic. When Jamil gave her take on Kim Kardashian's Skims line of pregnancy shapewear, writing "I wish we could just Normalize just focusing on the inside of a pregnant body, not the outside," the press jumped on the opportunity to make it look like she and Chrissy Teigen — who liked the shapewear — were in a feud, when they weren't at all. "The garbage way that tabloids try to set women upon each other to create a fantasy b*tch fight for entertainment is so disgusting and archaic," Jamil tweeted (via the Los Angeles Times). "We all know each other… you can't just make sh*t up about us."
Jameela Jamil called out memes that 'weaponized' Adele's body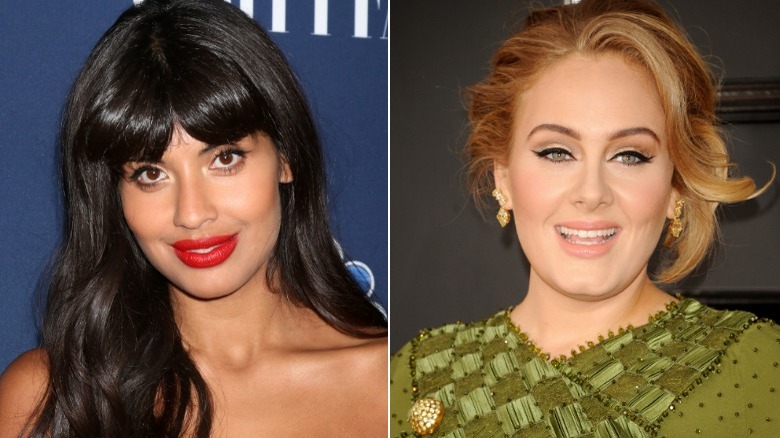 For Jameela Jamil, diet culture is directly tied into misogyny, and she really wasn't happy when the media zeroed in on Adele's weight loss in 2020, which the singer showcased in a rare Instagram photo but didn't directly comment on. So when memes about this weight loss started popping up, Jamil was far from pleased. The actor and activist took to Twitter to write, "Adele would hate this so much. I'm so glad she isn't on here to see people weaponize her body against women. These memes are everywhere. This is so offensive. So destructive. So reductive. It encourages us to demonize and become afraid of food" (via Metro).
Diet culture and weight discrimination are the issues at the heart of Jamil's I Weigh movement, which started on Instagram and has since amassed a million loyal followers. In its early days, the page encouraged followers to share what they "weigh," that is the things that make up who they are — rather than the number on the scale. These days, it promotes episodes from the I Weigh podcast, as well as colorful infographics aimed at dismantling diet culture and inspiring quotes, among other things. The I Weigh website summarizes the impact of the work they have done since 2018: "To date, we've assisted in changing global policies at Facebook and Instagram around diet & detox products being shown to minors and are currently campaigning for two bills to reach the Senate." Not bad at all.
In film and TV, Jameela Jamil wants 'more complex' parts for women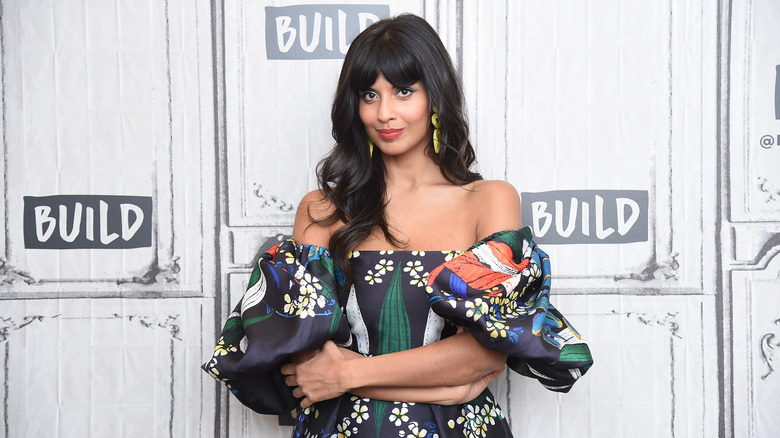 In a roundtable conversation with Tiffany Haddish, Elle Fanning, Jane Levy, Robin Thede, and Amy Sedaris for The Hollywood Reporter in 2020, Jameela Jamil spoke about often being offered "very sexual roles," which she said she wouldn't have a problem with if it wasn't one of the only ways that female characters are given depth. "I am either the sexy girlfriend or the annoying girlfriend who derails the male protagonist's life, and I'm so tired of that always being the case," Jamil said.
The actor is also aware that it's not just the movies in which she's offered a role that have a problem with the way they portray women — it's a whole lot of movies, period. "I've been watching so many films during lockdown and realizing how often that storyline comes up, that a woman is there to instigate difficulty for a man and she doesn't really get to be the great comedian," Jamil added. "I don't want to be someone's sidekick and I don't want to just be someone's f*** toy in a film. I want more complex and nuanced roles, especially within comedy for women."
Jamil has also publicly called out the need for much greater diversity in casting generally, saying that there is still a lot of progress left to be made. Tacked to a video of her explaining why she created I Weigh, Jamil wrote, "Take some f***ing risks and hire on screen to reflect what we see off screen." Very well said.
Jameela Jamil has addressed her own past sexist comments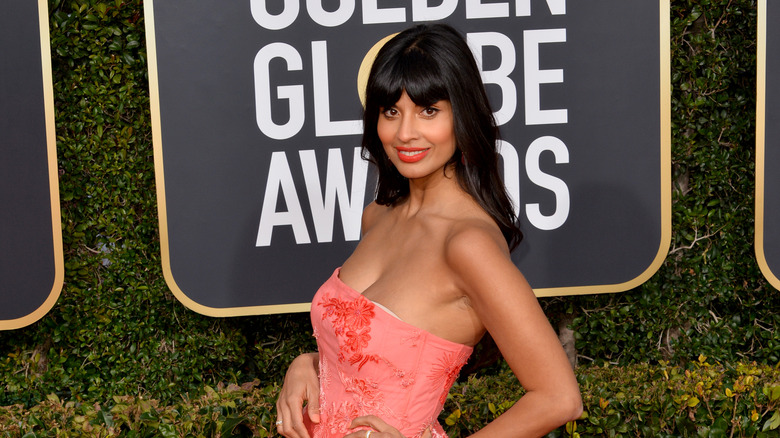 Jameela Jamil believes strongly in giving people the chance to grow and be better, a compassion which she also extends to herself. She has admitted many times to having made mistakes, and calls herself a "feminist-in-progress" in her Twitter bio, implying that her learning never stops.
Appearing on Jada Pinkett-Smith's "Red Table Talk," Jamil took complete ownership of the ways her past self didn't live up to the standards she sets for herself now. "I was a real d*ck, not even that long ago," she admitted. "I was a misogynist." When asked to explain what she meant, Jamil added, "I was bullied at school by girls, and I didn't always have great relationships with all the women in my family, and so I didn't have a good vibe of women growing up. And I would speak disparagingly about women, and I thought women were just always in drama."
Piers Morgan tried to "expose" some of the mean comments Jamil made in the past in a tweet, saying she "called @Beyonce a 'stripper', said @MileyCyrus was a 'vagina with no platform' & told @Rihanna to 'put your m*nge away" — but as Jamil noted in a since deleted tweet, she had already confessed to having been problematic in the past (via Cornwall Live).
Jameela Jamil has thoughts about #NotAllMen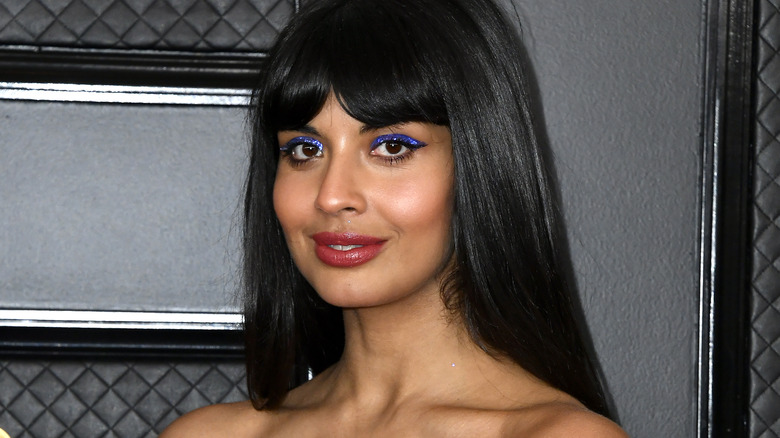 Many have argued that #NotAllMen is the epitome of a sexist statement; men often use it in response to people telling their stories about having been attacked by a man, allowing them to divest their personal responsibility in creating an unsafe environment for women, nonbinary people and LGBTQ+ folks simply because they did not attack someone themselves. Jameela Jamil is certainly of that opinion as well.
After the tragic disappearance and murder of London woman Sarah Everard in March 2021, many men were quick to use the hashtag #NotAllMen to remind us that some men wouldn't do what Everard's murderer did. But this, argued Jamil, is not nearly enough. "It's true that #notallmen harm women," she tweeted. "But do all men work to make sure their fellow men do not harm women? Do they interrupt troubling language and behavior in others? Do they have conversations about women's safety/consent with their sons? Are #allmen interested in our safety?" In the ever-relevant words of Desmond Tutu, "If you are neutral in situations of injustice, you have chosen the side of the oppressor."
Jameela Jamil won't stand for the J. Lo vs. Jennifer Garner convo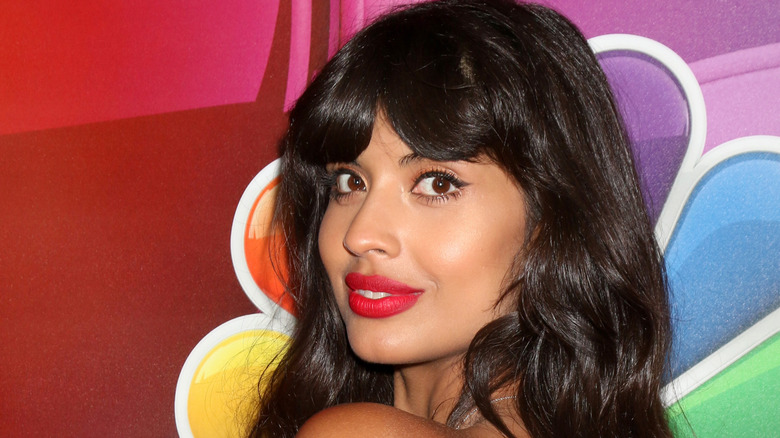 2021 brought with it an unexpected event that gave many people immense joy: Jennifer Lopez and Ben Affleck rekindled their romance, a whopping 17 years after they first broke up. Unfortunately, Bennifer 2.0 had an unfortunate consequence: Both the media and individual social media users started negatively comparing Affleck's ex-wife, Jennifer Garner, against his new belle. As ever, Jameela Jamil was not about to let this kind of sexist behavior fly.
"ABSOLUTELY not here for the Jennifer Garner comparison to JLo, with paparazzi pics of her working out, put right next to glamorous social media photos of JLo," Jamil wrote in a tweet which she reposted to Instagram. "It's not the nineties. We aren't still pitting women against women over a guy… ESP when only one of them wants him." In her caption, Jamil called on her followers to "BLOCK any publication or individual pursuing this narrative" in order to reduce the influence and harm that such sexist messaging can have on all of us. "Let the Jens live," Jamil concluded. "Let women live. Let girls live. Stop the rot." May "let the Jens live" forever be a motto to live by.
Source: Read Full Article