Steve Howey has been a near-constant presence on television for more than two decades. As his IMDb credits demonstrate, since his first TV credit in 1999 (in the series "Pacific Blue"), the actor went on to appear in an array of shows, including "ER", "The Drew Carey Show," "Love Bites," and others. 
However, it was in 2011 that Howey landed the role that would prove to be defining: Kevin Ball, the muscled-up owner of the Alibi Room in the Showtime hit, "Shameless." Running for 11 seasons, "Shameless" allowed Howey to showcase his comedy chops in some particularly out-there scenarios — including the outrageously twisted storyline in which Kev and partner Veronica Fisher (Shanola Hampton), believing she was infertile, tried to have a baby via a bizarre three-way sexual relationship with her mother — with Kevin impregnating both women. 
When "Shameless" called it day in 2021, Howey and the rest of the cast said goodbye to the characters they'd played for over a decade. Yet after all those years of tuning in, how much do fans really know about the guy who stood behind the bar of the Alibi Room for more than 10 years? Let's discover the untold truth of Steve Howey.
His parents' 'vagabond' lifestyle meant he was always on the move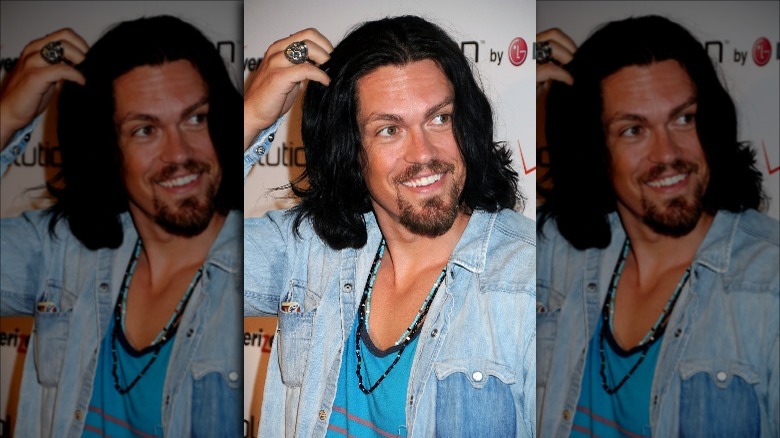 Steve Howey's childhood was far from typical. His "vagabond" parents, he told CBS' Watch!, were acting coaches who "travelled a lot" when he was a kid. "We didn't have any money, but my parents did work a lot," the TV actor said. "They had an aquarium-cleaning business, my mom worked for a sound company, Dad taught acting and made videos on chiropractic care. They were all over the place." 
At one point, he revealed to the Chicago Tribune, he and his parents hunkered down on a 67-foot yacht, explaining that "instead of buying a house they bought a boat and that's where we lived."
As Howey told CBS' Watch!, "[My parents] were on their own journey and I happened to just go along with them." That journey involved some major travel when they sold the yacht and downsized to "this 38-foot schooner" and headed out to sea. "We started making our way down south to Baja, stayed in Cabo, then went down to Mazatlán," Howey recalled. "By the time we were headed to Panama, it had been, like, months and months and months. I remember being hungry and my mom saying, 'Cast a line, Bill! Get a fish!'"
School was not Steve Howey's 'priority'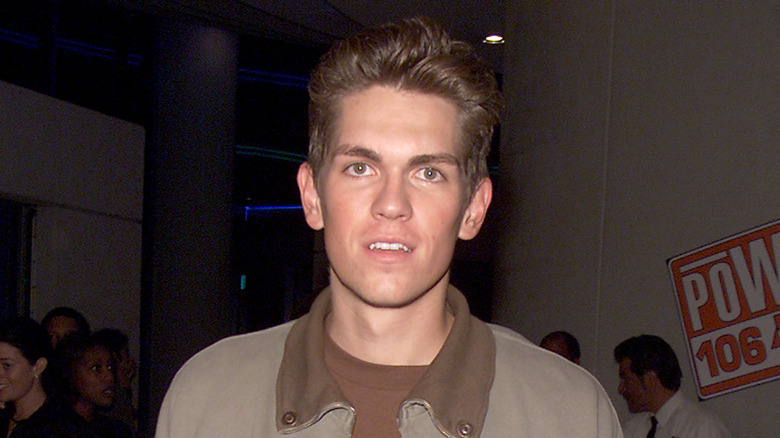 Sailing the Pacific with his parents as the months stretched into years was a unique experience for young Steve Howey. School, he told the Chicago Tribune, "wasn't a priority, really," adding, "My mom would be like, 'Steve, after I smoke this joint and do a body shot off your father's navel, I'm going to teach you how to do fractions.' She did as much as she could."
Not to mention, parental supervision was pretty much nonexistent. "We would anchor off the coast of Mexico and there would be a small town nearby and I would say to my mom, 'I'm going to go into town' and I would swim ashore and my mom would say, 'Come back before dark.' So I would be by myself, barefoot and red shorts, collecting bottles and turning them in for recycling and then use the pesos so I could buy soda," Howey said. "Luckily I never ended up on a milk carton."
Now that he has children of his own, Howey views his folks as "awful parents," even if they don't. "And my mom to this day will tell you, 'I know you were nine, but you had it together and I knew you would swim back before dinner,'" he added.
Steve Howey was a college athlete who earned a basketball scholarship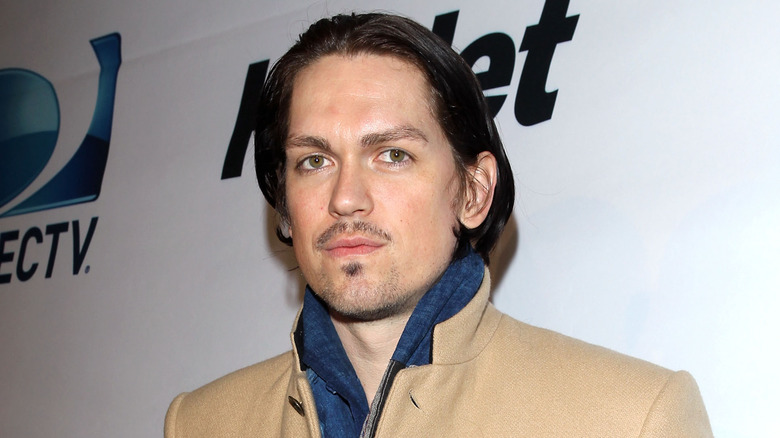 By the time he graduated high school, Steve Howey and his family had gravitated to Denver, Colorado. As Howey told CBS' Watch!, he "had been playing basketball since [he] was a freshman," which led his father to push him toward landing an athletic scholarship that would pay for college. 
"I was into it, and I did get a scholarship to a junior college," Howey said, but eventually came to realize that his skills were nowhere near the same level as the basketball "demigods" who were his teammates. In fact, the harder he worked, the more he knew that basketball was not where his future lay. "I tried to shove a thousand shots every day with weights, went running, all that stuff," he recalled. "But I was like, 'I'm done. Maybe I'll be an actor.'"
As Howey's Showtime bio explained, when he made that decision, he knew exactly where to turn: his father, Bill Howey, a professional acting instructor whose students have included George Clooney and "New Girl" star Max Greenfield. "Going to my dad's acting classes definitely helped," Howey told CBS' Watch!. "The closest thing to theater is acting class."
This actor doesn't like to overthink his roles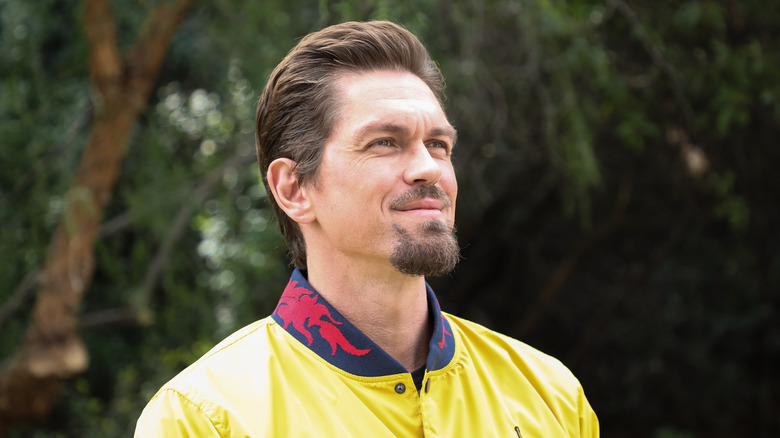 When it comes to acting, Steve Howey likes to take an instinctual approach, seeing himself as the vessel through which words on a page can be transformed into a fully-formed performance. "The least amount of info actors get the better," he told The Hollywood Reporter of his acting philosophy. "Actors are always like, 'What is my motivation for this?' You didn't write it. Just say the lines. You didn't melt the metal and make the horn. Blow the instrument, and shut up."
Howey also believes that the key to capturing a character is to demonstrate vulnerability. "There are guys I know — working actors, famous actors — and they would never take a role that doesn't make them look cool," he explained to the Chicago Tribune. "That somehow showing a softer side is a weakness. And I don't think it's a weakness."
The screen star credits his father for that particular lesson. "He's a very emotionally overt guy. I've seen him cry, I've seen him laugh, I've seen him dance, I've seen him fall. And he was not afraid to let that show," said Howey of his dad.
He has a surprising talent few people know about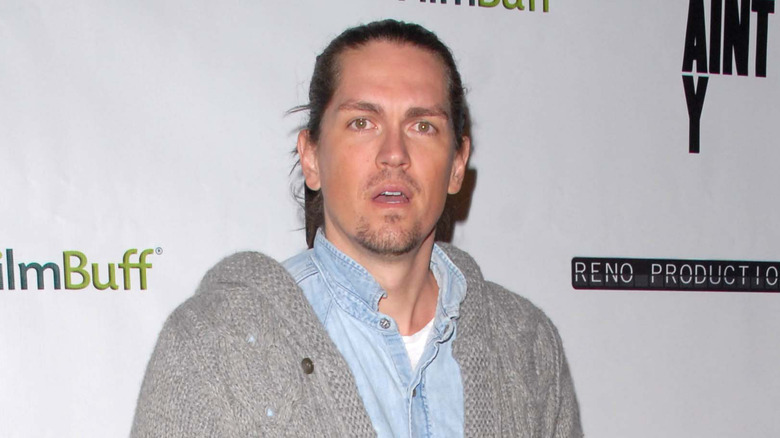 During a 2019 interview with Pop-Culturalist to promote his film, "Making Babies," Steve Howey engaged in a "speed round," answering rapid-fire questions covering a wide range of topics. One of those queried whether he had a "hidden talent," and the actor shared a surprising revelation. "I can juggle," he revealed, albeit without going into detail about his skill level, what items he juggles, or how many of whatever those may be that he's able to juggle at one time. (Seriously, inquiring minds want to know!)
But that wasn't the only interesting factoid to emerge from the questioning. Howey also revealed his three favorite movies ("The Godfather," "Big Trouble in Little China," and "Planes, Trains and Automobiles"), the job he'd likely be doing had he not pursued acting ("A coach. Of basketball. Of something that had to do with a ball," he said), and the one person he would most like to meet in person: "Denzel [Washington]!" the actor declared. "I definitely want to meet him — and not have it be like random. He would have to talk to me. "
Steve Howey once starred in a sitcom alongside a country music legend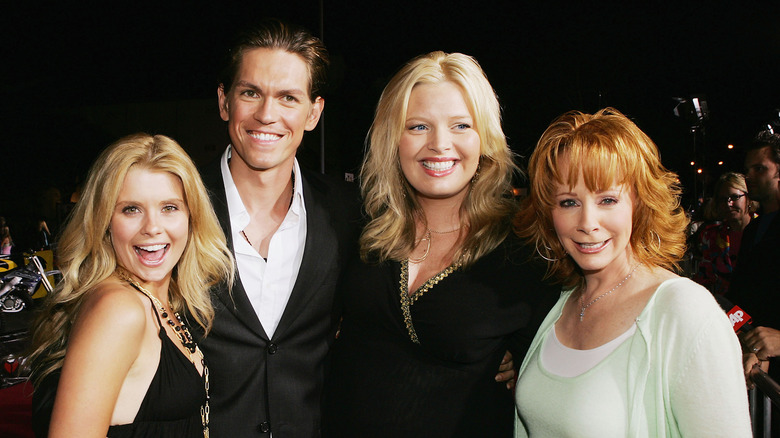 Prior to landing the role of Kevin on "Shameless," Steve Howey was best known for a role in another television series. In the sitcom, "Reba," he played Van Montgomery, the not-so-bright high school quarterback who marries Cheyenne (JoAnna Garcia), daughter of the series' titular heroine, Reba, after an unanticipated teen pregnancy. Reba, of course, was played by country music superstar Reba McEntire, marking her first foray into headlining her own television sitcom. 
As Howey told the Chicago Tribune, the characters he played on "Reba" and "Shameless" actually shared "a lot of similarities." Portraying characters who can charitably described as lovable lunkheads, in fact, has become something of a specialty for Howey. "For me, it's more fun to play a dumb guy," he told the Tribune. Speaking with CBS' Watch!, however, the actor offered a bit of a clarification when it came to how he envisioned Kevin. "I see him as naïve, not dumb," said Howey of his "Shameless" character. "He's so fun to play."
He and wife Sarah Shahi split up after 11 years of marriage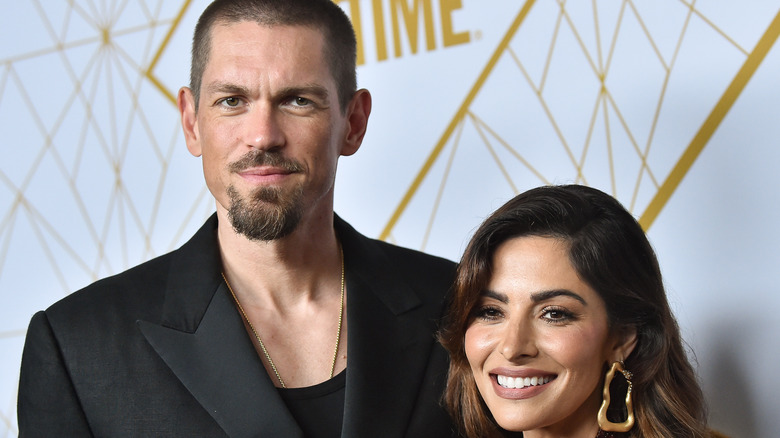 Steve Howey met fellow actor Sarah Shahi back in 2004, when she guest-starred in an episode of his sitcom, "Reba." After getting engaged, the couple wed in 2009, tying the knot in Las Vegas. Along the way they welcomed three children: son William Wolf (born in 2009), as well as twins, daughter Violet Moon and son Knox Blue, in 2015.
Sadly, in June 2020, it all came crashing down when the couple announced they were splitting up and heading to divorce court. "After much thought and consideration, we have decided to end our marriage," Shahi and Howey said in a joint statement to Us Weekly. "We are so grateful for the past 10 years together and proud of our children that we've raised. As we enter into this new phase of our lives, our priority will remain co-parenting our children with so much love, mutual respect and friendship. And though our relationship is changing, we are committed to continuing our lives as a loving family."
By the following April, the exes' divorce had been finalized. As Us Weekly reported, neither of the ex-spouses would be paying any child support to the other.
Steve Howey and his ex-wife's former nanny made some shocking allegations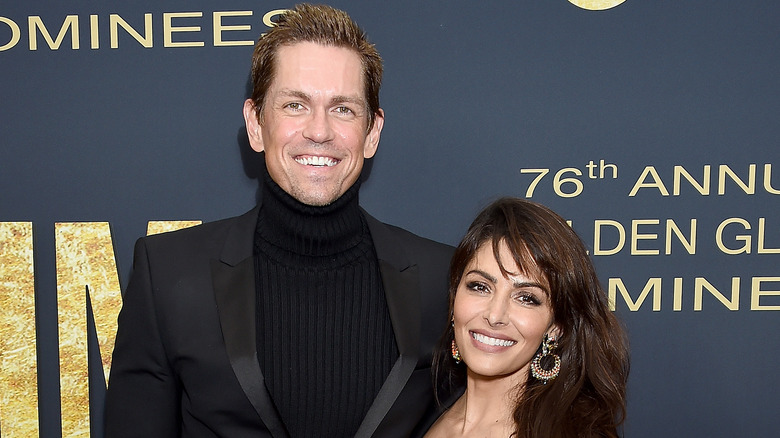 During the course of Steve Howey's marriage to Sarah Shahi, they hired Sarah Alaseri in 2012 as a nanny to help look after their children. According to a 2016 report from TMZ, however, Alaseri had some gripes about her employers — and filed a lawsuit that alleged religious discrimination and sexual harassment. 
In her suit, Alaseri — who is Muslim — claimed that Howey "would berate her about following Muslim customs in their presence," and that his "verbal abuse" toward her led her to feel that "she couldn't do her daily prayers in the house." She also had some allegations about Shahi, whom she claimed shared "sexual gossip and innuendo" with her. In addition, Alaseri alleged that Shahi encouraged her to get in shape and "run off" with Howey. The former nanny also accused Shahi of gossiping about an extramarital affair with an "A-list" star whose prowess in the bedroom left her feeling "sore," even supposedly showed Alaseri photos of the A-lister's genitals while confessing she wanted to ditch Howey and "move on with her life."
How — or if — the lawsuit in the ensuing nanny scandal was resolved hasn't been made public, as of this writing.
He had conflicted feelings about the end of Shameless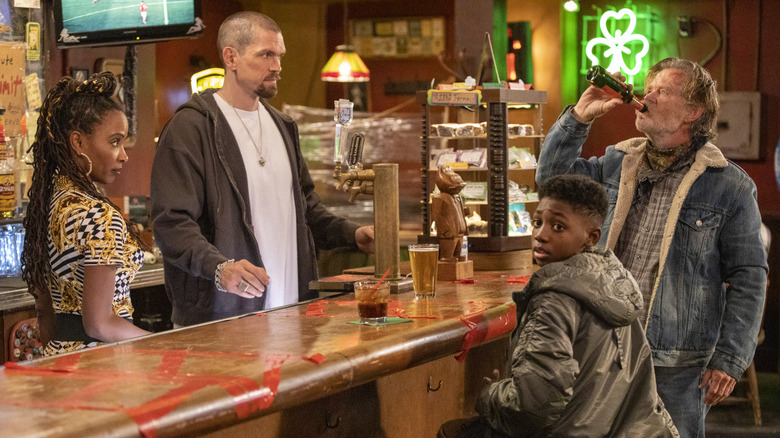 When "Shameless" concluded its run in 2021, Steve Howey had played Alibi Room proprietor Kevin Ball for 11 seasons. He shared his feelings about the show coming to an end with KulturePopped, admitting that closing the book on that decade-long chapter of his life came with a lot of emotions. "It's bittersweet, you know? Eleven seasons is a rarity. The cast and crew — specifically the cast — we all grew up together," he said. "A lot of life has been lived and a lot of journeys have happened. There's a lot of ups and downs."
As Howey explained, he and the rest of the cast were simultaneously saddened by the show wrapping while also excited about the possibilities that lay ahead. "I think we're all kind of like looking forward to it coming to an end, if that makes any sense," admitted Howey. "It's exciting, but scary." While Howey declared that he and his longtime castmates were "proud of what we've done," the screen stars also felt as if they could have gone on for a few more seasons. Ultimately, however, the consensus was that "it's just not the time or the place to keep going."
Why this straight actor 'came out' as gay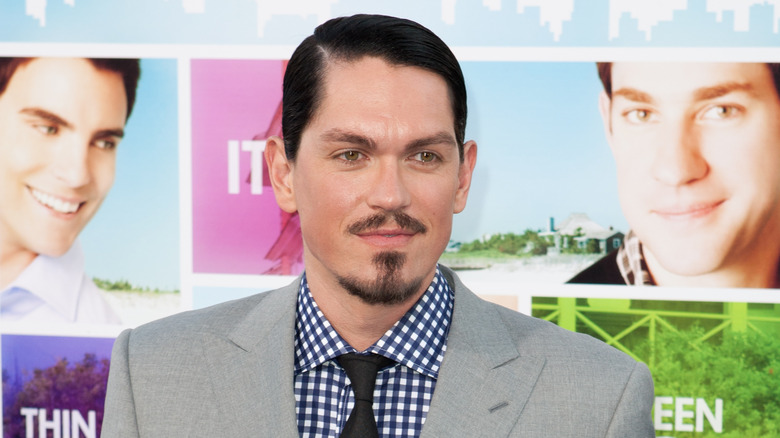 Given that Steve Howey was married to a woman for more than a decade, and fathered three children with her, he raised some eyebrows in 2012 when he simply tweeted, "I'm gay and I'm proud." Had the presumed-straight actor suddenly decided to come out of the closet? Well, not quite. 
"That was one of those where I wanted to say it, even though that I'm not gay, I can say it and have support for those who are, and for those who have a problem saying it out loud," Howey later told the Advocate, confirming that he is, in fact, heterosexual. "I was just hoping that maybe me saying it takes a little bit of stigma off of it. I didn't want to invalidate or take away."
Howey offered further explanation in a subsequent interview with the Advocate. "My whole point was to be a champion, a supporter, of the movement. I can say it and have no problem with it," he clarified. "If you are, be proud and say it. I'm just here to hold the flag up and say I'm in support. If that helps you come out or say it with pride, that's all my intention was."
Acting has been good for Steve Howey's bank account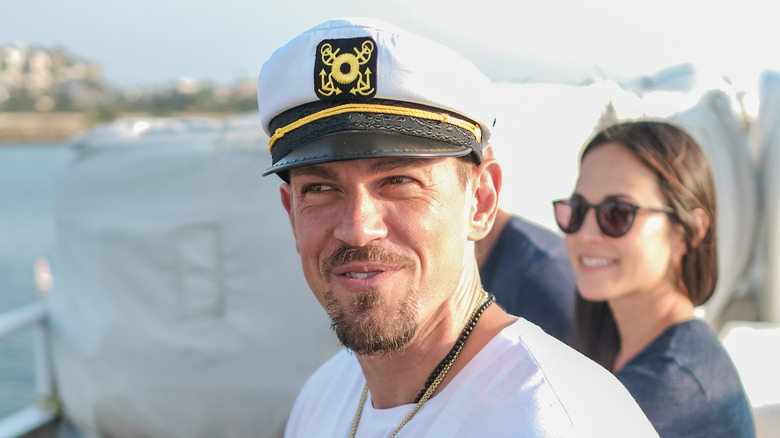 Steve Howey has been acting professionally for most of his adult life. With that in mind, it shouldn't be surprising to learn that he's put aside a few dollars over the years. In fact, Celebrity Net Worth estimates Howey's fortune at a cool $2 million. 
But there are some other factors to consider when it comes to Howey's wealth. When his divorce from ex-wife Sarah Shahi was finalized in April 2021, reported Us Weekly, he was granted possession of his $1.8 million home in Los Angeles' Sherman Oaks neighborhood, his Harley Davidson motorcycle, and 100% of his residuals from his film and television roles, in addition to all pension plans, retirement plans, and other accounts. 
However, the terms of the divorce also required Howey to shell out more than $305,000 to Shahi in order "to equalize the division of their community property." His bottom line took another hit due to unpaid taxes of a whopping $370,000 — which he and Shahi were ordered to pay, with each ex-spouse covering half.
Steve Howey has shared his fitness secrets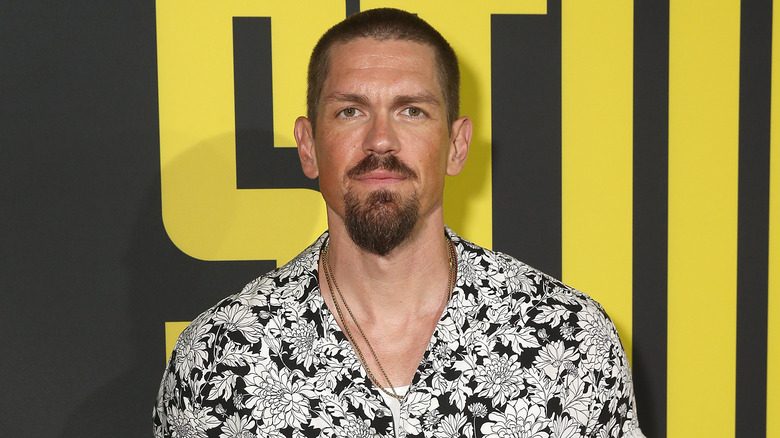 As viewers of "Shameless" can attest, Steve Howey's Kevin was the buff epitome of muscled-up fitness throughout the show's run. However, that wasn't always the case. "I've always been up and down with my weight," he told Men's Journal, recalling a time when he "really blew up." While focusing on more comedic roles, the actor rationalized "that it's okay that I am overweight," explaining that there's "this idea in comedy that you don't want to look like you care about your appearance because that takes away from what's real, what's important … what's funny." Howey added, "But the reality is, who gives a s**t about how funny you are if you're dying?"
While opening up about his exercise regime to Muscle & Fitness, Howey said, "I don't work out for 40 minutes … I need two or three hours to get it done." Apparently, those workouts are intense: "The trainers are like, 'Are you training for something?' And I'm like, 'Life, man. Life.'" Working out is something the actor clearly takes seriously — and also shows off on Instagram — but Howey also believes that achieving a ripped physique has more to do with what takes place in the kitchen than in the gym. 
"Eating properly for a week is more beneficial for me than hard workouts for a month," he said, recommending chicken and broccoli for post-workout meals (the latter, he joked, is the only vegetable he "can eat a s**tload of"). "Sometimes it gets boring," Howey said of his diet, "but that's what hot sauce is for."
Source: Read Full Article