It's safe to say Roseanne Barr has had one of the most interesting (and talked about) careers in all of Hollywood. Though her controversies do not compare to that of now-disgraced stars like showbiz heavyweight Harvey Weinstein or Nxivm cult founder Keith Raniere, Barr has definitely stirred the pot plenty of times over the years.
But you can't deny she has certainly warmed the hearts of viewers during her tenure on "Roseanne." Long before she became a hot topic in Hollywood, Barr was born on November 3, 1952, in Salt Lake City, Utah. Sadly, tragedy struck early in Barr's life, as she developed Bell's palsy — "an unexplained episode of facial muscle weakness or paralysis" (via John Hopkins Medicine) at just 3 years old, per Ranker. While it's certainly alarming, Bell's palsy isn't a life-threatening condition, according to Healthline.
Bell's palsy usually clears up on its own, and that's exactly what happened to Barr, as she later revealed. when she was 16: "I found that Bell's palsy was a 48-hour condition, largely" (via DemocracyNow). Though things seemed steady for Barr, tragedy struck a second time at 16 when she sustained traumatic head injuries following a car accident. Unfortunately, Barr's injury resulted in an eight-month stay at a mental institution, as she revealed in her 2015 documentary "Roseanne for President" (via The Hollywood Reporter), However, she turned a new leaf by age 18, leaving her family in Salt Lake City and starting over in Colorado. Before she knew it, Barr was a total sensation.
Roseanne Barr proves herself and lands a starring role without much experience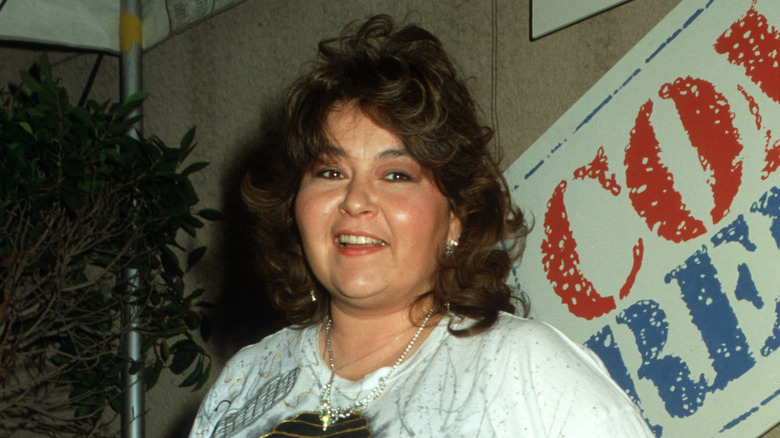 Roseanne Barr lived in Colorado for more than a decade, getting her start in comedy and performing while juggling a gig as a waitress, per IMDb. After cementing her status as a sought-off comedian, even winning the Denver Laff-Off contest in 1983, Barr moved to Los Angeles, California. There, she got an instant taste of success.
Before ever having to work up an acting résumé, Barr's enjoyable nature and quick quips earned her an interview with Marcy Carsey and Tom Werner, two executive producers of "The Cosby Show." As Entertainment Weekly reported in 2007, the EPs — in addition to writer Matt Williams — "wanted to bring a no-perks family comedy to TV," so they enlisted Barr, who had "won raves for her working-class 'domestic goddess' stand-up routines on 'The Tonight Show.'"
While hiring an "inexperienced" actor seemed like risky business, the trio had no qualms about casting Barr when she auditioned with John Goodman. "The linchpin — and, I'm convinced, the key to the series — was John Goodman," Williams told EW. "We brought him in the room, he looked at [Barr], and said, 'Scoot over.' She said, 'Shut up,' he plopped down, and it was like they had been married for 16 years." As for Barr, the chemistry was just as electric as the show creators thought. "There were more planned, but the second I met that guy, I fell in love with him," she gushed to EW. 
Roseanne Barr becomes a household name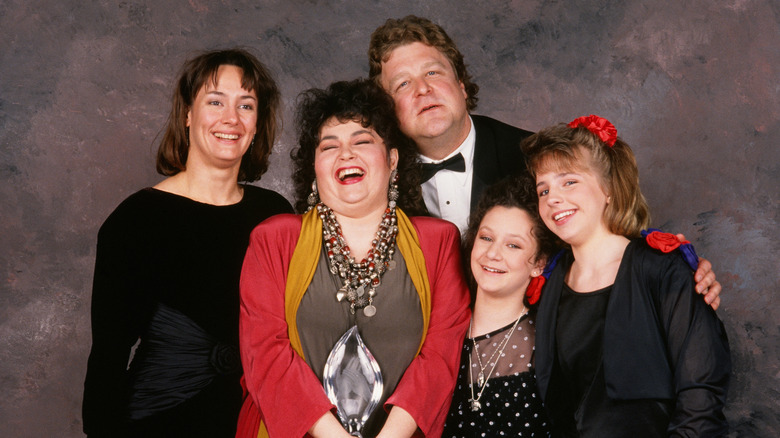 From the first moment they connected in front of "Roseanne" show creators Marcy Carsey, Tom Werner, and Matt Williams, Roseanne Barr and John Goodman stole the hearts of viewers with their incredibly relatable on-screen romance, as well as their characters' hectic lives as working-class parents. Along with Sara Gilbert, Laurie Metcalf, Lecy Goranson, Michael Fishman, and others, the hit series premiered in October 1988 and completely changed the game for sitcoms. 
"Roseanne" aired for nine seasons and ran more than 200 episodes, coming to a halt in May 1997. During the Emmy award-winning show's 20-year reunion in 2008, Barr reflected on how "Roseanne" has continued to serve a bigger purpose despite ending more than a decade earlier. "It's more relevant now than it was then. I'm very proud of its timelessness, and the fact that it has a political edge that is even more relevant now than it was then," she told Entertainment Weekly. "I'm proud of the fact that it's never gone off the air for 20 years."
While "Roseanne" definitely garnered her an A-list status, Barr also picked up plenty of other credits throughout the '90s. Per IMDb, she appeared in "Backfield in Motion" in 1991, "Even Cowgirls Get the Blues" in 1993, "Women of the House" in 1995, and "The Nanny" in 1997. She also tested her talents behind the camera, working as a producer on "Tom Arnold: The Naked Truth," "Cherry Street, South of Main," and "The Roseanne Show."
Roseanne Barr walks down the aisle three times by age 43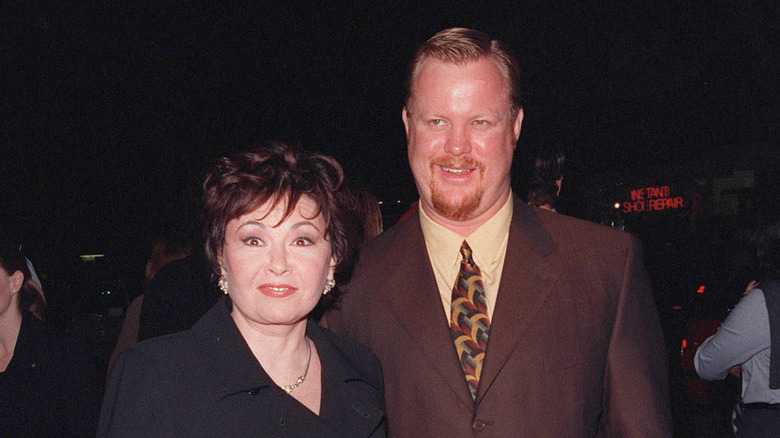 Amid her success on "Roseanne" and beyond, Roseanne Barr was also experiencing love in her life. Though she went through a divorce from her first husband, Bill Pentland, in January 1990, after 16 years of marriage, she quickly moved on with her second spouse, Tom Arnold, that same month. The couple wasn't regarded as Hollywood's sweethearts, and they certainly didn't think that as Arnold proclaimed he and his wife were "America's worst nightmare: white trash with money!" during their wedding reception, per Entertainment Weekly.
However, their fleeting love story came to an end in 1994, and in 1995, she married her bodyguard-chauffeur Ben Thomas, the father of her then-6-year-old son, Buck Thomas. The TV personality is also the mom of her older children — Jessica Pentland (1975), Jennifer Pentland (1976), and Jake Pentland (1978) — whom she welcomed during her first marriage. She also gave birth to daughter Brandi Brown at age 18, but sadly placed her up for adoption.
The union ultimately didn't last, though, as they split in 2002. One year later, Barr admitted the two "weren't a good match" during an interview with People. Since 2003, Barr has been in a long-term relationship with writer and musician Johnny Argent. The comic described their relationship to People as "two individuals who respect each other."
After decades in showbiz, Roseanne Barr's career comes crashing down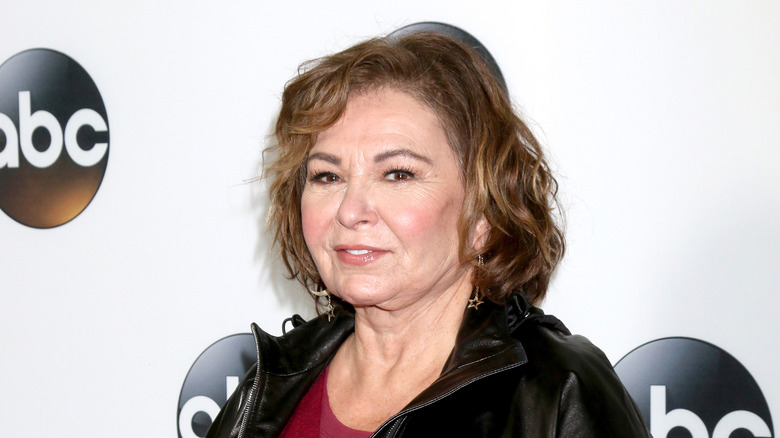 Following the conclusion of "Roseanne" in 1997, Roseanne Barr continued her work in Hollywood while juggling her romance with Johnny Argent and her role as a mom. Throughout the early 2010s, she made appearances in fan favorites like "Portlandia," The Office," "The Millers," and she also voiced a character in "Teenage Mutant Ninja Turtles" from 2013 to 2014, per IMDb.
Amid the boom of revivals in the late 2010s, "Roseanne" was picked up for a reboot in 2018. Barr, John Goodman, and the rest of the original cast revealed they would all be back. At the time, the comedian couldn't believe she was reviving the iconic character of Roseanne. "Every day, I pinch myself and wonder, is this the most fun in the world or the onset of dementia?" Barr joked during a joint interview with Goodman for AARP The Magazine in January 2018.
However, "Roseanne" ended after 10 episodes after the "My Lives" author made a racist statement on Twitter that was "repugnant and inconsistent with our values," ABC Entertainment president Channing Dungey announced in a statement (via The New York Times). ABC immediately canceled the series, and Barr responded by taking to Twitter to express her disappointment in both the network and her co-stars for turning their backs. The outspoken supporter of then-president Donald Trump wrote, "I feel bad for @POTUS – he goes thru this every single day."
Roseanne Barr is living her best life out of the public eye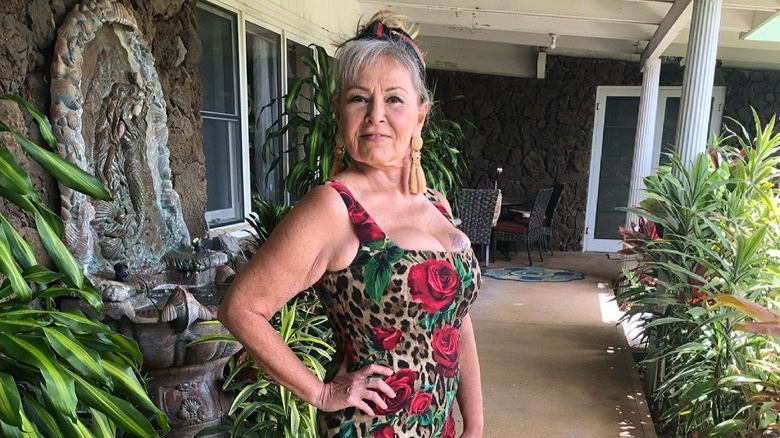 For Roseanne Barr, fame has definitely been a slippery slope throughout the last few decades. That's why the comedian is happier than ever living her life out of the spotlight following the Twitter controversy. During a February 2018 interview on ABC's 20/20 (via Closer Weekly), Barr confessed the rise and peak of her Hollywood superstardom was a tumultuous experience. "I had several nervous breakdowns, but fortunately, no one noticed," she noted. "I did have a few nervous breakdowns and was hospitalized several times. It was very difficult. Fame was difficult, too, but this time I'm like, 'OK, I'm 65. Thank God I've got Social Security now so I don't have to worry.'"
Fortunately, Barr has a lot more to keep her going, including the healthy lifestyle she adapted years ago, which helped her lose — and keep off — about 100 pounds, per PopSugar. "I went on a new diet. It's radical and revolutionary. It's where you eat less and move more — you know, just simple," Barr told Today in 2014. "I just want to keep getting healthy and let go of excess baggage to carry around, so I'm lighter on my feet and in my life."
Aside from flaunting her glowing figure on social media these days, Barr is also a doting grandmother. "Granddaughter makes a 'Roseanne' face!" she captioned a pic of her grandchild in June. Fame or not, it seems nothing can dull Barr's sparkle. 
Source: Read Full Article