Netflix's Bridgerton is your next big binge-watch if you love period pieces with a modern twist. The show is based on a book series from author Julia Quinn, and it's a set of eight, with a few spinoffs. 
The first season focused mostly on Daphne Bridgerton, the eldest daughter of the popular Bridgerton family. She's the diamond of the high season when the debutantes come out to find husbands. She faces a lot of struggle, though, both internally and externally, and a lot of pushback on all sides too. 
But if there's another season — or even more — the books already have a really solid layout on what they could focus on. Or rather, on which Bridgerton's love life they can oggle at. [Spoiler alert: Spoilers ahead for all of Bridgerton].
'Bridgerton' is based on a book series by Julia Quinn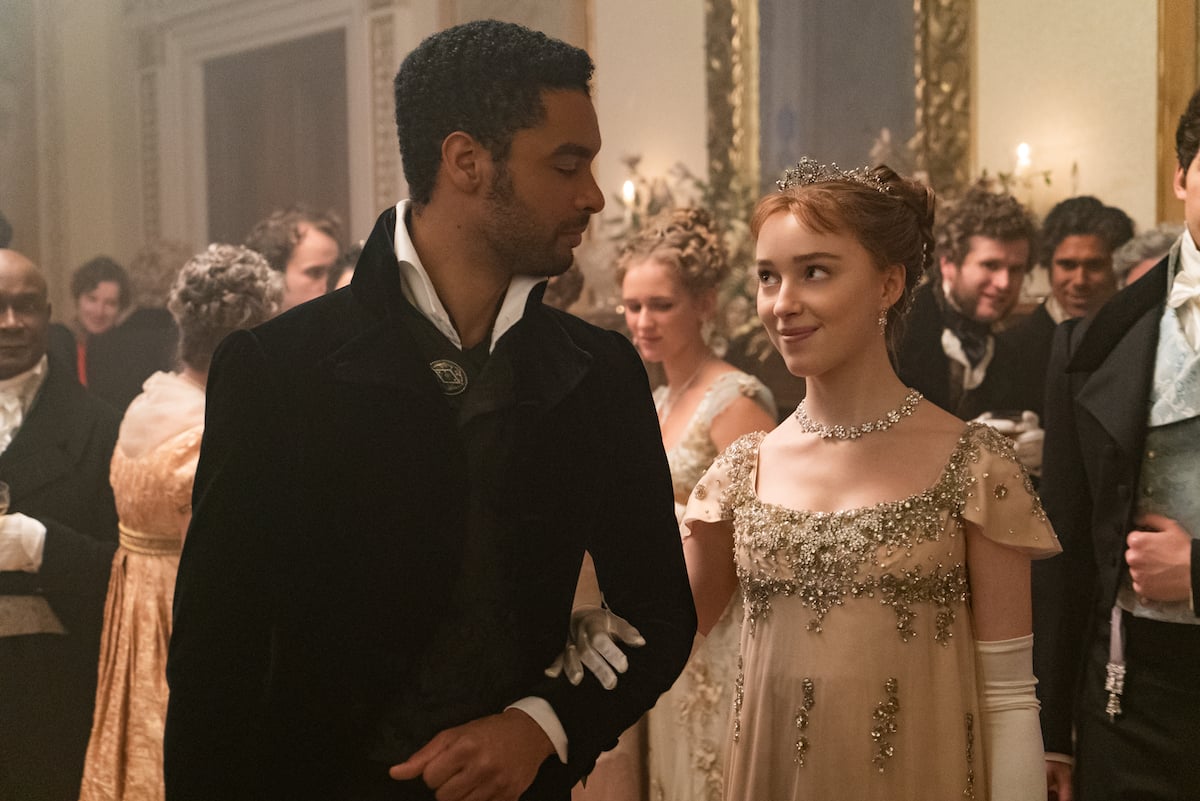 Bridgerton's book companion is called The Duke and I and came out in 2000. As you can expect, if you finished the first season, it follows Daphne's story so Season 1 is pretty spot on with that.
While selling the rights to your book can sometimes be the end of the creative process for some authors, Quinn was actually a consultant on Bridgerton. She was able to come to set and meet the cast in 2019, according to Oprah Magazine. But she knew that this wasn't going to be her project, and she wasn't worried about them getting it wrong. She knew it was in good hands with Shondaland productions and with Chris Van Dusen as showrunner.
"It's not a word for word adaptation, and it shouldn't be," she said. "I never expected that. I didn't want that. It's not what television should be about."
There are changes from the pages to the screen adaptation, like the color-blind casting for Simon and Lady Danbury among other characters and Daphne is not the diamond of the season in the novel, according to Slate. And the non-consensual scene between Daphne and Simon was far worse in the books, as well.
The first book focused on Daphne, just like Season 1, and the second book focuses on Anthony
With that said, though, it seems that the books have a pattern that could far quite well with a series. The first book focused on Daphne's love life, and the second book — The Viscount Who Loved Me — is about Anthony, the eldest. He's the one, in the show, who has an affair with Sienna, the opera singer. But then, when he wants to throw it all away for her at the end, it's too late, because she doesn't want to put up with him any longer.
As stated before, there are eight books and there are eight children. However, as you can also tell, the books aren't in their birth order. The third book is about Benedict, the second oldest who liked to paint and who had a thing with Madame Delacroix, the modiste. Since she's an original character, and he marries someone else, that'll be interesting if they get that far.
Book four deals with Colin's love story, and Quinn's site does say that it features Penelope Featherington. So all you shippers out there, do with that what you will. Eloise's story is the next book, the the sixth book is Francesca, the poor sister who got left behind for some of the season. Then the youngest two take up the final two books.
Now, with the track record that Netflix has with their shows, the odds of Bridgerton lasting eight seasons isn't high. But the chances of a few more are, so we might at least get to see Penelope's and Eloise's stories play out. And with the way the show already deviated so much from the books, they might combine a few of their love stories together.
Will there be more seasons?
As for if there will be at least a Season 2, keep fingers crossed. There hasn't been an official announcement, but Van Dusen said that they were focused mostly on Daphne's story at the moment of filming, but they are, of course, aware of the eight books ahead.
"Obviously we're just focused on the first season right now," Van Dusen told Cosmopolitan UK. "And while that focuses on the eldest Bridgerton daughter Daphne and her love affair with Simon, we know there are eight Bridgerton siblings [and] there are eight Bridgerton books. So in success I would love to be able to explore love stories and romances for all the Bridgerton brothers and sisters, of course."
But with the buzz around the show still high, the odds of at least one more season are, again, quite high.
Source: Read Full Article