DC Comics adaptation will air episodes on CW one day after they debut on DC Universe
You know how some people love to sing but are straight-up tone deaf and shouldn't be allowed to belt out a single note? Yeah, the same goes for TV shows. While many have tried to pull off a song-fueled episode, few do it well. Ahead of the highly-anticipated "Heathers: The Musical" episode of The CW's "Riverdale," TheWrap has ranked some of the best-known musical episodes, from the showstopping to the "oh, please stop."
TheWrap
1. "Once More With Feeling" — "Buffy the Vampire Slayer": 
There is literally no other musical episode of any other TV show — past, present or future — that could take the No. 1 slot from Joss Whedon's extravaganza "Once More With Feeling." A demon who comes to town to make everyone reveal all their secrets through song, who can then only be stopped by an epic dance off led by Sarah Michelle Gellar who had to be auto-tuned? Yeah, no, everyone else go home. It didn't hurt that cast members Anthony Stewart Head (Giles) and Amber Benson (Tara) have some wicked pipes.
20th Century Fox
2. "Regional Holiday Musical" — "Community":
The Dan Harmon-created series did what it does best with its musical episode: got meta with it. The Christmas-themed installment ripped on the musical episode trope, and the show "Glee," hard. It also featured Troy aka Donald Glover aka Childish Gambino rapping with his bestie A-B-E-D, and a very unsettling "Santa Baby" parody song from Alison Brie. And it's "Community." So.
NBC
3. "The Nightman Cometh" — "It's Always Sunny in Philadelphia":
"Dayman! (ah-ah-ah)/Fighter of the Nightman! (ah-ah-ah)" Oh, did you want more? Yeah, the very dyslexic Charlie wrote a musical for the gang to perform and it was a fantastically hot mess.
FX
4. "My Musical" — "Scrubs":
Things take a musical turn in Season 6 of "Scrubs" when a patient mysteriously begins hearing everything people say as song. The episode earned five Emmy nominations, and won Outstanding Sound Mixing for a Comedy or Drama Series. 
ABC
5. "Girls vs. Suits" — "How I Met Your Mother":
"HIMYM" went all out to celebrate its 100th episode. The musical number "Nothing Suits Me Like A Suit," sung by Neil Patrick Harris' character Barney, earned an Emmy nomination for Outstanding Original Music and Lyrics. 
CBS
6. "Psych the Musical" – "Psych": 
The "Psych" musical episode was a long time in the making — originally set for Season 6, it was pushed to Season 7 — and aired as a special two-hour event. The episode had some continuity errors and received mixed reviews — though "Santa Barbara Skies" is pretty dang catchy. 
USA Network
7. "A Night to Remember" — "Riverdale": Yes, The CW's dark take on the Archie Comics has already done one musical episode and it was straight fire. This Season 2 installment featured the Riverdale High gang putting on a musical production of "Carrie," with Cheryl taking on the title role during rehearsals, but threat letters sent to director Kevin lead to her being recast and Midge, the girl who takes over, being murdered on opening night. Yup, horrifically fantastic.
The CW
8. "Variety" — "OZ":
This dark HBO series did a musical episode because they had to — and actually didn't end up shivving themselves in the process. "OZ" was forced into replacing its usual transitions while its narrator, Harold Perrineau, was off filming stuff for the "Matrix" sequels. Their solution? Fantasy segments filled with the vocal stylings of J.K. Simmons, B.D. Wong, and Rita Moreno. Oh, and in case you were wondering, it was still as violent as any other episode of "OZ."
HBO
9. "The Musical, Almost" — "Ally McBeal": 
Even though this Calista Flockhart-led Fox comedy was known for its surrealist quality, this particular episode really went for it with our heroine conjuring up an entire musical in her head while under the effects of a nasty drug-alcohol interaction. And while not everyone on the cast is a natural born singer, they gave us enough Jane Krakowski and Lisa Nicole Carson numbers to make up for any other cast member's sour notes.
20th Century Fox
10. "Duet" — "Flash"/"Supergirl" crossover:
Daren Criss co-starred in this crossover between The CW superheroes. The story begins in a "Supergirl" episode, in which Criss' character puts her into a coma, and then Team Flash must try to revive her. But Barry ends up in a coma too, and he and Kara must follow a musical script to get back to the real world. It is now definitely a fan favorite.
The CW
11. "That '70s Musical" — "That '70s Show":
The the truth about this episode is the first time around, it's fantastic watching the cast singing the oldies. But after enough repeated viewings — thanks to the fact the Fox comedy seems to be syndicated on every single network — well, it doesn't hold up.
Fox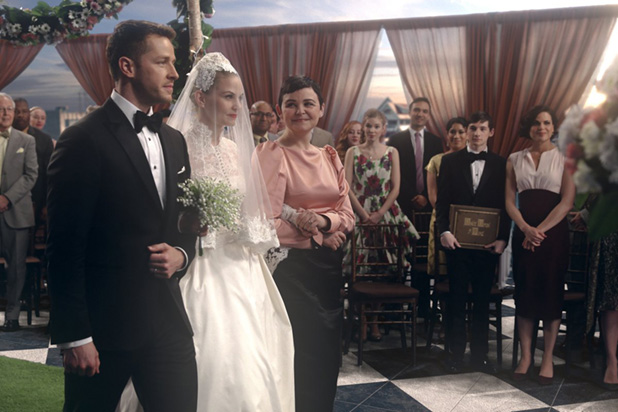 12. "The Song in Your Heart" — "Once Upon a Time": 
Honestly, it was a little weird to us that it took a show about fairy tales six seasons to get to a musical episode — especially when one of its lead characters was Snow White. But they finally did it and in a wedding episode to boot. And it featured a number of not horrible songs, but it was super cheesy, which is how it got its lower place on the list here.
ABC
13. "Brown Betty" — "Fringe": 
Basically, if you're evaluating "Brown Betty" as an episode? It's top 20 for the series. If you're evaluating it as a musical? Meh.
Fox
14. "Song Beneath the Song" — "Grey's Anatomy":
The "Grey's" musical episode revolved around Callie (Sara Ramirez) and Arizona (Jessica Capshaw) after they were in a bad car crash, and ends with Callie proposing to Arizona. While the episode received mixed reviews from critics, it's gone down in "Grey's" infamy as one of the least-enjoyed by fans.  
ABC
15. "Red Socks" — "7th Heaven":
Easily the worst musical episode of all time. No one on the cast could sing and we have no idea what they were singing about.
The WB
Tonight, "Riverdale" airs its "Heathers" musical episode and we'll find out just how good or bad that damage is.
The CW
Ahead of CW teen-drama's "Heathers: The Musical" episode, TheWrap reviews genre's previous high and (very) low notes
You know how some people love to sing but are straight-up tone deaf and shouldn't be allowed to belt out a single note? Yeah, the same goes for TV shows. While many have tried to pull off a song-fueled episode, few do it well. Ahead of the highly-anticipated "Heathers: The Musical" episode of The CW's "Riverdale," TheWrap has ranked some of the best-known musical episodes, from the showstopping to the "oh, please stop."
Source: Read Full Article