[There are some light spoilers ahead for Marriage Story. If you, somehow, didn't know this movie was about a divorce, maybe save this post for another time!]
If you haven't watched Netflix's Marriage Story yet, you should know that it will reduce you to tears more times than you're comfortable admitting. If you have watched it, you might be absolutely convinced marriage is the most ridiculous institution on the planet. Welcome!! I'm here to commiserate, because this movie made me realize I do NOT want to get married.
The movie follows Charlie and Nicole, a NYC-based couple going through a divorce. They start off like many couples, insisting they want to handle it without lawyers, do things amicably, etc. etc. Eventually, that all goes to shit, and they end up yelling at each other and punching holes in walls. Charlie has to move to L.A. against his will, which is a death sentence if I ever heard one. It's a lot!
A more optimistic person might watch a movie like Marriage Story and think, "No way that will EVER happen to me." But legit tons of people get divorced. So let's not sit here and pretend this isn't a very real possibility for literally every person that gets married. It's not something to be ashamed of, it's just the reality. After seeing what went down in this film, though, I am simply going to opt out. I can't do it, guys! I'm taking a pass on the whole thing!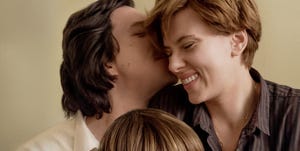 My parents are still married, and I'm very lucky in that respect. The thing about that, though, is it means I've never truly experienced how brutal divorce can be because I never watched my own mom and dad go through it. I obviously know people who have gone through this, but it's not the same as going through it firsthand. This movie was like dunking my head in cold water.
Marriage Story is devastating in many ways, but for someone who's never experienced this, watching two people who obviously care so much tear each other apart is maybe the worst part. The moment where Charlie screams that he wishes Nicole were dead absolutely gutted me. The moment after, where he collapses into the fetal position, sobbing, sent me over the edge. But in between shots of them literally screaming at each other, or arguing via their lawyers, there are scenes like the one where Nicole offered to cut Charlie's hair. It reminds you of the love they shared. It's still there. That's the worst part. They loved each other once, and they kind of still do. The emotional whiplash nearly ended me.
Charlie and Nicole had to go through so much to come to any sort of compromise. Like, it cost them thousands of dollars to end their marriage, and figure out what was best for their kid. Thousands! Whereas before the divorce, they were people who came to decisions together, in a logical way… for free. And near the end of the movie, when Charlie tells Nicole he took a residency in L.A., it dawned on me that it took them getting divorced for him to finally give her what she wanted the entire time. As his first lawyer said, he was a better husband in divorce than he was in their marriage. That f*cked me up, frankly.
Maybe me saying I will never get married is a tad dramatic, but this movie sent me on an anxiety-spiral that I did not anticipate. By the end, it feels like Charlie and Nicole have managed to figure out how to co-exist, but damn, at what cost?
Source: Read Full Article