This post contains spoilers about the Riverdale episode, "Chapter Forty-Four: No Exit."
How many times did you rewind the final seconds of Riverdale? On Wednesday, your favorite show with Fizzle Rocks, Bughead, and teens hanging out at a speakeasy with mocktails returned from its winter break and pulled out all the stops. By all the stops, I mean ending the episode, "Chapter Forty-Four: No Exit," on a cliffhanger involving Archie.
After a bear attack in the woods, Archie heads back to his cute little runaway cabin, reports his injury to a park ranger via radio, and dresses his own wound before passing out in bed with good boy Vegas by his side. Through what appears to be hallucinations, Archie plays Gryphons & Gargoyles with the Shadow Lake boys (who were killed by Sheriff Minetta a few episodes back), Warden Norton (who committed suicide by drinking the blue stuff), and finally Betty, Jughead, and Veronica (all in season one clothes; think Betty's pink dress for the school dance and Veronica's cape).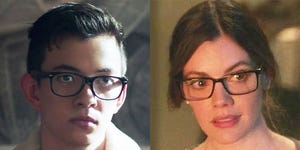 Archie's final "mission" per his hallucinations? To kill himself (or at least, a version of himself) with a bat in his own room (with Fred watching on). Before we know it, Veronica is singing at La Bonne Nuit as the episode's final moments play out: Veronica and Reggie kiss (!); the sisters have all committed suicide via cyanide poisoning (so much for taking Hiram down this way); Fangs is doing undercover work for the Serpents by joining Hiram's Gargoyle Gang; and the rescued Sisters of the Quiet Mercy kids have been taken by Edgar Evernever at The Farm.
Oh, and Archie is out cold. Or dead. Or somewhere in between.
When two park rangers finally arrive at the cabin, Archie's eyes are wide open and unresponsive (note his bloody chest). Like so many of you, I watched this part several times to check if KJ Apa was breathing in the scene and concluded that he's actually really good at playing dead/someone who's entered a coma of some sort.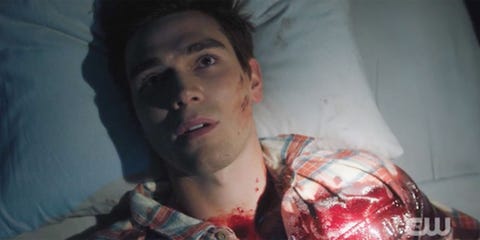 Of course, this is triggering for any Riverdale fan. We've been down this road before. On season two, the show played with fire and stirred the emotions of Bughead fans everywhere when Jughead sacrificed himself to Penny Peabody and the Ghoulies. Everyone thought that was it for Cole Sprouse's run on The CW. That is, until he showed up at a hospital bed on the very next episode (which by the way, opened with a Jughead gravestone that turned out to be a dream).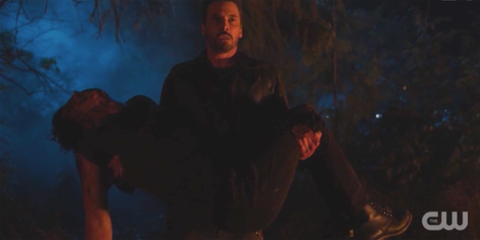 Riverdale fans know better. For starters, a teaser for the second half of season three shows unaired Archie clips, including one where he's holding a gun over Hiram.
Archie's not dead. And if he is, maybe it's finally time for zombies? Who knows? The bear attack wasn't even shown on screen, so Archie's claw marks could've been from anything—say, a zombified Hot Dog from the Afterlife with Archie comics (where a dead Hot Dog is resurrected by Sabrina Spellman but turns into a zombie instead)?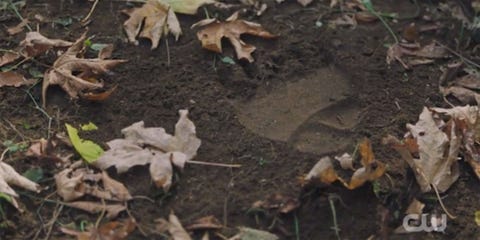 Just a thought. Here's what Twitter is saying about Archie's non-death:
GUYS CALM DOWN ARCHIE CANT BE DEAD HES LITERALLY THE MAIN CHARACTER AND THE WHOLE FRANCHISE #riverdale pic.twitter.com/A8aTdrDRWp
Me when I thought Jughead was dead vs. me when I thought Archie was dead. pic.twitter.com/J64LEKR4Eb
There is no way Archie is dead…no way in hell. Sorry, but I don't believe it.
#Riverdale pic.twitter.com/godMkuZDRb
ARCHIE ISNT DEAD KJ HAS BEEN ON SET WAY AFTER THAT EPISODE AND IS STILL ON SET
Wait what?! I'm not gonna believe for a second that Archie is dead. Nope! No! We're not doing this tonight! #Riverdale pic.twitter.com/1p7XH0o13s
I refused to accept Archie was dead, so I went on IMDB to check to see if he was in the next few episodes and @kj_apa is listed as being in the episodes so I'm just praying that this is actually true🙏🏻 #Riverdale pic.twitter.com/19vi3Gnzbh
Archie cant be dead
– why would they waste almost an entire episode on archie getting rid of his guilt and his old self just to have him die in the end? He had to get rid of his old self and his guilt so he could become the new archie and a stronger archie. #Riverdale #archie
It's hard to say if Archie is really dead. On the one hand he's the star of the of the show but other shows have killed off the main character and the show survive without them so theoretical Riverdale could go on without Archie. #Riverdale
If archie is dead I'm done….it's ARCHIE COMICS GO FUCK YOURSELVES #Riverdale
I'M SORRY, BUT THE OLD ARCHIE CAN'T COME TO THE PHONE RIGHT NOW
WHY? OH, BECAUSE HE'S DEAD!!!!! #Riverdale
#Riverdale At the midseason finale I said I will not leave my bed until riverdale comes back in 2019 now I am dead on the floor wondering how the only stable parent left (Fred) is going to still stay alive even thought we all know Archie will be back
Source: Read Full Article