Regina King just graced the 2020 Emmys pre-show, and she used her screen time to pay tribute to Breonna Taylor.
While talking to E! host Nina Parker about being nominated for HBO's Watchmen, which educated many fans about the Tulsa massacre and racism that pervades the police force, viewers could see Taylor's face on King's T-shirt.
Taylor was killed during a botched raid by officers Jonathan Mattingly, Brett Hankison, and Myles Cosgrove. Though Taylor's family recently reached a $12 million settlement with the Kentucky city, the officers still have not been charged or arrested.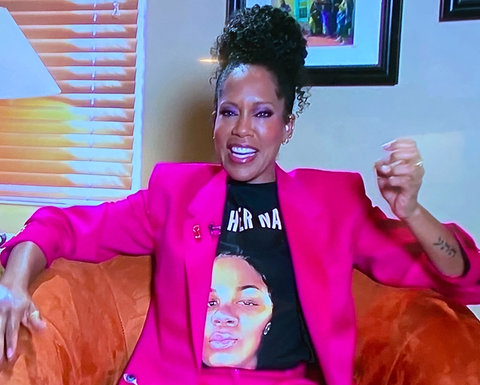 Ahead of this year's "red carpet," King posted a photo of her wearing the T-shirt, which demands justice for Taylor. In the caption, Regina wrote, "Too often Black women who die from police violence are forgotten. Let's stay loud, keep demanding justice for Breonna and her family, and SAY HER NAME. This campaign and t-shirt was created by @phenomenal in partnership with the Breonna Taylor Foundation, to which all profits will be donated. Click link in bio Art by @arlyn.garcia."
King also revealed that she worked with her stylists to create another stellar look for the Emmys, which she shared during the pre-show.
#Watchmen star Regina King in Schiaparelli at the Virtual Emmys. More later on our site. #Emmys @ReginaKing @watchmen pic.twitter.com/4E3oyK8Q1e
This year, King is nominated for Best Actress in a Limited Series or TV Movie for her role in Watchmen.
Source: Read Full Article