When the queen likes something, she really commits. Her Majesty has worn the same nail polish color for the last 30 years. And don't get us started on Queen Elizabeth's signature black Launer handbag (she owns over 200 in the same Traviata style!). The queen's commitment to color and accessory doesn't end there. In addition to her iconic polish and purse, she also has a thing for umbrellas — very specific, custom umbrellas.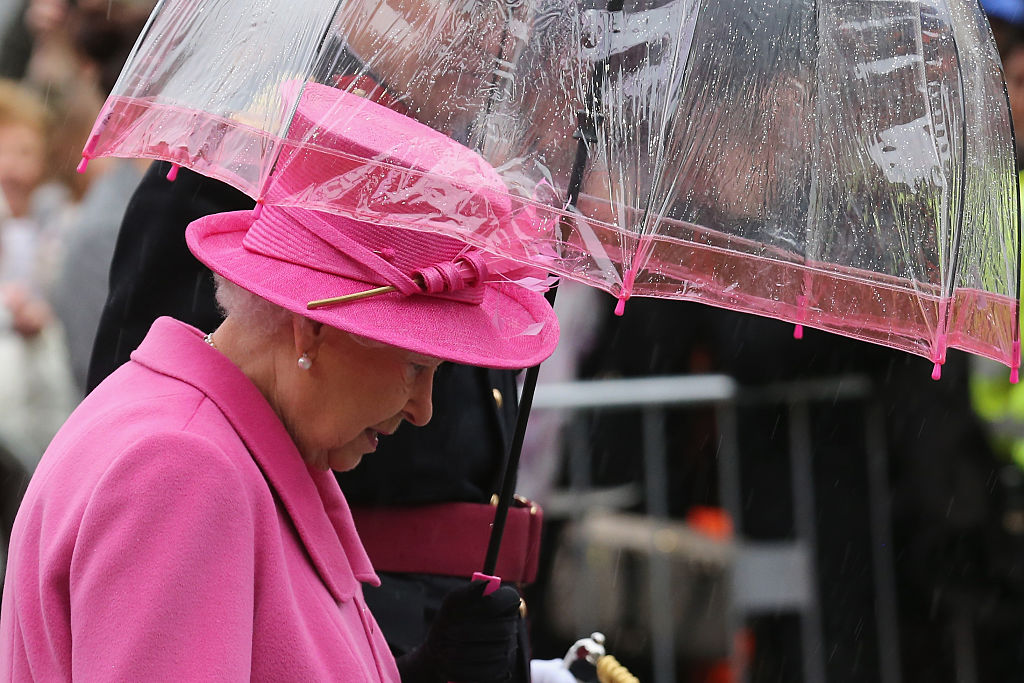 What umbrella does the queen use? Find out, plus how she goes to great lengths to match her gamp (that's what they call large umbrellas in England!)
What umbrella does the queen use?

The queen takes her umbrella game very seriously and has been using the same brand to keep her dry in the rainy United Kingdom weather. What umbrella does the queen use? The answer is a bunch of different ones — but the brand is always Fulton, a United Kingdom umbrella company.
Her Majesty's love of Fulton umbrellas actually started with her mother, the Queen Mother. In 1988, the Queen Mother's secretary contacted the umbrella company in hopes of tracking down a clear domed style — referred to as "Birdcage" — that the brand was known for. Due to a lack of sales, Fulton had, unfortunately, discontinued the style. But, what a royal wants, a royal gets (especially since they are like walking advertisements). "[We] would be very happy to put it back into production if the Queen Mother wants it," CEO Nigel Fulton recalled his father (the former CEO) replying.
Prior to becoming a loyal customer, Queen Elizabeth used to purchase Birdcage-style umbrellas on her own. "She was asking her staff to go buy them in the department store or something," Fulton explained. But in 2003, Her Majesty — who was probably feeling nostalgic for her mother's rainy day staple — requested the iconic Fulton umbrella direct from the company.
With a direct connection to the umbrella company, Queen Elizabeth did what she does best: Got serious about her meticulous color coding. If you haven't noticed, nearly every single one of her ensembles matches perfectly with her accessories (which are typically hats, umbrellas, and her iconic handbag). "We match the colors to the Queen's outfit, and that's the key with this umbrella," Fulton revealed.
How does Queen Elizabeth match her umbrellas to her outfits?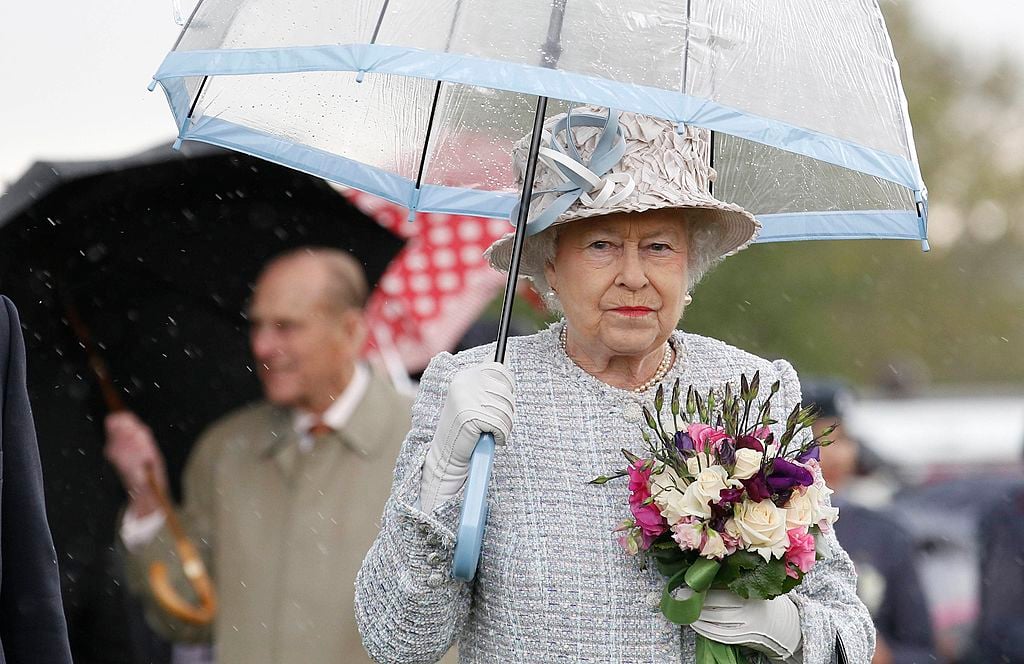 Simply ordering an umbrella with a yellow or pink rim doesn't cut it. In fact, a lot more goes into matching the queen's umbrellas to her outfits. According to Town & Country, the palace places orders for the queen's custom Fulton umbrellas in advance and often sends fabric swatches of Her Majesty's planned outfits to ensure the proper coordination. Fulton takes the swatches and any other requests (rumor has it, the queen prefers a thinner umbrella rim) first creates a prototype. Once the mock-up gets approved, the final style is created for Her Majesty.
How many umbrellas does Queen Elizabeth own?

The queen hardly wears the same thing twice, so she must have a lot of Fulton umbrellas in her Buckingham Palace closet. But, as it turns out, she doesn't have an umbrella for every single one of her outfits. After all, it doesn't always rain in England. "[The Queen] hates wastage," Fulton dished. "So no, she would never buy a whole load of umbrellas and not use them. Never. It's not the way she operates at all," he added.
Queen Elizabeth has been a loyal Fulton customer for over 15 years. Which means she has probably stocked up on quite a few umbrellas in a whole rainbow of colors, so she most likely doesn't need new umbrellas that often.
Check out The Cheat Sheet on Facebook!
Source: Read Full Article