Sometimes the lovin' needs a little nudgin', at least that's the premise of Lifetime's "Married At First Sight." The show has eager singles agreeing to marry a complete stranger pre-selected by a panel of relationship experts. They meet in front of the altar, tie the knot, and have eight weeks to decide whether they want to continue with the lifetime commitment, per Women's Health. While some have found their soulmate on the show, newbies Bao and Johnny are just beginning their journey.
According to Distractify, Season 13's Bao dished on her type to Dr. Viviana Coles. "I love nerds," she divulged. "I feel I'm nerdy myself and I love nerds." Bao is the daughter of Vietnamese refugee parents, and apparently never felt the urge to wed until her 30th birthday. While we don't know if Johnny meets her geeky criteria, he certainly has spent a lot of time looking for love. In an exclusive interview with The List, Johnny admitted, "If dating apps was like a sport, I'd be like a pro bowler. I'd be a veteran of seven, eight years. I was around when dating apps first started." He also revealed his romantic side, saying, "This is a once-in-a-life opportunity, to get matched with the person that's going to be your forever person. I don't know how anyone could pass it up."
So, what's the deal with Bao and Johnny's marriage? It seems as if there was a twist on their way down the aisle.
Bao and Johnny knew each other beforehand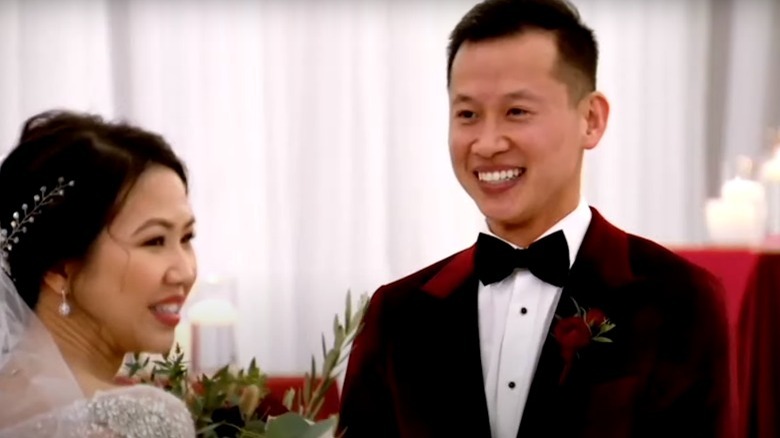 Johnny's dad was against him appearing on "Married At First Sight," according to Us Weekly. When he called his dad to tell him about his upcoming marriage, Johnny revealed, "He sounded pretty upset on the phone. He sounded furious." Nevertheless, Johnny went through with the wedding. In the clip, Bao was breathtaking in a show-stopping dress, while the groom was on fleek in a red velvet suit and bow tie. But, as the bride made her way down the aisle, their eyes locked, then widened as they instantly recognized each other.
"I know him," Bao told her dad. "You're all red, Johnny" were her first words to her in front of the altar. He laughed, blushed, and kept it 100, "I am." Mood: awkward much! Evidently, Bao and Johnny knew each other, but that did not stop them from going through with the nuptials. They also had a tea ceremony afterward. Via The List, now-married Johnny revealed that he asked for a traditional Chinese tea ceremony, but "ended up doing Vietnamese tea ceremony, which is not that far off. It's just a little bit more glam."
Before the show, Bao mused that she may already know her match if he was part of the Asian community in Houston, per Distractify. How accurate was her hunch, though! As she told Dr. Viviana, she could overlook perhaps knowing him as long as her future husband could "demonstrate that they have strong family values." Only time will tell if they will have a happily ever after.
Source: Read Full Article