It's not surprising to Love Is Blind fans that Amber may still harbor some resentment toward Jessica. Amber confronted Jessica during the reunion special for sneakily meeting up with her beau Barnett -after Barnett chose Amber over Jessica. Jessica's made multiple attempts to apologize to the couple but she says things are still awkward between the three.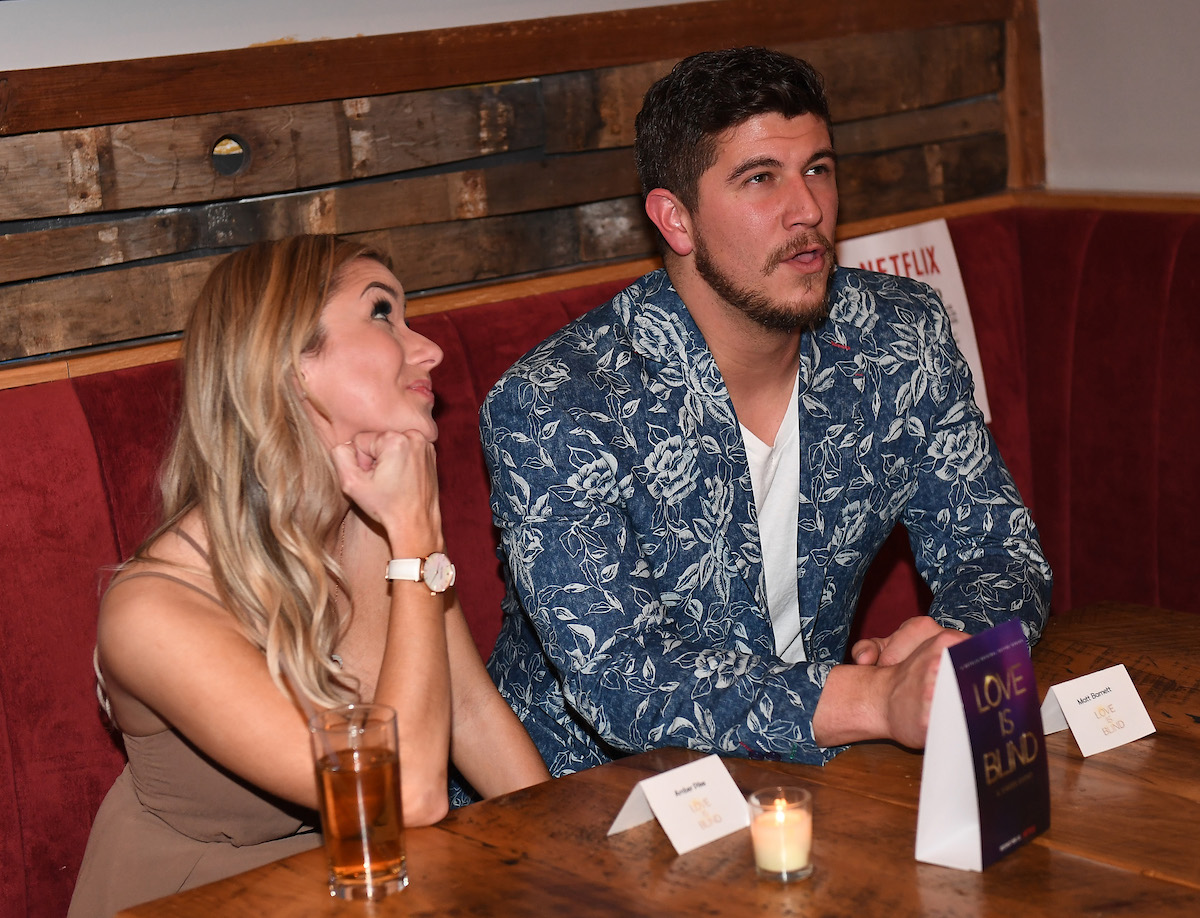 Jessica says Barnett and Amber have her blocked on social media
The cast reunited recently in celebration of Amber and Barnett's two-year wedding anniversary. Jessica gifted the pair a Tiffany's bag with champagne glasses. But, Barnett didn't accept the gift.
"I really didn't [expect an issue]. It took me by surprise," Jessica tells Entertainment Tonight. "I come to parties with gifts and the first thing I wanted to do was address them. It's their party, it's their celebration."
Jessica admits that she was taken aback by the ordeal.
Obviously I knew they're not my biggest fans. It was on my heart to approach them and let them know, 'Hey, so much time has passed. I'm happy for y'all. I've worked through all my emotions. I've been put through it in the press and I've moved on a long time ago from that. So yeah, I handed them the gift and I didn't expect this. Probably most awkward moment of my entire life. I'm just standing there, holding out this bag, and [Barnett] just wouldn't grab the bag. It was quite embarrassing.
She says she's no longer in touch with the couple since the party. "I don't have their information and they've blocked me on social media, so I don't have a way to really get to them," she shared. "They've blocked me, so I can't see anything that they post."
Regardless, there are no hard feelings coming from Jessica's end. "I really don't have anything negative to say to them," she added. "Hopefully they can come to a place where they can recognize that I do exist in this world. I think that was probably the most hurtful thing."
The 'Love Is Blind' alum is happy in a new relationship
Jessica may have said no at the altar to Mark, but she's found love since. She's now dating Benjamin McGrath, an ankle surgeon from California. The backlash from the show isn't the easiest for Jessica to deal with, but she says McGrath is by her side supporting her.
"Yes, that is true," Jessica says. "Ben gets very protective over me. Him knowing the truth … he was very involved in that. He was like, 'Babe, how can we fix this?' He's just always wanted people to see me for the me that he sees."
So much so that he sent Amber messages in an attempt to mediate a reconciliation between her, Barnett, and Jessica. It didn't go over too well with Amber.
"I can't even remember what the context of that was but he did message her. I didn't know about it and afterwards he was like, 'Babe, I did something,'" Jessica explains to ET. "He thought I was going to be upset but I thought that it was actually really sweet that he was trying. He was like, 'I just wanted to problem solve. I just wanted to fix this for you.'"
Love is Blind: After the Altar is currently streaming on Netflix.
Source: Read Full Article