It's easy to assume that the actors on Little House on the Prairie were actually as wholesome as their characters.
In her 2009 memoir Prairie Tale, Melissa Gilbert offered a transparent look at her life growing up while an actor on the series. She revealed that the night before filming an episode about a character's drug addiction, she had been out late partying. And, she said, it showed.
Gilbert was part of Nancy Reagan's 'Just Say No' campaign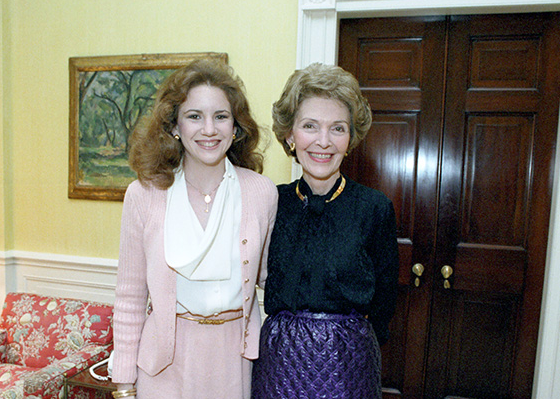 In 1982, the actor was invited by then-First Lady Nancy Reagan to take part in her drug awareness campaign with the slogan 'Just Say No.' Gilbert traveled around the country as the campaign's "youth spokesperson"  with the First Lady "speaking to groups about the evils of drug use," she wrote in her memoir.
"Indeed, I got into the part of America's antidrug cheerleader," Gilbert continued. "It was truly heartfelt. I had been tutored and taught about the evils of drug use virtually my entire life. The training I got from the White House was intense and I practiced what I preached. Never, ever, ever, ever would I do illicit drugs.
"What is it they say about good intentions?"
Albert's drug addiction episode on 'Little House'
In Little House on the Prairie's ninth season, the Ingalls son and father characters of Albert played by Matthew Labyorteaux and Charles portrayed by Michael Landon, returned to Walnut Grove after having been in the big city. 
Albert had been getting into a great deal of trouble with the police to the point that this last time, jail was a guarantee. Charles and his son went back to their hometown "thinking the good values of small-town life would turn Albert around," as Gilbert wrote.
Charles eventually "discovered Albert's real problem, a terrible drug addiction, and suddenly he had the fight of both their lives."
Gilbert began drinking and using drugs
By 1983, Gilbert said she was having "a glass of beer or a shot of tequila and a beer…or two…or three….Cocaine helped, too" to relax. She wrote that she and then-boyfriend and fellow actor Rob Lowe were in Malibu when she first tried cocaine.
At first, she said, "No thanks – and not because I'd been the youth spokesperson for the White House's Just Say No campaign. I was afraid I'd do it wrong. I pictured myself sneezing over the mirror, like Woody Allen in Annie Hall. I summoned the courage and did a couple lines. I didn't feel anything at first."
Eventually, Gilbert said, the drug took effect and she felt like she was "walking through a door and stepping into a new more confident, more gregarious skin."
And so, in the episode on Albert's drug addiction, Gilbert said, "Ironically, on the day we shot the scene where he came back and saw me for the first time, I felt guilty because I'd stayed up way too late partying. I hadn't gotten much sleep, and I was hungover. Half Pint was half out of it."
The actor stopped drinking in the late 1990s and "embraced my newfound clarity as a blessing."
How to get help: In the U.S., contact the Substance Abuse and Mental Health Services Administration helpline at 1-800-662-4357.
Source: Read Full Article