There's a new competition show coming to CBS on March 27th. It's LeBron James's Million Dollar Mile and it pits contestants against world-class athletes. It takes place over a challenging mile-long obstacle course for a prize of $1 million. Good thing the competitors get a two-minute head start!
The show is hosted by legendary ballplayer Tim Tebow. Let's hope that the contestants are as versatile at conquering obstacles as their host was at playing ball! Sports analysts Maria Taylor and Matt "Money" Smith will provide the obstacle-by-obstacle commentary.
Would you run a mile for $1 million?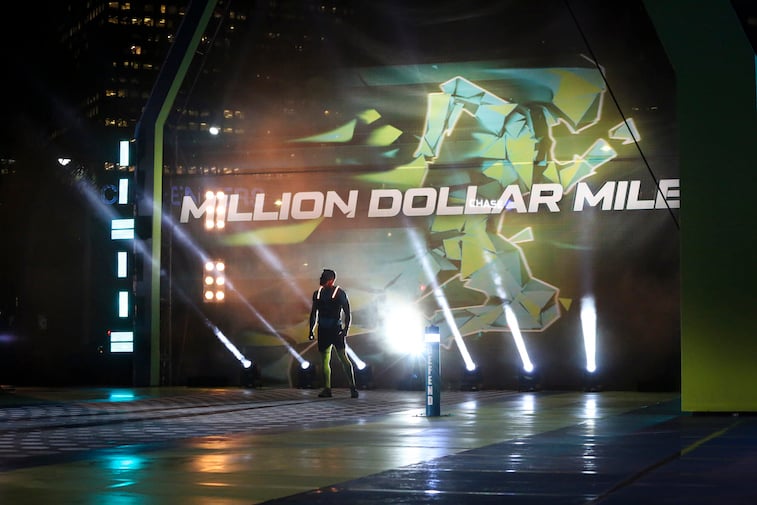 That's the prize for every single run on this course. However, contestants won't just be running this course. They'll also have to climb, jump, swim, swing, and do other stunts along the way.
That's because this draining obstacle course was designed to be extra challenging both physically and mentally. Anyone who wins on this course will have earned their $1 million!
The Defenders
Of course, competitors don't just have to complete the obstacle course to win. That would be way too easy! In order to win, they also have to defeat their competition. And that's a huge challenge, since the competition is a group of world-class athletes known as The Defenders! These elite athletes have just one goal in mind – to prevent the competitors from winning that $1 million prize!
Fans of American Gladiators, American Ninja Warrior, or the Spartan Games should enjoy the run for the money in this new show. It sounds like it combines elements of all three of those popular competitions!
Shutting things down
The streets of L.A. play host to the demanding obstacle course. Apparently, that's the only venue large enough, and long enough, for this epic race event. Since CBS has ordered 10 episodes of the new show, it must have been a monumental task to arrange the street closures. Setting up the massive obstacles must have been equally monumental!
CBS is billing the Million Mile Mile as "the most challenging course ever designed." That should give you some idea of what it's going to take to even complete the course! We can't wait to see the kind of obstacles that merit that description. Are they really as imposing as we're imagining?
The 'Big Brother' connection
Big Brother executive producers Allison Grodner and Rich Meehan from Fly on the Wall Entertainment will do the same for this new competition show. The production is a collaborative effort between Fly on the Wall Entertainment, Warner Horizon Unscripted & Alternative Television, and Springhill Entertainment.
James has a deal with Warner Bros. Entertainment to create content and Million Dollar Mile is a product of that collaboration. Philip Byron and Jamal Henderson are on the front lines for Springhill and will oversee the competition for executive producers Maverick Carter and James.
Maverick Carter, CEO of SpringHill Entertainment, says this about the show: "This show takes competition series to a whole new level. It's intense, it's entertaining and it has a twist that will have people on the edge of their seats while also creating an opportunity to change the contestants' lives."
Are you up to the challenge?
According to the CBS application form for the show, you'll need "strength, speed, agility, endurance, and mental capacity" to tackle the intensely challenging course. However, you don't need to be a professional athlete to compete. Even weekend warriors are welcome on this demanding course.
People of "all shapes, sizes and athletic abilities" are invited to test their fortitude and stamina on the Million Dollar Mile course. A burning desire for that million dollar prize wouldn't hurt your chances, either!
According to Sharon Vuong, Senior Vice President of CBS's Alternative Entertainment, "LeBron represents the epitome of strength, vision and determination – all skills one will need to complete this one-of-a-kind course where every runner has a chance to win $1,000,000." We can hardly wait for the race to begin!
Check out The Cheat Sheet on Facebook!
Source: Read Full Article