Kelly Ripa and Ryan Seacrest have an emotional time coming up ahead as they're gearing for the conclusion of their final season together hosting Live with Kelly and Ryan.
The two announced back in February that Ryan would be departing the show after six seasons as the co-host, you can check out the moment in the video below.
WATCH: Ryan Seacrest confirms exit from Live With Kelly and Ryan
However, as they mark several milestones together, they're preparing for another big one, as they'll be hosting their last post-Oscars show.
The two are returning to the Dolby Theater this year after several years hosting virtually or from the Live! studio due to the pandemic. They'll be looking to avoid any awkward moments during the live show, although you can check out some of the more awkward moments from the main show here.
MORE: Ryan Seacrest says he's 'happy' for the future after Live! with Kelly Ripa exit
TRENDING NOW: Prince Harry's family did attend daughter Lilibet's intimate christening – report
They will be backstage as winners and presenters from the main show exit the stage and will return to the main stage for their regular time slot of 9 AM on Monday the morning after the 95th Academy Awards.
A post shared by LIVE with Kelly and Ryan (@livekellyandryan)
Kelly and Ryan are hosting their final post-Oscars show together
Speaking with Variety about their post-show, Ryan expressed his excitement about interacting with the stars backstage at the Oscars for the first time, having usually been a constant presence on the red carpet itself.
"Live! has incredible real estate backstage for us to get emotion and reaction from the winners before they even realize what's going on, so we get some very candid conversations and moments," he said.
MORE: Ryan Seacrest's real reason for leaving Live with Kelly and Ryan revealed
ALSO POPULAR: 'Thrilled' Blake Lively and Ryan Reynolds dote on newborn baby as they mark joint celebration at home
Kelly enthusiastically added: "The stars come off with their Academy Award, and they are in what I like to call the fifth dimension – they've just won an Academy Award, and it is the biggest achievement in their career, so they are floating on cloud nine.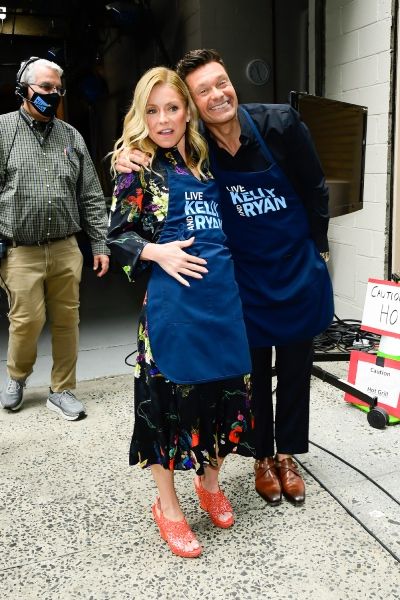 Ryan will depart the show after the current season ends
"It is thrilling and overwhelming and shocking, and it is the best interview because people who have just won an Academy Award will tell you anything. Even the questions you didn't ask, they're going to tell you the answer."
Read more HELLO! US stories here
Source: Read Full Article