It's no secret that CBS's hit television series The Big Bang Theory has had a successful run. With over a decade of laughs, awards, and million dollar paychecks the show has landed itself a top spot right along with other iconic sitcoms such as Friends and Seinfeld. But, is season 12 the last season of Big Bang Theory?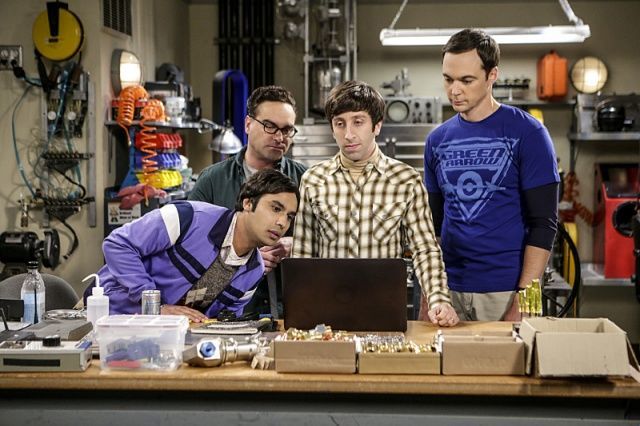 Raj, Leonard, Howard, and Sheldon on 'The Big Bang Theory.' | CBS
Is season 12 the last season of 'Big Bang Theory'?
All good things must come to an end and, sadly, for The Big Bang Theory that end is near. After 12 seasons, the popular sitcom will close its soundstage doors in May 2019. "We are forever grateful to our fans for their support of The Big Bang Theory during the past twelve seasons. We, along with the cast, writers and crew, are extremely appreciative of the show's success and aim to deliver a final season, and series finale, that will bring The Big Bang Theory to an epic creative close," WBTV and Chuck Lorre Productions said in a statement in August 2018. With 279 episodes in its catalog, the popular television series is the longest-running multicamera comedy in history.
The news should come of no surprise to the show's fans, as many viewers thought season 11 was the end of the road. Chuck Lorre and his team even gave fans a potential ending — Sheldon Cooper (Jim Parsons) and Amy Farrah Fowler's (Mayim Bialik) wedding. However, the couple's scientific breakthrough led to the perfect plotlines for a 12th and final season.
Could there be a 13th season?
Not all hope is lost though. Apparently, sources told The Hollywood Reporter that CBS and WBTV have discussed continuing the series beyond its 12th season. However, in order to do so, the stars would need to sign deals, which could mean more money each episode.
Right now, the lead cast makes $900,000 per episode — a $100,000 decrease from their million dollar salaries for seasons 8 through 10. Jim Parsons, Kaley Cuoco, Johnny Galecki, Simon Helberg, and Kunal Nayyar took pay cuts in order for their co-stars, Mayim Bialik and Melissa Rauch to earn a pay increase. As a result, Bialik and Rauch brought in $500,000 per episode in season 11, and continue to make half a million dollars per episode in season 12.
How much money does 'The Big Bang Theory' make?
Much like other hit sitcoms — read: Friends — The Big Bang Theory is a cash cow. As it turns out, the sitcom makes Warner Bros. studios $1 billion every year — and the cast gets a portion of that through their syndication agreements. It's unknown how much money The Big Bang Theory will make in the coming years — especially without new episodes — but, as one of the most popular television shows, it likely won't dip down too much.
How to watch 'The Big Bang Theory' after season 12
Curious to know how to watch The Big Bang Theory after season 12? There are a few options to choose from. Those interested in streaming the sitcom can do so on CBS All Access. In addition, The Big Bang Theory is available for rent on Amazon Prime Video, iTunes, YouTube, Vudu, and Google Play. You can also catch rerun episodes on cable or purchase the seasons in DVD format at select retailers like Walmart, Best Buy, and Target.
Right now, The Big Bang Theory is not available on streaming sites like Netflix and Hulu (although you can catch season 12 on Hulu Live TV).
Check out The Cheat Sheet on Facebook
Source: Read Full Article