Anyone who was alive in January of 1989 will remember the big media lead-up to Ted Bundy's execution. When it happened on January 24 of that year, it didn't necessarily bring relief to the families of his many victims. Nobody definitively knows how many murders he committed going back to the 1960s. Some estimate it could be over 100 women.
With Netflix's recent The Ted Bundy Tapes being the talk of social media, it gives a new definition to why his execution was more than just. Even for those against the death penalty, hearing these new tapes gives credence to why prison execution exists.
Let's re-examine how Bundy died, the method used, and what kind of precedent it might have set.
When was Bundy sentenced to death?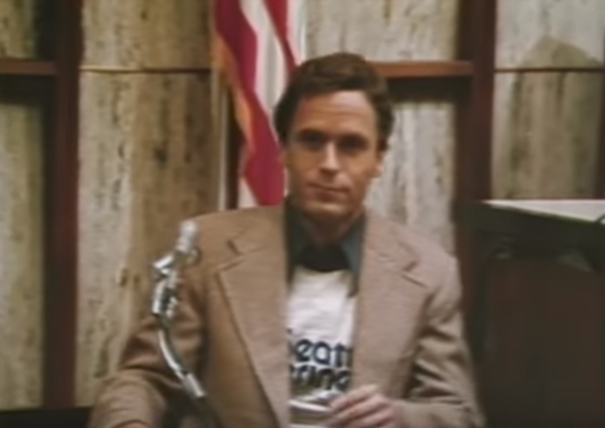 Ted Bundy | Netflix via YouTube
Many forget it took almost ten years to finally execute Bundy. He was first sentenced to death during his 1979-80 trial for killing a 12-year-old girl. It was also during this trial when he notoriously asked Carole Ann Boone to marry him while she was testifying on the witness stand about his character.
This surreal moment might have brought wedded bliss to both of them, but ultimately brought a death sentence to Bundy just hours later.
There were really three death sentences brought against him for separate murder cases. Despite this, he was somehow able to remove himself from what he'd done and declared he didn't think he did anything wrong.
The days leading up to the execution
https://twitter.com/search?q=ted%20bundy%20execution&src=tyah
It's worth going back to look at the public reaction to Bundy's execution on that winter day of 1989. There was almost a countdown clock to it, especially because he'd revealed shortly before how he'd killed 30 other women.
A lot of people wanted to rid the world fast of this cold-blooded killer. As reminded by A&E Real Crime on Twitter recently, people were holding barbecues to celebrate his death. Others more rightfully wept and prayed.
Recent media outlets also reminded us how Netflix chose the exact 30th anniversary date of the execution to release The Ted Bundy Tapes.
Use of the electric chair
For some, 1989 may not seem long ago. Yet, within 30 years, the use of the electric chair in executions has become considered a cruel method. Only nine states still allow it. Florida (where Bundy was executed at Florida State Prison) no longer makes it legal. Lethal injection has become what many consider a more humane method of execution.
Back in 1989, some might argue Bundy was one who deserved the electric chair. A grisly picture is used in Netflix's The Ted Bundy Tapes showing what he looked like just after the execution took place. Many have been chilled to the bone seeing this pic, particularly because Bundy still has his cold and heartless stare, even in death.
Women who continued to support Bundy
Revisiting the Bundy execution also brings up an odd psychological angle you maybe wouldn't see repeat today. This involves all the women fans Bundy had while he was awaiting execution. Why did so many women feel like he was still worth pursuing and writing to, despite knowledge of his horrific mental state?
We've explored this ourselves recently, including addressing Bundy's mysterious past wife/supporter, Carole Ann Boone.
Psychologists have suggested it's a deep desire to nurture the man back to normalcy. Alternative psychological views say these women find it appealing knowing the man is in one place at all times and always thinking about them.
These portraits of women psyches are just speculative. Today's world is much different. Perhaps most women wouldn't do such a thing now.
The Ted Bundy Tapes truly brings a service to Millennials to not be cajoled into the charm of young men who seem a little too perfect.
Source: Read Full Article