Malia White discussed how her Below Deck Mediterranean Season 6 deck crew is "night and day" from her team last year, sharing why she'd take a green deck crew with good attitudes over experience and an overinflated ego any day.
"Oh my God it was like night and day," she told Showbiz Cheat Sheet. "Yeah, these guys are nothing like the crew I had last season. And just to come in and feel supported, and everyone was positive. There were no egos and everyone was genuine. Everyone was different, but everyone was supportive and it's very refreshing from last season."
Malia White couldn't trust Pete Hunziker from 'Below Deck Mediterranean' Season 5 to do the right thing
White mainly dealt with insubordination from deckhand Pete Hunziker who referred to her as "sweetheart" on deck but also tried to take over, even when he wasn't sure how to do something. Hunziker was experienced, but White said she'd prefer a positive green crew member over an experienced deckie who was cocky.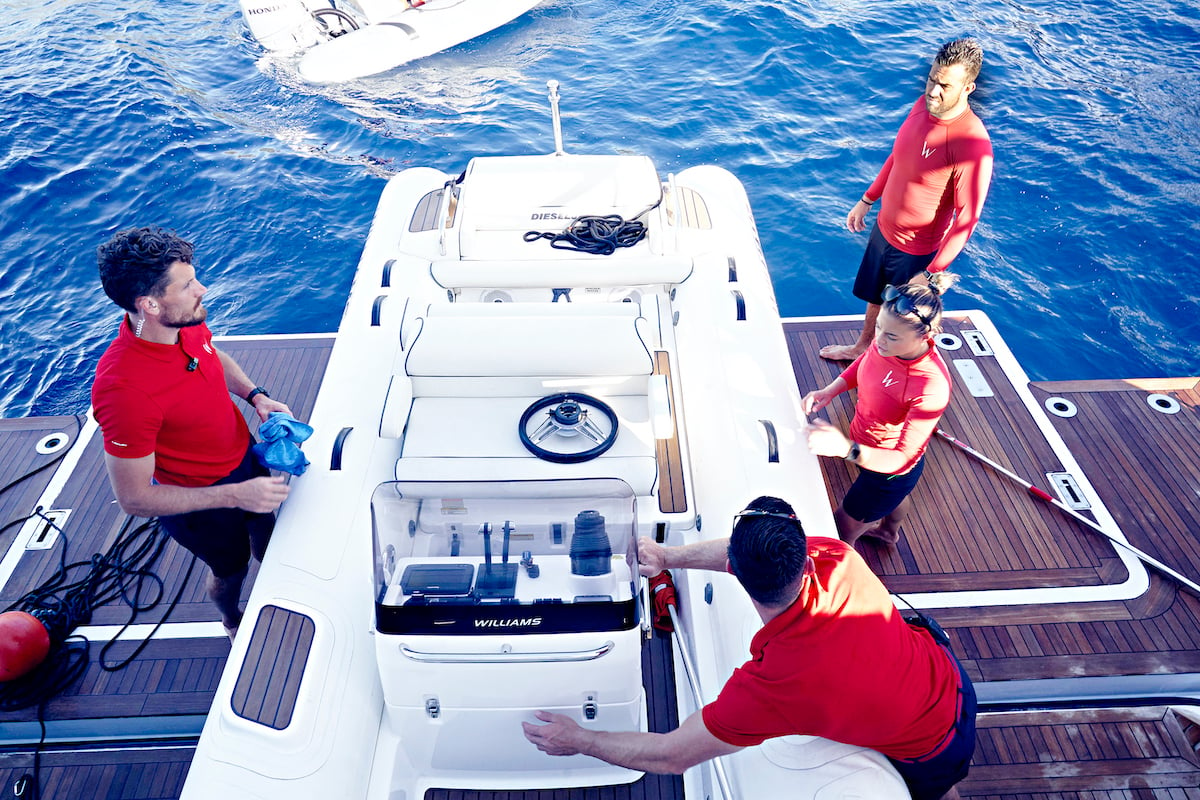 "David [Pasco] and Lloyd [Spencer] had a bit more experience," she said about her current crew. "David has the most experience. [Mzi] Zee [Dempers] was green-green. But the thing with Pete is he would never tell me he didn't know how to do something. Because that was his cockiness. So I always felt uncomfortable leaving him alone because I never knew the truth with him."
'Below Deck Med' Season 6 crew asks questions if they don't know how to do something
"With these guys, if they didn't know how to do something, they would just ask," she continued. "And that makes me feel more confident in leaving them with tasks. I know they're never going to do something they're not comfortable with."
"Hands down, people with a good attitude, you can teach them things," she said about her crew preference. "But you can't teach people to have a good attitude." White learned early in the season her crew was eager and happy to learn. Dempers showed up on deck with a notebook, prepared to learn. All three deckhands also seemed to bond quickly and respect for White was quickly established.
'Below Deck Mediterranean' Season 6 crew loved working for Malia White
For their part, Dempers, Pascoe, and Spencer individually told Showbiz Cheat Sheet that White was an incredible leader, but also an amazing friend. Spencer said White gave him new opportunities to learn. "I was given opportunities by Malia to progress massively and massively compared to what I necessarily would have been allowed to, say on another yacht under someone else," he recalled.
And while Dempers watched Below Deck Mediterranean Season 5 and worried White would be a tough boss, he soon realized he'd struck gold having her as his mentor. "I think for me, I think I was really scared in terms of like watching previous seasons," he said. Once he arrived on deck, he realized his impression was wrong. "But as a person, she was incredible," he said. "She's super, super incredible. She really sort of gave everybody a chance and put her trust into us."
Pascoe was the only crew member who hadn't watched last season. He said the entire team bonded and their relationship was extremely cohesive. "I was just enjoying the work because of the team I worked with," he said. "And that obviously goes across not to exclude Malia. She's a massive part of our team. She wasn't excluded from it, so she was very much in one of the lads, so to speak. She just got involved and she was great. And the interior team were brilliant. So all in all, I felt very lucky."
Below Deck Mediterranean airs on Mondays at 9 pm ET/PT. New episodes will be available on Peacock one week early on Mondays.
Source: Read Full Article