This year has been, well, a year. Lots of disastrous, exhausting, problematic, and down-right traumatizing real-world events may have bogged us in 2018, but many good things happened in the world of television.
Here are all the shows that saved this year from descending into complete catastrophe:
1. Grown-ish (Freeform)
Stream it on Hulu. Watch
Yara Shahidi shines in this Black-ish spinoff about Zoey Johnson's college years.
2. Killing Eve (BBC America)
Stream it on Amazon. Watch
In her first TV role since her exit from Grey's Anatomy, Sandra Oh plays Eve, a security service operative who dreams of being a spy. Her character finds herself up against Villanelle (played by Jodie Comer), a "mercurial, talented killer who clings to the luxuries her violent job affords her."
3. Queer Eye (Netflix)
Stream it on Netflix. Watch
Netflix rebooted the Bravo series with a new "Fab Five," and fans and critics loved it so much a second season was released in the same year.
4. The Chilling Adventures of Sabrina (Netflix)
Stream it on Netflix. Watch
This reboot is nothing like Melissa Joan Hart's Sabrina the Teenage Witch. This dark take on the show is much more sinister, but no less magical. People definitely got hooked, because the series got renewed for three more seasons after the first.
5. Pose (FX)
Stream it on Amazon. Watch
What can't Ryan Murphy do? While you try to answer this non-question, do spend some time appreciating everything about Pose, which stars the largest cast of transgender talent (50 and counting) for a TV series. Ever. A second season is due in 2019.
6. Elite (Netflix)
Stream it on Netflix. Watch
This new Netflix drama became an instant hit. It's Gossip Girl meets How to Get Away with Murder as three working-class kids attend an exclusive private school. Naturally, there's a clash between classes, and it all leads to bloody murder.

7. The Assassination of Gianni Versace: American Crime Story (FX)
Stream it on Amazon. Watch
It's no People Vs. OJ Simpson, but the story of Andrew Cunanan's killing spree, which ended in the murder of Gianni Versace, is compelling nonetheless.
8. Sharp Objects (HBO)
Stream it on Amazon. Watch
Based on Gillian Flynn's debut novel, HBO's miniseries stars Amy Adams as Camille Preaker, a reporter who's sent back to her hometown of (fictional) Wind Gap, Missouri, to investigate the murders of two young girls. When she's not intoxicated, you can find her swerving harsh one-liners from her mother Adora, played by the incredible Patricia Clarkson.
9. You (Lifetime/ Netflix)
Stream it on Lifetime. Watch
Stream it on Netflix. Watch
This psychological thriller about a crazy stalker stars Gossip Girl's Penn Badgley, Once Upon A Time's Elizabeth Lail, and Pretty Little Liars' Shay Mitchell. It originally aired on Lifetime, but due to popular demand the show begins streaming on Netflix starting December 26, 2018.
10. The Haunting of Hill House (Netflix)
Stream it on Netflix. Watch
This truly haunting family horror series has a touch of This Is Us vibes, and has got to be one of the best shows this year.
11. 9-1-1 (Fox)
Stream it on Hulu. Watch
This procedural about first responders in Los Angeles — police officers, firefighters, paramedics, and 9-1-1 operators — stars Connie Britton and Angela Bassett. If that's not enough to sell you, read this.
12. The Chi (Showtime)
Stream it on Amazon. Watch
Lena Waithe, who you probably know from her incredible work on Master of None, created a show about life in the South Side of Chicago and all its complexities.
13. Station 19 (ABC)
Stream it on Hulu. Watch
The Grey's Anatomy spinoff features burning buildings and sex; emotional breakdowns and moments of triumph. It's a lot like Grey's — and even stars Jason George as Ben Warren — only set three blocks down from the hospital.
14. Sweetbitter (Starz)
Stream it on Amazon. Watch
The TV adaptation of Stephanie Danler's novel of the same name tells the story of a young woman named Tess who moves to NYC and takes a job at a fancy restaurant.
15. Wild Wild Country (Netflix)
Stream it on Netflix. Watch
This six-part documentary series gives a stunning account of WTF happened when a religious community was built out of nothing in rural Oregon in the 1980s. If you've never heard of the Rajneeshees or "Orange People," you won't be able to stop talking about them—and Googling them—after Wild Wild Country.
16. Castle Rock (Hulu)
Stream it on Hulu. Watch
Bill Skarsgard continues his scare streak with this creepy follow-up to Pennywise and It: a new horror anthology series based on material from—yep—Stephen King. The star-studded cast includes André Holland, Melanie Lynskey, and Sissy Spacek. Want to know how good this show already is? Hulu's renewed it for a second season not long after it premiered.
17. American Horror Story: Apocalypse (FX)
Stream it on Hulu. Watch
What do you get when you mix Coven and Murder House? The latest installment of American Horror Story, which will bring the two worlds together and along with it, all the familiar faces, from Sarah Paulson (duh) to Jessica Lange and Emma Roberts. You know who else is coming back? The Harmon baby, who's all grown up and ready to take over the world, maybe.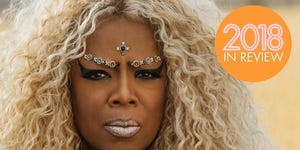 Source: Read Full Article