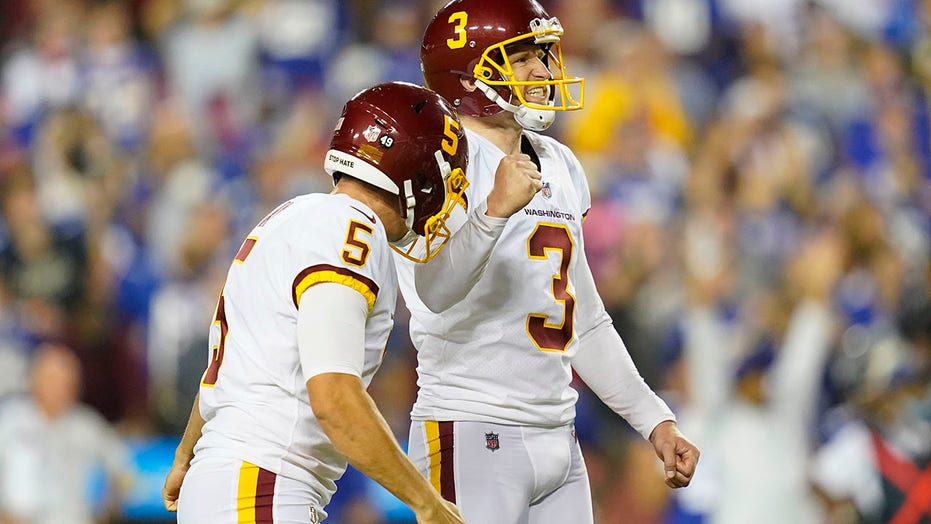 Fox News Flash top headlines for September 17
Fox News Flash top headlines are here. Check out what's clicking on Foxnews.com.
Week 2 of the 2021 NFL season has a lot to live up to.
The first week was filled with exciting games from start to finish and should've gotten the average football fan looking forward to seeing how the rest of the year plays out. Week 2 began with an NFC East matchup between the New York Giants and Washington Football Team.
The game didn't need an overtime period but it went down to the wire with Dustin Hopkins nailing a field goal to give Washington the win as time expired.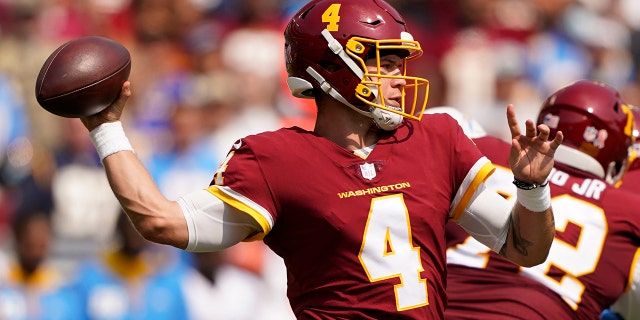 Washington Football Team quarterback Taylor Heinicke (4) throws the ball against the Los Angeles Chargers during the first half of an NFL football game, Sunday, Sept. 12, 2021, in Landover, Md. (AP Photo/Andrew Harnik)
(AP Photo/Andrew Harnik)
–
Week 2 Schedule
Thursday, September 15, 2021
WASHINGTON 30, GIANTS 29
Sunday, September 19, 2021
1:00 PM: Bengals @ Bears
1:00 PM: Texans @ Browns
1:00 PM: Rams @ Colts
1:00 PM: Bills @ Dolphins
1:00 PM: Patriots @ Jets
1:00 PM: 49ers @ Eagles
1:00 PM: Raiders @ Steelers
1:00 PM: Saints @ Panthers
1:00 PM: Broncos @ Jaguars
4:05 PM: Vikings @ Cardinals
4:05 PM: Falcons @ Buccaneers
4:25 PM: Cowboys @ Chargers
4:25 PM: Titans @ Seahawks
8:20 PM: Chiefs @ Ravens
Monday, September 20, 2021
8:15 PM: Lions @ Packers
–
Standings Before Week 2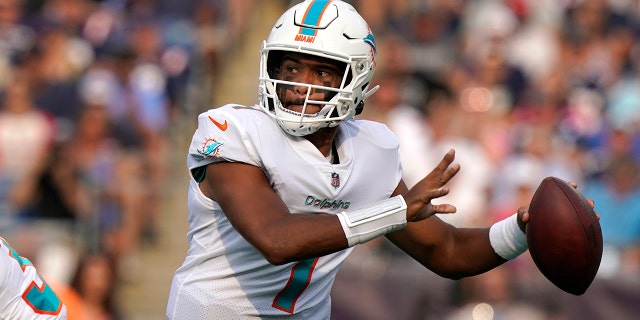 Miami Dolphins quarterback Tua Tagovailoa (1) looks to pass during the first half of an NFL football game against the New England Patriots, Sunday, Sept. 12, 2021, in Foxborough, Mass. (AP Photo/Steven Senne)
AFC East
1). Dolphins (1-0)
2). Patriots (0-1)
3). Bills (0-1)
4) Jets (0-1)
AFC North
1). Steelers (1-0)
2). Bengals (1-0)
3). Ravens (0-1)
4). Browns (0-1)
AFC South
1). Texans (1-0)
2). Jaguars (0-1)
3). Colts (0-1)
4). Titans (0-1)
AFC West
1). Chiefs (1-0)
2). Broncos (1-0)
3). Chargers (1-0)
4). Raiders (1-0)
NFC East
1). Eagles (1-0)
2). Washington (1-1)
3). Cowboys (0-1)
4). Giants (0-2)
NFC North
1). Lions (0-1)
2). Bears (0-1)
3). Packers (0-1)
4). Vikings (0-1)
NFC South
1). Saints (1-0)
2). Buccaneers (1-0)
3). Panthers (1-0)
4). Falcons (0-1)
NFC West
1). 49ers (1-0)
2). Rams (1-0)
3). Cardinals (1-0)
4). Rams (1-0)
Source: Read Full Article