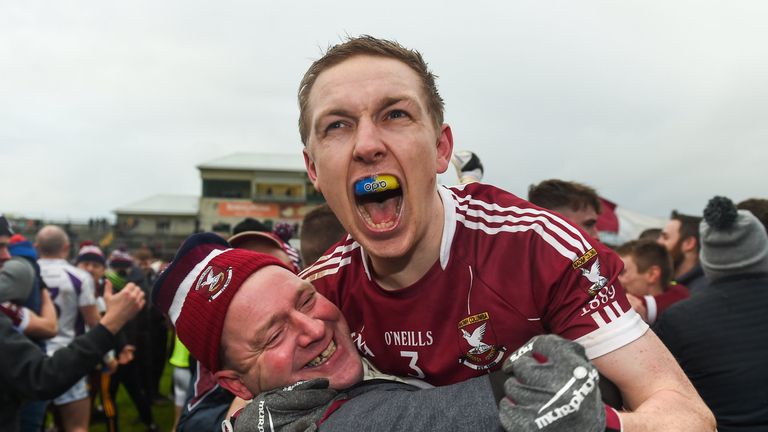 Mullinalaghta's triumph over Kilmacud Crokes in Sunday's Leinster final was a true underdog story, as the Longford 'half-parish' stunned the Dublin suburban club with a two-point victory to claim a historic provincial title.
It was a fairy-tale ending to a fairy-tale year for the club, who proved to small rural sides all over Ireland that it's possible to go up against sides with greater resources and come out on top.
Given the manner of the dramatic 1-08 to 1-06 victory, there was an outpouring of joy across the entire country as the club with a catchment area of just 400 were crowned Leinster champions.
YES THEY DONE HISTORY IS MADE CONGRATULATIONS ST COLUMBA'S MULLINALAGHTA AIB LEINSTER CLUB CHAMPIONS
What a win for Mullinalaghta and all Longford GAA. There will be a bit of a party there tonight I'd say. You have to love the club championship
Mullinalaghta proving why @AIB_GAA club championship is the most special @officialgaa competition of all. #TheToughest
Will there even be mass said in Mullinalaghta until after Christmas!!! What a result. Sometimes it's a number game…sometimes it just comes down to how badly you want something. #Mullinalaghta #club #family
Wont be a cow milked in Mullinalaghta till Christmas. Congratulations. This is what makes Club football so special. #AibGaa #TheToughest
We need to get @KCASS7 up to Mullinalaghta @OfficialLDGAA tonight to record the after party …. By God they showed some heart & it's heart warming & encouraging for all clubs out there #underdog #aibgaa @SportTG4 @AIB_GAA @officalGAA
The year of the Underdog!! Some result in Leinster. Dr Crokes and Corofin will be rubbing their hands but the great thing about our game is that you just never know!!!
Couldn't be prouder of this man today. What an achievement. What a parish. Unbelievable❤️ pic.twitter.com/HNNzh2vU0V
There's 155 members in Mullinalaghta. Barely 100 adult members. They can just about field a full minor team with Abbeylara. Conan Brady, the corner back, has been commuting from the uk to play matches for 8yrs. Just inspirational stuff.
Amazing scenes as Mullinalaghta become the first ever Longford club to win the Leinster title! They shock Kilmacud Crokes, 1-8 to 1-6! #GAA
A post shared by Sky Sports GAA (@skysportsgaa) on
St Columba's will face Dr Crokes of Kerry in February's All-Ireland semi-final.
Make sure to keep up with all the latest GAA news and analysis via skysports.com, the Sky Sports mobile app and @SkySportsGAA on Twitter.
The Sky Sports mobile app will keep you up to date with the latest news from Gaelic games – here's how to receive the alerts you want.
Source: Read Full Article