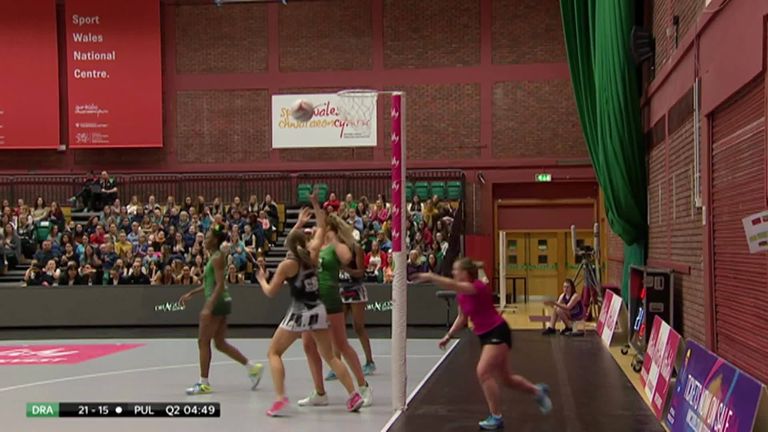 Celtic Dragons recorded their first home win of the season, while Team Bath moved up to fourth in the Vitality Superleague table with their victory on Monday night.
Tania Hoffman's side beat London Pulse 62-51 at the Sport Wales National Centre and Bath edged out a tenacious challenge from Severn Stars to prevail 53-43 in their re-arranged derby fixture.
The results mean that the table is now tighter than ever when it comes to the race for the top four. After 11 rounds, Manchester Thunder have their noses out in front on 27 points and are followed by a quartet of teams.
Saracens Mavericks, Wasps Netball, Team Bath and Loughborough Lightning are all chasing Thunder on 24 points with seven rounds of the regular season remaining.
Next week the Sky Sports cameras will be in Scotland to see if the league leaders can maintain their form when they meet Strathclyde Sirens.
Vitality Netball Superleague – Round 11 Results
Celtic Dragons started their Round 11 match with confidence with shooters Chelsea Lewis and Kalifa McCollin being fed well by their mid-court attackers.
McCollin struggled to find her range on the shot but Lewis' accuracy helped them into a 6-2 advantage after five minutes. It was a sign of things to come from the home side's GS as she would be named the Vitality Player of the Match at full-time.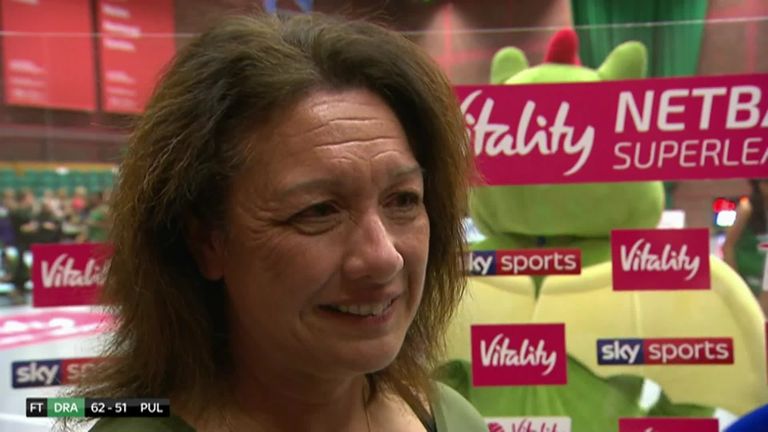 Pulse had chosen to start with a new attacking line-up to what we had seen previously, the experienced Ash Neal was at GA and Rose Long at WA. And, in contrast to Dragons they stuttered and struggled to get through to the circle edge and feed early on.
Although Dragons were not squeaky clean themselves, they were able to finish the first quarter strongly and sit 13-6 ahead after 15 minutes.
Pulse's head coach Te Aroha Keenan decided to change her attacking end for the second quarter and, with Neal back in at WA and Chiara Semple on at GA, they had more fluidity early on.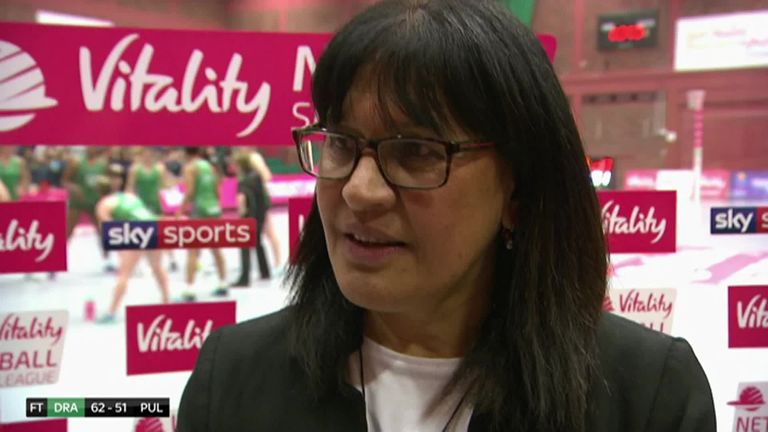 That said, Pulse remained adrift as Dragons quietly pulled it out to a 10-goal difference at 19-9 with 10 minutes of the half remaining.
A period of frustration for both teams arrived after, they each lost their timing and flow through the court, but Pulse came out of it first and drew back a couple of key goals.
Within the final minutes of the half, Dragons had chances to extend their lead but they didn't capitalise fully on them and on the other hand Pulse had chances to make it closer and didn't. In the end, the hosts led 26-21 after 30 minutes.
Just look at that @NetballSL table?
Care to call the top four now?! Throw in your finalists and Grand Final winner too if you like…
Thoughts on a tweet ⬇️ pic.twitter.com/2D3R1qDSFf
The second half saw the match intensify as both teams grappled to put themselves into the positions that they wanted to be in.
In the home side's circle, Lewis provided an excellent target while at the other end, Semple's natural shooting style saw her sinking long shots with ease. Pulse drew back to 37-33 with three-and-a-half minutes to play before another slow end to the quarter.
A vital final two minutes saw the home side wrestle the momentum back and finish it with five unanswered goals and that delivered a 44-35 cushion at the end of the third quarter.
Final quarter changes were made to Pulse's line-up, three personnel amendments in total, but instead of settling and spurring a comeback it was the home side who showed greater solidity.
Dragons went nine ahead with as many minutes left on the clock and then made sure they didn't let the match slip out of their control.
FULL-TIME: @SevernStars made us battle right to the end as expected in the @NetballSW derby but a 5th straight win moves the #BlueAndGold back into the #VNSL2019 top 4!
Next home game is a big one against @LboroLightning on Friday, April 12 (7.30pm) – https://t.co/mCxuLc8ead pic.twitter.com/Tfck98q3YD
Meanwhile at the Team Bath Arena, the home side had to work for the full 60 minutes to record their fifth win in succession.
Anna Stembridge's side saw their four-goal 26-22 half-time lead cut to two going into the final quarter at 37-35.
Stars had chances to draw level before full-court pressure helped the hosts regain some wriggle room and breathing space.
In the end, five unanswered goals in the closing stages saw Team Bath secure the spoils with defender Summer Artman being named player of the match.
Source: Read Full Article