There are so many things the royal family does that seems foreign to us commoners. But then there are those rare moments – like when they fly commercial airlines or let out a genuine laugh – when even the reigning monarch of Great Britain seems like someone you could be friends with.
It's a heartwarming thing to find out Queen Elizabeth II has a fondness for one particular Christmas cookie.
What is Christmas like for the royal family?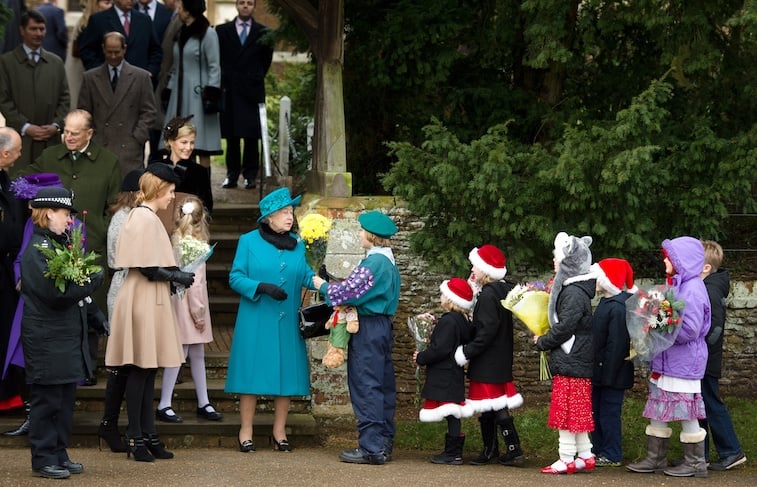 Queen Elizabeth II | LEON NEAL/AFP/Getty Images)
There are so many Christmas traditions that royal family members follow in December. For one thing, the family doesn't spend the holiday in London. Instead, everyone heads to Sandringham Estate in Norfolk, England on Christmas Eve. Usually, just official family members are invited to join the festivities, but the Queen broke protocol when she allowed Meghan Markle to come before she and Prince Harry wed. This year, even Meghan Markle's mother is joining.
The royal family can afford to exchange fancy presents, but instead, they go for a bit of humor. Presents are often gag gifts to make everyone have a good laugh.
There's a traditional Christmas menu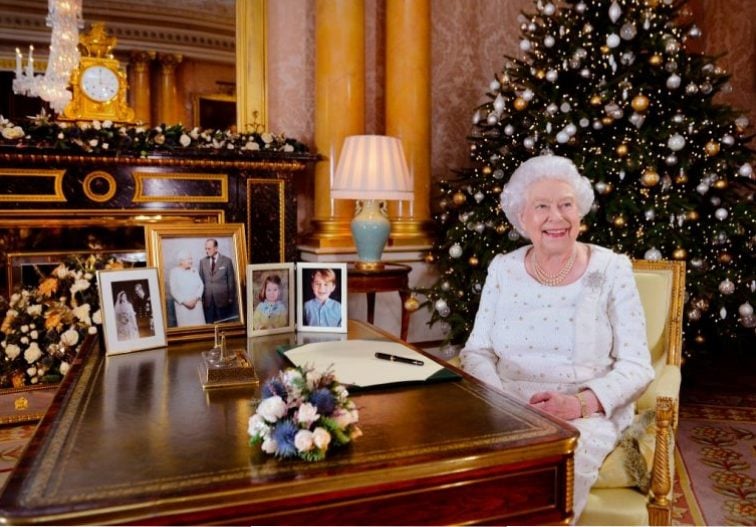 Queen Elizabeth II | John Stillwell/AFP/Getty Images
Instead of experimenting with new dishes, the royal family opts to enjoy the same foods every year at Christmas. The feast begins with a pre-church breakfast of eggs, sausage, and bacon. The large lunch after church services is a bona fide feast. Royal family members nosh on a roast turkey, roasted vegetables including parsnips, carrots, and Brussels sprouts, with Christmas pudding with brandy for dessert.
Later, everyone enjoys afternoon tea with fruitcake. Then a buffet dinner features roasted meat carving stations, seafood, cooked vegetables, and flaming pudding with brandy butter. It's all served with cherry brandy and hard cider. After all that food, there's little chance of anyone going to bed hungry.
Queen Elizabeth's favorite Christmas cookie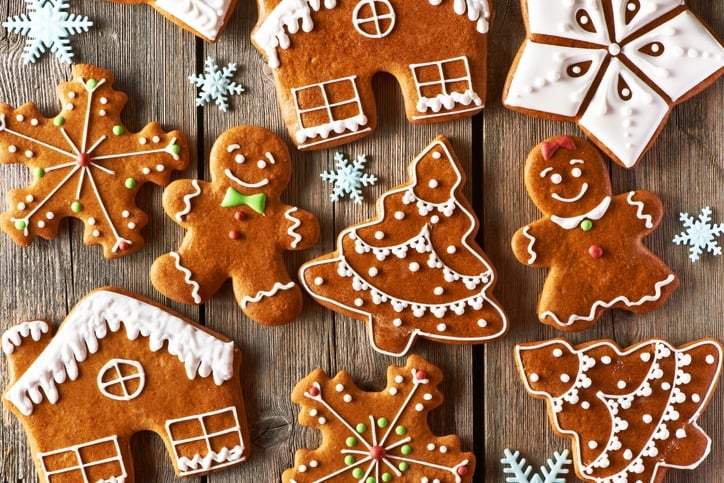 Gingerbread cookies | haveseen/iStock/Getty Images
No Christmas celebration would be complete without a plate of the Queen's favorite cookies. Every year, royal family members enjoy Ginger Bread Biscuits on Christmas Day.
Apparently, the Queen has a notorious sweet tooth and wouldn't dream of celebrating a Christmas without indulging in a few of these tasty biscuits. The Royal Pastry Chefs whip them up from scratch and even revealed the recipe on the official royal website.
The Queen's favorite Ginger Bread Biscuits are surprisingly simple to make and only require five basic ingredients. You can make them at home with just self-rising flour, dark brown sugar, unsalted butter, milk, ground ginger, and mixed spice (which is just a mixture including allspice, cinnamon, nutmeg, mace, cloves, coriander, and more ground ginger).
The cookies require advance preparation
There are plenty of Christmas cookies you can whip up in an hour, but the Queen's favorites are not them. The recipe requires that you mix all the ingredients together in the proper order and then refrigerate the dough for at least two hours or overnight. This makes it so you can roll out the dough and cut the adorable shapes.
Don't forget the most important part
When you're making the Queen's favorite Christmas cookies, it's imperative that you don't miss the most important part: the royal icing. You can buy this premade, but it's much tastier to make your own from scratch. Plus easier than you'd think!
Source: Read Full Article