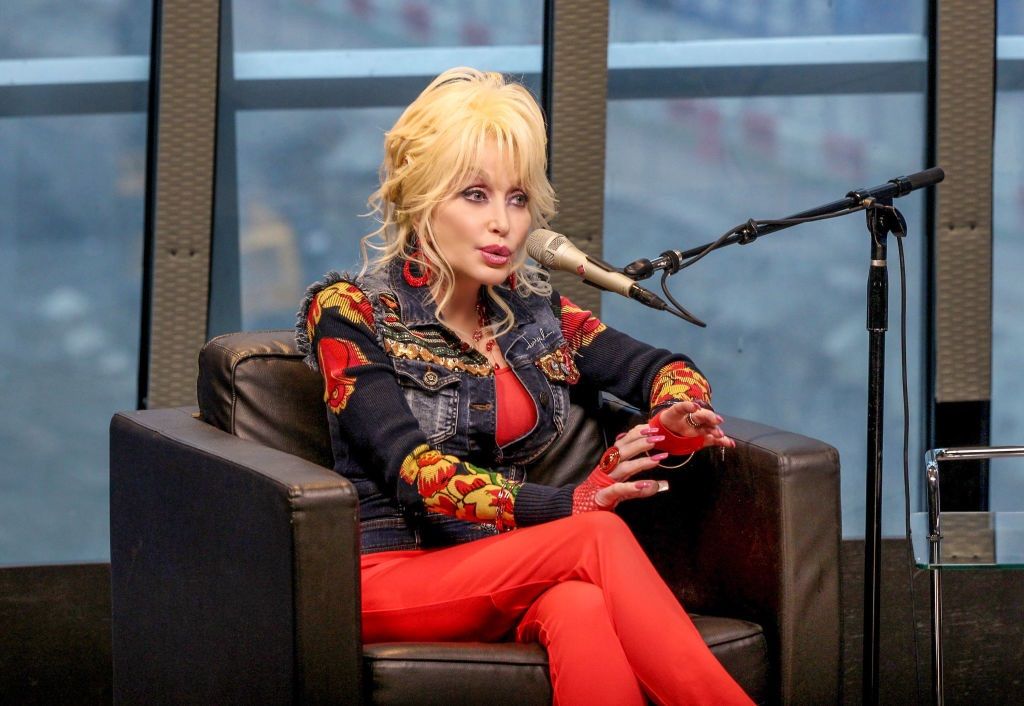 Dolly Parton is everywhere these days, including Netflix | Terry Wyatt/Getty Images for SiriusXM
Cardi B and Nicki Minaj might be feuding to become the Queen of Rap, but Dolly Parton is still the unequivocal Queen of Country. The 72-year-old firecracker appeared on The Ellen Show, The Late Show, The Tonight Show, and more to promote the Netflix movie Dumplin, for which Parton provided the entire soundtrack.
Parton put her media appearances to good use, knocking Jimmy Fallon out of his chair with a cheeky joke about husband Carl Dean and discussing ideas for a Friends reboot with James Corden and Jennifer Aniston.
What is 'Dumplin' about?
Dumplin, based on the best-selling 2015 novel by Julie Murphy, is about a plus-size Texas teenager named Willowdean, who uses Parton's music and life philosophies to cope with the death of her Aunt Lucy. When Willowdean decides to challenge the unrealistic beauty standards of her Texas town, Parton's music guides her to find friendship and support in unlikely places.
The movie stars Danielle Macdonald as Willowdean and Jennifer Aniston, who also produced the film, as Willowdean's former beauty queen mother. Luke Benward, Bex Taylor-Klaus, Maddie Baillio, and Odeya Rush round out the cast. Dove Cameron, Kathy Najimy, and Parton also have appearances in the film.
Dolly Parton wasn't supposed to write new music for the 'Dumplin' soundtrack
Parton may have written six new songs for the Dumplin soundtrack, but producers originally only contacted her to license her music for the movie. Producers eventually asked Parton to write the movie's theme music with songwriter Linda Perry and the two hit it off in the studio so much, they ended up writing six songs. Producers loved the songs so much, they added them all to the soundtrack. Aniston confirmed this story, telling Vanity Fair, "She was only supposed to give us one song and ended up giving us six. We feel very spoiled by her."
One of those original songs, "Girl in the Movies," scored Parton a Golden Globe nomination.
Dolly Parton recruited Jennifer Aniston, Miranda Lambert, and Sia to sing on 'Dumplin' soundtrack
Parton reworked some of her classics and brought in major reinforcements for the Dumplin soundtrack. Perry brought in recording artists like Miranda Lambert ("Dumb Blonde"); Macy Gray ("Two Doors Down"); Sia ("Here I Am); and Elle King ("Holdin' On To You") to appear alongside Parton on the album's other tracks.
Although most of the artists on the soundtrack were Perry's idea, Parton personally requested that Rhonda Vincent, Alison Kraus, and Mavis Staples also appear on the soundtrack. "Well, I can't be having all these other girls in and not have my two favorites in Nashville, Rhonda Vincent and Alison Krauss, sing on one of the more country songs," Parton explained to Entertainment Weekly. Vincent and Krauss recorded "If I Don't" with Parton, while Staples' vocals can be found on "Why."
"And then I wrote a song that reminded me of the old Staples Family music and I loved Mavis Staples," Parton gushed. "So I had them contact Mavis to see if she was still around, if she was still singin' or wanted to perform, and she happened to be a fan of mine too! So she was really as happy as I was about gettin' to do it, and one of my favorite songs on the whole soundtrack is the one with Mavis. I just love her."
Co-stars Jennifer Aniston and Danielle Macdonald made their musical debut as background singers on "Push and Pull."
How to stream 'Dumplin' online
There's no need to wait for this heart-warming dramedy. Fans can watch the flick on Netflix right now. The movie began streaming on Netflix on December 7.
Source: Read Full Article