Deena Nicole Cortese, one of the cast members of Jersey Shore, is expecting her first child with her husband, Christopher Buckner. But with Jersey Shore spinoffs running almost constantly, it feels like Cortese has been pregnant for years. When will the newest Jersey Shore meatball actually be here?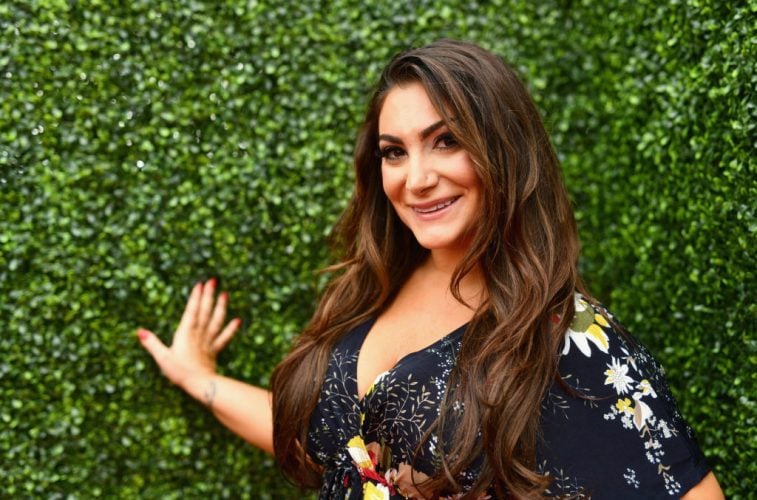 Deena Nicole Cortese | Emma McIntyre/Getty Images for MTV
Deena announced her pregnancy on an episode of Jersey Shore: Family Vacation
The Jersey Shore cast couldn't stay away from television. Each member was dying to have a reunion, and fans wanted it more than anything. Low and behold, Jersey Shore: Family Vacation was born. It followed the cast as they partied in Las Vegas, but they eventually returned home to New Jersey to continue the fun. When the gang was finally all back together in the garden state, they were raving about celebrating Mike and Pauly's birthdays in Atlantic City. However, Cortese had a surprise for everyone: She wouldn't be attending the celebration because she was expecting her first child.
The whole cast joined her to celebrate the new baby
Although Cortese was no longer living in the house, her cast mates still made sure to celebrate with her. Cortese and her husband revealed the gender of their baby in front of family and friends, and the entire cast — including Ronnie Magro, who had been going through some trouble with the mother of his child — attended the big reveal. Cortese is having a boy.
But the house didn't feel complete without her. On a recent episode of the show, the cast mates "broke in" to Cortese's house to try and convince her to spend the remainder of their vacation with them. She agreed, and for the rest of the season, she'd live with her cast mates. (Of course, she has her own bedroom and bathroom, and she won't be partying with them.)
Cortese's first baby should be here in the beginning of January
On August 16, Cortese posted a photo marking the halfway point (20 weeks) of her pregnancy. Full-term babies are usually 40 weeks. This puts Deena's due date at the very beginning of January. However, it is her first child, and some mothers give birth a bit early while others deliver a bit late. Cortese's baby is expected at the beginning of the new year, but maybe he'll arrive toward the end of 2018 instead.
Now, Nicole 'Snooki' Polizzi is also expecting — and their kids can grow up together
Midway through Deena's pregnancy, Polizzi realized she was also expecting. She had said on one episode during the season that she and her husband, Jionni LaValle, were trying for another baby. And on Thanksgiving of 2018, she announced her third pregnancy on Instagram. Now, Cortese's first baby and Polizzi's third baby will grow up alongside each other. And who knows, maybe the two newest meatballs will get married. But with both Snooki and Deena now expecting, it's hard to believe there will be another season of Jersey Shore: Family Vacation. However, we couldn't be happier for the two women and their growing families.
Check out The Cheat Sheet on Facebook!
Source: Read Full Article