For many people, the last couple of weeks have been arguably the most dangerous, conversationally, they've ever experienced.
There are countless people who have been chided, attacked, disciplined professionally and fined – and in one case arrested – for voicing their unvarnished feelings about the British monarchy since the Queen died on September 8.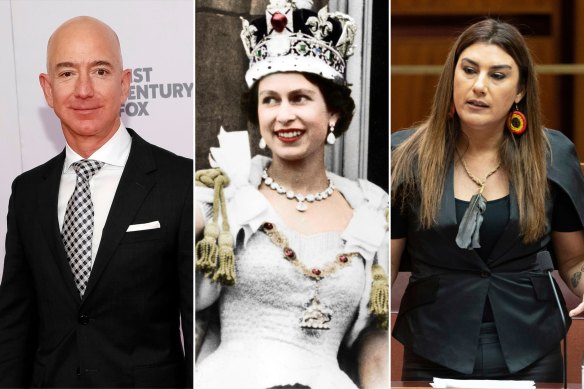 Amazon founder Jeff Bezos, left, and Greens Senator Lidia Thorpe, right, have come out swinging by voicing, respectively, criticism of those critiquing the Queen and a defence of those who do.
These eruptions of anger have brought a little-discussed ethical conundrum to the fore. Namely: what responsibility do we owe each other when we're openly critical of someone whom others care about deeply? Have we been, unknowingly, cruel to our friends and family over the years when we've let rip with our feelings? And is a sarcastic tap-dance a step too far?
"Look my view is that you're under no obligation to speak well of those whom you sincerely believe to have been wicked, or flawed, or whatever," says Dr Simon Longstaff, executive director of The Ethics Centre.
The key is that we're sincere in our estimation and neither praise nor condemn other people based on supposition, rumour or myth, but rather based on evidence or direct experience, he says.
These principles stem from the top: Enlightenment philosopher Immanuel Kant argued that humans are born with an "intrinsic dignity" and therefore have a right to expect that those who offer an account of who they are do so with a regard for the truth of the claims they're making. (In other words, no slagging off your brother-in-law because you've heard he's stingy. You're going to need some evidence first.)
But even if you have proof that your brother-in-law is stingy, you need to ask yourself about the timing of your critique. Will it, asks Longstaff, "bring out some good outcome"?
Look my view is that you're under no obligation to speak well of those whom you sincerely believe to have been wicked, or flawed, or whatever.
"[Because] when you speak the truth in a serious way, it's not just the matter of getting stuff off your chest, like 'I feel better now because I've yelled this'," he says. "It should be that you speak the truth in the service of something greater, namely an understanding, engagement or debate. Literally dropping a bomb just for the sake of seeing what effect it has may not have that positive effect."
And for those mourning the late Queen – or anyone, for that matter – there is the ethical matter of having compassion for those who are grieving a loss.
"It's just a question about a kind of compassionate regard for other people, and allowing them the space to grieve," says Longstaff. He says people can debate the institution of the monarchy at any time, but they should consider whether it is kind to "discredit the grieving" of people feeling the Queen's loss deeply by raising the conversation.
But, for Victorian Greens Senator Lidia Thorpe – one of countless Indigenous people around the globe who have voiced their disgust and "choking asphyxiating anger" about the devastating impacts of colonialism on their communities – speaking out against the British monarchy in the days after the monarch died could not have been more poignant.
"My cousin was being buried on the same day [as the Queen's death was announced]'," says Thorpe, who wrote about being "triggered by the glorification of our oppressor [the Queen]" six days after the monarch died. "Another death in custody," she says, referring to her cousin, a young father of three children who she says died in prison with only 20 days left of his sentence. He is one of 500 deaths in custody, she says, since the Royal Commission into Aboriginal Deaths in Custody 31 years ago. "His mum's stolen gen," says Thorpe. "Like, it's just intergenerational trauma, right… [But] when I speak truth to this country, I am branded this angry Black woman. And I am ridiculed. It's very hard not to get angry. It's very hard not to be bitter."
She draws the line at speaking ill of the dead, though. "There's an unspoken respect for the dead that we have as Aboriginal people," she says. "However I will speak ill of colonisation and the devastation that's caused for so many Indigenous people around the world."
Not everyone has played by this rule book. In a statement that made headlines around the world, Dr Uju Anya, a Nigerian-American linguistics professor at Carnegie Mellon University, tweeted in the hours before the Queen died that she hoped the Queen, "chief monarch of a thieving, raping genocidal empire", died an "excruciating" death. Anya – criticised by, among others, Amazon founder Jeff Bezos – has since defended her remarks, by saying they were intended to educate Americans about the monarchy.
There's an unspoken respect for the dead that we have as Aboriginal people.
Either way, we would all benefit from thinking more deeply about how we voice our critiques. Besides the elemental issue of treating each other with greater respect, conversations – and controversies – surrounding Indigenous rights are flourishing, say historians.
"There's so much grief, so much anger, so much resentment," says Angela Woollacott, a historian at the Australian National University, adding that the academic study of Indigenous experiences in Australia, Canada and other countries has become "huge". The debate over the need to "decolonise education" – which involves teaching about the devastating impacts that colonial powers have had on Indigenous peoples, and broadly, about their lived experiences – has begun to ruffle feathers locally. "So there are people who are white who are really experts in Indigenous history [at the ANU], and there are now suggestions that they shouldn't be teaching the courses," says Woollacott. "So it's tricky."
And there's arguably increasing respect for the outward anger of Australian Indigenous people towards the monarchy.
"I was at a conference in Canberra [at the ANU] recently, there was a welcome to country and the local Indigenous elder [and activist Aunty] Matilda House-Williams said, 'It's time we stopped sucking on the royal tit'," says Professor Mark McKenna, a political and cultural historian at The University of Sydney. "And people were [initially] shocked. You don't often find a frank statement like that [in a university setting]. People around me were smiling [though]. We all went, 'Oh yeah, OK, fair enough'," he says of his academic colleagues who were there.
Any move towards more nuanced conversations, even when we disagree, is particularly needed now, says Longstaff.
"I think we're increasingly careless and indifferent to the truth because we've entered a point in our culture now where the truth matters less than signalling," he says, referring to people on social media who "find their tribe" and look for affirmation from them, rather than truth. "So you say things about people and you form views about them which reaffirm your membership to the group. [But] people are always much more complex than this allows for."
Make the most of your health, relationships, fitness and nutrition with our Live Well newsletter. Get it in your inbox every Monday.
Most Viewed in Lifestyle
From our partners
Source: Read Full Article