VISUAL ART
By John McDonald
Nirin: Biennale of Sydney
Art Gallery of NSW, Museum of Contemporary Art, Artspace, Cockatoo Island, Campbelltown Arts Centre, National Art School, March 14 to June 8
Spread across six venues, featuring more than 100 artists from all corners of the planet, the Biennale of Sydney cannot be ignored. Now in its 22nd iteration, the exhibition is Australia's biggest and most prestigious international art event. This year's artistic director is Brook Andrew, who has chosen the theme "Nirin" – a Wiradjuri word meaning "edge". Andrew has selected works from the edges of an art world which is finally beginning to accept that artists do not have to live in New York or Berlin to be recognised. For the first time the Biennale will feature participants from countries as diverse as Nepal, Georgia, Afghanistan, Ecuador and Sudan, as part of a vast and varied array of indigenous expressions. It's a brave, risky, exciting departure from convention.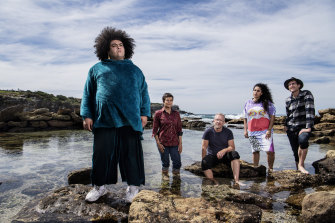 Jota Mombaça, Kim Williams, Andrew Rewald, Grace Dlabik and Lucas Ihlein are among the artists taking part in the Biennale.Credit:Louise Kennerley
Archibald, Wynne and Sulman Prizes 2020, Art Gallery of NSW, May 9 to September 6
We all know it's possible to have too much of a bad, sorry … good thing, so one can only ponder the wisdom of the Art Gallery of NSW devoting four solid months to the Archibald, Wynne and Sulman Prizes. The famous portrait prize is an Australian icon that always packs 'em in, but when it absorbs an entire third of the year's exhibition program, it cuts into the time available to do other shows. In recent years the Archibald selection has been swelled by lots of teensie-weensie works, while the Wynne Prize for landscape has been transformed into an indigenous survey. Will these trends continue? I'd be surprised if they didn't.
Jonathan Jones: untitled (maraong manaóuwi), Hyde Park Barracks, until March 15
Following his monumental Kaldor Public Art Project of 2017, Jonathan Jones has become one of Australia's hardest-working artists. Nowadays Jones seems to specialise in elaborate, research-based installations for museums and public spaces. He delves into the past, looking at points of contact and conflict between colonial and indigenous history. In untitled (maraong manaóuwi), he finds affinities between the emu footprint used so frequently in Aboriginal art, and the broad arrow design the convicts wore on their backs. More than 4000 of these motifs, created from red and white gravel, are spread across the entire courtyard of Hyde Park Barracks – which celebrated its 200th anniversary last year.
Jonathan Jones with his artwork at the Hyde Park Barracks – reminiscent of emu footprints and convict arrows.Credit:James Horan
First Light: The Art of Peter Kingston, S.H. Ervin Gallery, May 9 to July 26
Peter Kingston is a man of many parts – cartoonist, painter, sculptor, satirist, filmmaker, activist. Like his close friends, Martin Sharp and Brett Whiteley, he is an artist who will always be associated with Sydney. From his home in Lavender Bay, Kingston has expressed his love of Sydney Harbour and surrounds in an epic series of oil paintings and graphic works, while saving his anger for the scandals and corruption that are such a woefully common feature of life in the Emerald City. This survey looks briefly at Kingston's early work as a Pop satirist, but is mainly devoted to his lyrical paintings of the Harbour, which have grown more atmospheric and expressive over time.
And Now, White Rabbit Gallery, March 11 to August 2
It's hard to believe Judith Neilson's White Rabbit Gallery is entering its second decade. Since its inception in 2009, White Rabbit has established itself as one of Sydney's most significant cultural intitatives. It has no challengers as the world's largest private collection of contemporary Chinese art, which it displays in biannual instalments. And Now is an exhibition celebrating the next 10 years, featuring works by artists such as Zhang Xiaogang, Zhu Jinshi, Liu Jianhua and Patty Chang. If the names are unfamilar don't be discouraged, as this is one gallery that never disappoints.
Pulse of the Dragon, Casula Powerhouse, until April 19
It may not be possible to travel to China at present, but there are plenty of local opportunities to see the best of Chinese art. Pulse of the Dragon is a group exhibition put together by Guan Wei, featuring ten artists based in Australia or China. Participants include Guan Wei himself, Amy Fu, Cang Xin, Gu Xiaoping, Yang Jinsong and Palla Jeroff. The theme is a supernatural one, looking at religion, witchcraft, mythology and folk culture. The Chinese have always been a deeply superstitious people, but it's fertile territory for art, and occasionally for a little humour.
Consubstantiality (2009) by Cang Xin.
Japanese Modernism, National Gallery of Victoria, Melbourne, until October 4
After you've sampled Japan Supernatural at the Art Gallery of NSW, you might like to zip down to Melbourne for this sensational show of paintings, sculptures, prints, textiles and artefacts that record Japan's rampant – if idiosyncratic – embrace of modernism in the period between the wars. Curator Wayne Crothers has spent the past few years acquiring more than 400 items for this show that will become part of the National Gallery of Victoria's permanent collection. Japanese Modernism crafts a compelling story from this diverse material in one of the country's most fascinating museum exhibitions of 2020.
CLASSICAL AND OPERA
By Harriet Cunningham
The Impresario, Australian Romantic and Classical Orchestra, Kenthurst, March 5, Sydney, March 6, Newcastle, March 7
Beethoven turns 250 this year.
It's Ludwig van Beethoven's 250th birthday and everyone is coming to the party. This time it's one of Sydney's younger orchestras, the Australian Romantic and Classical Orchestra, or ARCO for short. Directed from the violin by Rachael Beesley, the ensemble fields an impressive line-up of experts in historical performance practice. That doesn't mean it sounds old. Quite the opposite. Expect a lively night of freshly-baked classics, including a Mozart overture, a symphony from Beethoven contemporary Anton Eberl, and a symphony which, it is claimed, is our old friend Ludwig's personal favourite.
Attila, Opera Australia, Joan Sutherland Theatre, Sydney Opera House, March 12-28
Attila the Hun knows no mercy, until he falls in love with Odabella, a prisoner of war affianced to the king. Cue love, death, big frocks and huge voices. Attila is one of Verdi's earlier works, but the surging emotions and gripping story-telling are already there. Starring Natalie Aroyan,  this lavish production uses Opera Australia's state-of-the-art digital screens to amp up the scenery, you get the full Italian opera experience. This production has played to Italian audiences at La Scala, Milan, and they loved it. I have no doubt Sydneysiders will too.
Natalie Aroyan stars as a warrior princess in Attila.Credit:James Brickwood
Breaking Glass, Sydney Chamber Opera, Carriageworks, March 28-April 4
Breaking Glass is an important world premiere of four new one-act operas from four women working in collaboration with Sydney Chamber Opera and the Composing Women Program of Sydney Conservatorium of Music. I can't tell you what to expect, except to say that Josephine Macken, Peggy Polias, Bree van Reyk and Georgia Scott are bright and brilliant inventors of sounds, and this project gives them the opportunity to write opera in their own language, from their own viewpoint. Go on. Take a chance.
Goldner String Quartet / Piers Lane, Musica Viva, City Recital Hall, April 4 and 20
It's hard to believe the Goldner String Quartet has been performing together for 25 years. Formed in 1995, in honour of Musica Viva founder Richard Goldner, the four artists have represented Australia across the world. In 2020 they tour around Australia and they've smuggled in an extra guest in the shape of ace pianist, Piers Lane. This means they can play luscious piano quintets by Elgar, Brahms and child prodigy and Oscar-winning film composer Erich Wolfgang Korngold, alongside the world premiere of Australian composer Jakub Jankowski's first string quartet. Classy stuff from some of the best in the business.
Vivaldi's Garden, Australian Haydn Ensemble, The Cell Block Theatre, National Art School, April 21
The Australian Haydn Ensemble doesn't only play Haydn. This time this ensemble of period instrument specialists are exploring the music of Alessandro Stradella. Stradella was an influential baroque composer whose legacy is somewhat overshadowed by Vivaldi. He lived a wild and dissolute life which ended on a dark night in Genoa at the hands of an assassin. When he wasn't seducing noblewomen and avoiding their husbands, he was writing operas and oratorios. You can hear some in the intimate setting of the Cell Block Theatre, scattered among a program of baroque jewels featuring French soprano Stephanie Varnerin.
Northern Lights Festival, Sydney Symphony Concert Hall, Sydney Opera House, May 21-30
Jean Sibelius is one-of-a-kind, a master symphonist who created some of the 20th century's most loved orchestral works. So too is Vladimir Ashkenazy, virtuoso pianist and one of Sydney Symphony Orchestra's favourite music-making colleagues. Ashkenazy was to have conducted these two concerts, but has just announced his retirement from public performance. He'll be much missed, but the music will still be splendid. And in his place we get another chance to see Australian conductor Nicholas Carter before this young protégé of Simone Young becomes completely indispensable on the international stage.
Das Lied von der Erde, Australian Chamber Orchestra, City Recital Hall, May 23, 27 and 31
The Australian Chamber Orchestra in full swing.Credit:Julian Kingma / ACO
Gustav Mahler's Das Lied von der Erde (Song of the Earth) was composed in the wake of a series of personal tragedies, including the death of a beloved daughter. From despair springs this extraordinarily beautiful meditation on life and death. The Australian Chamber Orchestra perform the work in Schoenberg's intimate chamber version, which adds in the ethereal sounds of celeste and harmonium. And best of all, it features two knockout soloists: Australian heldentenor Stuart Skelton and, from the Netherlands, soprano Christianne Stotjin.
CONTEMPORARY MUSIC
By George Palathingal
New Order, Hordern Pavilion, March 11
How many artists can say they did what New Order did? That is, survive the death of their previous iconic band's charismatic, troubled frontman at their peak and go on to reach even greater commercial heights while still retaining plenty of credibility? OK, Dave Grohl can say that, too. But New Order did it by radically changing their sound, which evolved from Joy Division's dolorous post-punk into a fresh, ecstatic brand of synth-pop. Their hometown of Manchester, England, was clearly an influence on this show's support act, Brisbane's Confidence Man – check the latter's delirious 2018 tune Out the Window to hear them at their best.
New Order
Pixies, Opera House Forecourt, March 14-15
Boston, Massachusetts' Pixies are very much enjoying the third wind of their career, after their late-'80s peak and triumphant 2004 reunion (the latter 11 years after they first split up). Since 2013, though, they've been doing it without original co-lead singer/bassist Kim Deal, which makes this show especially intriguing: they'll be performing two of their '80s classics in full, the Come on Pilgrim EP and debut album Surfer Rosa, on which Deal made an indelible impression. Will they be up to the task? Will they dare play Deal's sublime Surfer Rosa highlight Gigantic, conspicuous in its absence on recent tours? Can't wait to find out.
Lenny Kravitz, Qudos Bank Arena, April 3
Some 30 years ago, before he became something of a rock-star caricature and even longer before the diminishing returns of his more recent releases, Lenny Kravitz was one of my favourite artists. His first two albums, Let Love Rule and Mama Said, remain classics of a kind of psychedelic rock'n'soul that, while admittedly derivative, he made sound better than anyone else around. Subsequent albums weren't as consistent but still had dynamite moments. The point is, he has enough stellar tunes to put together a spectacular set, plus he doesn't make it to Australia often, so this is an opportunity not to be missed.
Patti Smith, Enmore Theatre. April 15-16
Patti Smith, icon.Credit:Daniel Pier/NurPhoto
Jesus died for somebody's sins but not Patti Smith's. So she howls on her cover of Van Morrison's Gloria, which she also so memorably howled on what she said would be her last-ever Australian tour, in 2017. Ours not to question why she has changed her mind – we should just be thankful we have another chance to see her perform. Smith was 70 on that last tour, in as fine voice as you could hope for and largely utterly captivating. Like her fellow New Yorker, the aforementioned Lenny Kravitz, she's officially here for Bluesfest, so if music festivals aren't your thing you're really in luck this year.
Tame Impala, Qudos Bank Arena, April 20
Kevin Parker of Tame Impala.Credit:Neil Krug
It is remarkable to consider how far Perth musician Kevin Parker has come. Not literally – he has travelled far beyond these shores thanks to Tame Impala, the dazzling project he puts together on his own in the studio, which becomes a psychedelic epic when he takes it on tour (with a full band comprising various fellow Perth friends) and which has consequently become Australia's most successful modern rock export. Tame Impala's third album, 2015's Currents, won Parker five ARIA awards including album of the year and best group. This year's fourth, The Slow Rush, is even better.
THE BLUETONES, Metro Theatre, May 9
The British music scene in the mid-'90s was truly a thing of beauty. Oasis and Blur were duking it out on the cover of music bible NME. The Chemical Brothers and the Prodigy were setting dance floors on fire. Pulp's Jarvis Cocker was (wonderfully) annoying Michael Jackson at the Brit Awards. And quietly, groups comprising literate, sensitive young men such as the Bluetones were turning up seemingly out of nowhere and knocking your socks off with albums such as the near-flawless Expecting to Fly. They're performing this indie-rock masterpiece in full on this long-overdue tour, alongside other cult favourites from their gorgeous back catalogue.
JAZZ/R&B/WORLD/CABARET
By John Shand
An Evening with Pat Metheny, State Theatre, March 7
Australia's Linda May Hanh Oh has done what precious few others have managed. She's gone to New York as a non-American and cracked the jazz scene wide open. She is now the bassist of choice for such luminaries as Joe Lovano, Dave Douglas and Pat Metheny, and being in Metheny's band is pretty much the summit in terms of ticking the boxes of both musical adventurousness and global popularity. Besides Oh, the guitarist's new quartet retains master-drummer Antonio Sanchez and adds pianist Gwilym Simcock – which should be as good as any band he's brought here since his first tour in 1986.
Astrolabe Album Launch, Foundry 616, March 14
Pianist Chris Cody was drawn to the story of La Perouse.
Pianist Chris Cody's 70-minute Astrolabe – Suite for La Perouse is a music-and-text retelling of the journey that brought the great Frenchman to the shores of Botany Bay in two ships, including L'Astrolabe. Cody has scored his suite for an octet that includes horns, strings and percussion, with the cast of players boasting bassist Lloyd Swanton, trombonist James Greening, violinist Suzie Bishop, while Fabian Hevia's array of percussion instruments helps evoke exotic places and cultures, without adding the textural mass of a drum-kit. Video projections and readings from La Perouse's fascinating journal round out the presentation.
Celebrating Nina Simone featuring her award-winning daughter Lisa Simone, State Theatre, March 27
Lisa Simone, Nina's daughter.
Lisa Simone's mother, Nina, was the benchmark. Only Billie Holiday could sing with such naked honesty. Now, for the first time, Lisa brings her big-band tribute to her mother's music to Sydney. Of course she's a force in her own right, repeatedly starring in Broadway shows, and having a career as a recording and touring artist. When it comes to revisiting the songbook of the near-deified Nina, who could be better credentialed than her only child, blessed with a voice capable of climbing towards a musical summit that, ultimately, is probably out of reach to all.
Tina Harrod Band, Bondi Pavilion, March 29
Tina Harrod
She doesn't perform as often anymore, so these chances should be snapped up. Tina Harrod has found her own voice within that blurry world where soul and funk and jazz indulge in some heavy petting and spawn very groovy love children. Harrod's singing may be the focus, but, as ever, she surrounds herself with the cream of Sydney's music scene, including backing vocalists Verna Sanzone, Evelyn Duprai and Lisa Spence, pianist Stu Hunter, the all-star horn section of Matt Keegan, Nick Garbett and James Greening trombone, and the wicked rhythm section of Dave Symes and Evan Mannell.
Galareh Pour's Garden, Django @ Camelot, April 2
So angelic are the sounds that if there was music in the Garden of Eden it may well have sounded like this. Whether Melbourne's Galareh Pour is singing or playing the kamancheh (Persian spiked fiddle), she has a way of soothing you and wrenching your heart simultaneously. She puts a modern slant on some ancient material by having a band consisting of drums (Brian O'Dwyer) and electric guitar (Mike Gallichio) as well as Turkish ney, clarinet and Persian dayereh (Kelly Dowall). Opening the night is Sydney's brilliant Hamed Sadeghi playing solo tar. Prepare to be mesmerised.
Zela Margossian Quintet, Old 505 Theatre, May 9
Pianist Zela Margossian splashes her Armenian heritage across the broad canvas of jazz, and makes it fizz with such excitement as almost lifts you out of your chair. Margossian transitioned from classical music to her take on jazz relatively recently, but she is already an extremely complete artist. Her brilliant band includes Adem Yilmaz (percussion), Stuart Vandegraaff (soprano saxophone, clarinet, ney), Elsen Price (bass) and Alexander Inman-Hislop (drums). Enjoy the pyrotechnic thrills of odd-time-signature unisons at hurtling velocities and slow, moodier Armenian grooves. Player for player, this is one of the best bands in the land.
DANCE
By Valerie Lawson
Anna Karenina, The Australian Ballet, Joan Sutherland Theatre, Sydney Opera House, 30 April 30-May 18
Kevin Jackson and Robyn Hendricks in Anna Karenina.Credit:Kate Longley
One year after the death of Leo Tolstoy his famous novel, Anna Karenina, moved quickly from page to screen when a French crew and a cast of Moscow's stage actors worked together to create a short film in 1911.
That version of Anna Karenina was just the start of numerous adaptations. Tolstoy's story ticked all the boxes for ballet – passion, betrayal and the light and shadow of falling in love.
The latest Anna Karenina, a co-production of the Australian Ballet and the Chicago-based Joffrey Ballet, is the work of an international creative team, choreography by Yuri Possokhov, formerly a principal dancer with Bolshoi Ballet and the San Francisco Ballet, a new score by the Russian composer, Ilya Demutsky, costumes and sets by the English designer, Tom Pye, projections by the Scottish video designer, Finn Ross and lighting by another Finn, the American lighting designer, David Finn. The ballet could well be the highlight of the Australian Ballet's repertoire this year.
The Sydney Dance Company's Triple Bill, Roslyn Packer Theatre Walsh Bay, March 21-April 4
The Sydney Dance Company: colourful and flexible.Credit:Levon Baird
The company's first production this year is a triple bill with two works by the Sydney Dance Company's artistic director, Rafael Bonachela that bookend the Australian premiere of a work by William Forsythe. A New Yorker, Forsythe was once described as the most influential practitioner of dance since George Balanchine. Forsythe's mysterious title, N.N.N.N, is danced by a male quartet.
Bonachela's new work, Impermanence, will be danced to a score by Bryce Dessner (from the American rock band, the National), and performed live on stage by the Australian String Quartet.
The third piece is Bonachela's prize winning production of E2 7SD choreographed in the UK in 2004 before he came to Australia.
Bangarra Dance Theatre's Bennelong, Sydney Coliseum Theatre, March 13 and 14
Bangarra reprise award-winning BennelongCredit:Karleen Minney
Bangarra Dance Company's award winning work is returning to the stage in March. With only two performances in NSW you'll have to be quick to see the work that won awards in six categories of the 2018 Helpmann Awards – among them the best dance production and best choreography. Choreographed by the company's artistic director, Stephen Page, the work explores the life of Woollarawarre Bennelong, a senior man of the Eora people at the time of the first British settlement in Australia in 1788. 2
The Australian Ballet's Triple Bill, Joan Sutherland Theatre, Sydney Opera House, April 3-22.
Wayne McGregor's premiere of Chroma in London in 2006 was so successful he was offered a new post as the Royal Ballet's resident choreographer.
His unique choreography, focused on hyper-stretched limbs, challenges dancers, among them the dancers in the Australian Ballet. Chroma, McGregor's first work in the Australian Ballet's repertoire was followed by Dyad 1929. In a triple bill titled Volt, both works will return to the stage bookending a new work by Alice Topp, a resident choreographer of the Australian Ballet.
Her new work, Logos, a co-commission by Studio Wayne McGregor and the Australian Ballet, is about our "personal beasts in the current climate – your fears, fights, demons and darkness".
Queensland Ballet's gala, Playhouse, Queensland Performing Arts Centre, Brisbane, March 20-28.
Celebrating the Queensland Ballet's 60th anniversary the company is staging a gala that honours the former artistic directors, Charles Lisner, Harry Haythorne, Harold Collins and François Klaus, and the present director, Li Cunxin.
Extracts from previous ballets include Charles Lisner's Chopin pas de deux (1965), Jacqui Carroll's Carmina Burana (1982), Harold Collins' The Lady of the Camellias (1996) and Francois Klaus' The Little Mermaid (2003) and Cloudland (2004). The gala will end with Études, an homage to classical ballet choreographed by Harald Lander.
International and national guests are Marianela Núñez and Vadim Muntagirov from the Royal Ballet, Ako Kondo and Chengwu Guo, principals in the Australian Ballet, the Australian dancer, Alison McWhinney, first soloist at the English National Ballet and Ning Ning and Hao Bin, former Queensland Ballet principals.
The Paris Opera Ballet's Giselle, Palace Central Cinema, March 20, 21, 22, 24, Palace Norton Street Cinema and Palace Verona cinema, March 21, 22, 25
Almost every ballet company in the world has Giselle in their repertoire but there's one company that could claim it as their own – the Paris Opera Ballet. First staged in 1841 in Paris, Giselle is the epitome of romantic ballet as it switches from reality to fantasy, from peasants in bright colours to ghostly creatures in white tutus. The Paris Opera Ballet's Giselle will be screened in Sydney with Dorothée Gilbert and Mathieu Ganio in the main roles, Giselle and Albrecht.
FILM
By Garry Maddox
French Film Festival, Palace Norton Street, Palace Verona, Palace Central, Chauvel Cinema and Hayden Orpheum Cremorne from March 10 to April 8
The always popular Alliance Francaise French Film Festival gets under way with The Extraordinary, a new film from The Intouchables directors Olivier Nakache and Eric Toledano. Described as a crowdpleasing charmer, it stars Vincent Cassel and Reda Kateb as two men who run non-profit organisations training underprivileged young people to be carers. Also among the 49 films in the program are The Lost Prince, a comic fantasy from Oscar-winning director Michel Hazanavicius (The Artist) about a devoted single father who tells his young daughter spectacular nightly fairytales that come to life, and Ladj Ly's incendiary Oscar-nominated drama Les Misérables.
The Personal History of David Copperfield, opens March 26
An adaptation of Charles Dickens' famous autobiographical novel sounds like a dry costume drama … except for one thing. It's directed by Armando Iannucci, who has brought so much savage comic energy to The Thick Of It, In the Loop, Veep and The Death of Stalin. Dev Patel stars as a likeable innocent on the way to becoming a writer in Victorian England alongside the very British cast of Tilda Swinton, Hugh Laurie, Peter Capaldi, Gwendoline Christie and Ben Whishaw. The Hollywood Reporter described it as "a fast-moving yarn, sometimes hilarious and always entertaining", while Variety dubbed it "some kind of long-lost Monty Python sketch".
No Time To Die, opens April 8
Phoebe Waller-Bridge will add female punch to No Time to Die.Credit:AP
The build-up to the new Bond movie has well and truly begun. And there is a lot to look forward to in another no-doubt-spectacular action epic that Daniel Craig has confirmed will be his last outing as 007. Director Cary Joji Fukunaga (True Detective, Beasts Of No Nation) has taken over from Sam Mendes; Phoebe Waller-Bridge (Fleabag, Killing Eve) has joined the writing team to add smarts and punch to the female characters; and Rami Malek (Bohemian Rhapsody) plays a mysterious hyper-intelligent villain. The story: Bond is lured out of retirement in Jamaica to rescue a kidnapped scientist. Bring it on!
Black Widow, opens April 30
In what promises to be a big year for directors of Hollywood blockbusters, Australi's Cate Shortland (Somersault, Berlin Syndrome) has stepped up to Marveldom. In a prequel to Avengers: Endgame, Scarlett Johansson plays former KGB assassin Natasha Romanoff aka Black Widow as she reunites with Russian agents from her past to combat a threat. Florence Pugh and Rachel Weisz play other trained Black Widows, with David Harbour as a Russian version of Captain America called Red Guardian. Robert Downey jnr is reportedly back as Tony Stark in an action-packed adventure shot in Norway, Budapest, Morocco, England and Atlanta.
Hearts and Bones, opens April 30
Hugo Weaving plays a photojournalist in Ben Lawrence's Hearts and Bones.
Hugo Weaving is outstanding as a traumatised war photographer who forms a bond with an equally-damaged South Sudanese refugee in what director Ben Lawrence calls "an uplifting story of hope, friendship and homecoming". Both men face crises dating back to a Sudanese massacre in a thoughtful drama – infused with African choral music – that shows Lawrence has a similar feel for authentic moments and gripping performances as his acclaimed father, Lantana director Ray Lawrence. First-time actor Andrew Luri, a real life South Sudanese refugee who was driving a garbage truck when he was cast, and his screen wife played by Bolude Watson also excel.
I Am Woman, opens May 21
Actor Tilda Cobham-Hervey, left, plays Helen Reddy with director Unjoo Moon. Credit:Louie Douvis
Tilda Cobham-Hervey plays trailblazing Australian singer Helen Reddy in a triumphing-against-the-odds biopic from director Unjoo Moon. It charts Reddy's rise from virtually broke single mother to musical superstar and icon for the rising women's movement in the 1970s. At a time when it was still rare for Australian entertainers to be successful in the US, she had a string of number one hits, sold 25 million albums, won a Grammy for the rousing I Am Woman and hosted her own weekly prime-time variety show. Cobham-Hervey is a standout opposite Evan Peters as husband and manager Jeff Wald and Danielle Macdonald as journalist Lillian Roxon.
THEATRE
By Nick Galvin
Hamlet, Bell Shakespeare Company, The Playhouse, Sydney Opera House, March 5 to April 4
Bell returns to surer ground with this one after its challenging production of Titus Andronicus last season. Peter Evans directs Harriet Gordon-Anderson in the eponymous role. Set in 1960s Denmark it will be fascinating to see where – and how far – he takes this most familiar tale of filial torment.
Harriet Gordon-Anderson stars as the titular Danish prince in Bell Shakespeare's production of Hamlet. 
A Broadcast Coup, Ensemble Theatre, Kirribilli, April 17 to May 23
There are high hopes that Melanie Tait (writer) and Priscilla Jackman (director) will deliver once again after the huge success of last year's good natured and laugh-out-loud funny The Appleton Ladies' Potato Race. ABC Radio journalist Tait will be putting her own experience to good use in this tale of skullduggery among radio journalists.
The Twelth of Never, Red Line Productions, Old Fitz, Woolloomooloo, April 21 to 26
This is the world premiere of Louis Nowra's adaptation of his own memoir of the same name. To call Nowra's upbringing unconventional would be to undershoot the truth by a considerable margin. It promises to be an object lesson in that fact that real life is frequently stranger and more rich than fiction.
Triple X, Sydney Theatre Company, The Playhouse, Sydney Opera House, April 30 to May 23
Written by and starring self-described trans-queen Glace Chase, Triple X is described as a "deliciously naughty anti-romance". Australian-born and now New York-based Chase tells the tale of loaded merchant banker Scotty who apparently has the world at his feet until he falls in love with a trans drag performer. Promising to be by turns filthy, funny and emotionally affecting, this is most definitely not one for all the family.
Josh McConville and Glace Chase.Credit:Rene Vaile
Escaped Alone, Belvoir St Theatre, Surry Hills, May 23 to June 21
This relatively new work from Caryl Churchill promises to tap directly into all our fears large and small in this age of anxiety. The all-female cast of Judi Farr, Kris McQuade, Heather Mitchell and Helen Morse chat in a suburban backyard against a backdrop of an unimaginable – or conversely, all too easily imagined – global apocalypse. Don't expect an easy night at the theatre as Churchill's brilliance takes a quotidian setting and subverts it in nightmare fashion.
7 Stages of Grieving, Sydney Theatre Company, Roslyn Packer Theatre, May 27 to June 13
Rising star Shari Sebbens takes the director's role.Credit:Louie Douvis
Twenty-five years since its premiere, this Australian classic by Deborah Mailman and Wesley Enoch should captivate a fresh audience with it poignance, humour and honesty. Rising star Shari Sebbens directs for the first time with Elaine Crombie in the one-woman role as an Indigenous "everywoman". One of the obvious points up for consideration will be whether much if anything has changed since 1995.
FESTIVALS
This autumn is festival central with the Sydney Writers' Festival, the Biennale, All about Women, The Festival of Dangerous Ideas and the start of Vivid heading our way. Details of their extensive and thought-provoking programs are on their respective websites.
All About Women, Sydney Opera House, March 7 and 8; The Biennale, various locations, March 14 to June 8 (see above); The Festival of Dangerous Ideas, Sydney Town Hall, April 3 to April 5; The Sydney Writers' Festival, Carriageworks and various locations, April 27 to May 3; Vivid, various locations, May 22 to June 13.
Source: Read Full Article