Olivia Molly Rogers is being heralded as a rule-breaking "inspiration" who's rewriting the script of what to do after a mammoth breakup.
Is this too much to put on the former Miss Universe Australia, who's only 30? Perhaps. But this is now Rogers' lot, ever since – in a move that made global headlines – the Melbourne model revealed on Boxing Day that she edited her ex-husband, Justin McKeone, out of their wedding video, 10 months after they married. The wedding photos, however, haven't been scrubbed.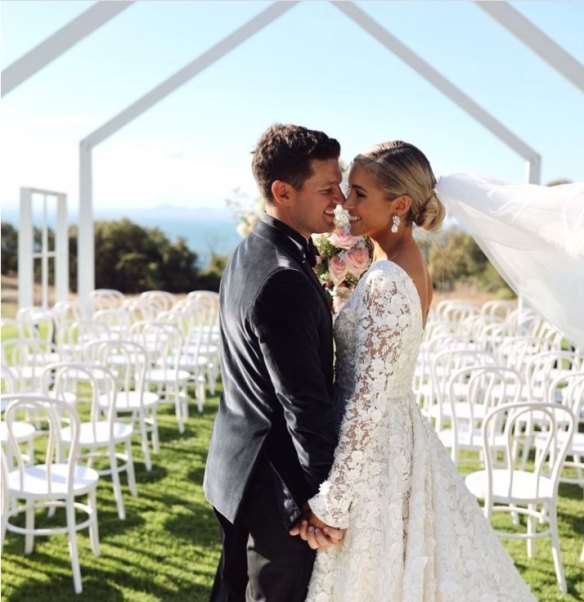 Former Miss Universe Australia Olivia Molly Rogers, right, at her February wedding to then-partner Justin McKeone at Terindah Estate on Victoria's Bellarine Peninsula, before she edited him out of their wedding video.Credit:Instagram / @oliviamollyrogers / Beck Rocchi Photography
"It was pretty hard to watch everything that's happened … [but] I wanted to keep some of those memories so I asked the team to do an edit with just me, my friends and family in it," Rogers explained on Instagram of the compilation she posted of special moments originally filmed during her lavish February wedding on Victoria's Bellarine Peninsula.
She and McKeone were married for eight months before splitting up. So while the tender video features Rogers' father in his tuxedo recalling in his speech how "brave, really brave" his "baby girl" is; a bridesmaid's whirl of laughter and chiffon and Rogers walking down the aisle with her beaming mother and father, her husband is nowhere to be seen.
A mental health advocate and author of How To Find Your Light, Rogers has been open about how difficult the break-up has been for her, writing on Instagram in October that her life was then "falling apart a little" and that sessions with a psychologist had been helpful.
But is removing any evidence of your ex in keepsakes such as videos or photos helpful after a break-up? Or does it mess with the necessary grieving process that enables you to move on?
"The photos actually represent what you thought the entire marriage was going to be when you signed up with vows and promises of forever; it represents a lot more than just that moment in time," says Adelaide clinical psychologist Tamara Cavenett.
It's for this reason, she says, that her "number one" piece of advice to most clients is that they wait a while before deciding to toss, or edit, their mementos.
"[Don't] make a decision early on, and [instead] work through the grief process," says Cavenett, adding that this can take years, depending on how deep a person's expectations, dreams and hopes for the marriage were.
She sees the beauty in Rogers' personal video edit that includes only her and her friends and family. "I can 100 per cent understand if she's wanted to take those things which are other people's memories of her [and focus on them]," says Cavenett. "It means you can treasure those memories independently.
"But in terms of [the] overall wedding and writing the person out, it's really important to remember that no matter what may have happened after that [wedding] day, that that was still part of your life," says Cavenett. "It forms part of your story and part of your journey in this world. And however negative elements of the experience may have been, it's worth remembering that it did have this nice place."
Coming to terms with broken relationships during the festive season can be particularly agonising.
"That whole process of taking photos down that you might have had up, and dividing the furniture, and all the things that are about absences and loss, is absolutely excruciating [at a time] when you're usually getting together and all the messages [around] are that, 'Two halves of a whole' stuff," says Elisabeth Shaw, CEO of Relationships Australia NSW. She noted that the post-Christmas period is a boom time for separations, in part because many people feel it's too cruel to break up with someone before Christmas.
But working out how a broken marriage fits into one's life story enables people to let go of the shame and regret that they often feel after a relationship has broken down, says Cavenett.
"A lot of people feel angry that they made a poor choice, or they feel that they were somehow duped by the other person into a fairy tale that never actually occurred," she says. "And often these relationships are happy for quite a while before things start to fall apart."
Remembering the good times, and any children that may have resulted from the relationship, can ease people's "self-judgment".
"It's trying to work out, 'How do I live with the fact that that turned out to be not as I hoped'?" says
Shaw. She says that if your knee-jerk reaction is to obliterate your ex from your mementos, it could be a sign that you haven't "made peace" with your history. Of looking back at wedding photos, after a break-up, she adds: "It really is no different to me than looking back at photos of people who have died, or maybe more historic breakups. That's part of who you were, and who was important to you at that time.
"You may not want [those photos] front and centre [in your home or on social media] because that shows you're still married, but to cut the person out as if they weren't there, that the event has lost all meaning; it was your wedding, and you're still saying, 'That was my grandmother at my wedding', and if your husband's not in the picture, it doesn't make it any less of a wedding, does it? I think it is about actually facing what you went through."
Shredding photos can be satisfying, especially in situations where a person feels "vengeful" or they've been the victim of domestic violence, says Shaw. But it doesn't necessarily help people to look back on their experience with compassion and learn from it, which is ultimately the goal.
How do you know if you've processed your break-up grief sufficiently, such that it's a good time to get rid of photos and other mementos?
"The more neutral you are to [the relationship], [that] would be a good indicator," says Cavenett. "But, at the same time, being sad that something you had hoped such different outcomes for has ended is also a really healthy and appropriate response."
To people who look back at a broken relationship, and judge themselves, she has a reassuring message.
"I will say to clients, 'Jump in with two feet and be in this 100 per cent, so when and if you jump out, you know you've given it your all'," she says. Being in a relationship half-heartedly almost guarantees that it will fail, she adds. "We shouldn't ever feel embarrassed or judge ourselves because we gave something a really good shot."
Make the most of your health, relationships, fitness and nutrition with our Live Well newsletter. Get it in your inbox every Monday.
Most Viewed in Lifestyle
From our partners
Source: Read Full Article