Medusa returned to defend her "Masked Singer" crown on ABBA night, facing off against newcomers Rock Lobster and Night Owl — but only one can advance!
Medusa is hoping for a run like Harp pulled off last season on "The Masked Singer," keeping her mask on until after she's crowned the winner — just like Amber Riley did it!
Like Amber, Medusa made her first appearance in the season premiere. Can she go all the way? It's a long road, but Medusa really showed up last week with a surprisingly powerful and heartfelt performance before slaying in the Battle Royale.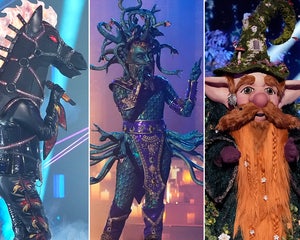 Masked Singer Premiere Bombshell Unmasks Biggest, Most Iconic Legend in Show History
This week, she had to square off against two new contenders, Night Owl and Rock Lobster — and one of them can even sing! The other is highly entertaining, and sometimes that's enough to advance.
With this new (stupid) format, only one singer will survive each night, so Medusa has to beat both of them to keep her crown. Then, she only has one more week to survive before she earns her spot in the semi-finals.
We'll say it again, the only up side to this new format of so many contestants performing only once is that casting has been able to get bigger names than what we'd become accustomed to in earlier seasons.
While this week's eliminations couldn't quite top Dick Van Dyke in the season premiere, there was nevertheless two icons of their respective fields of entertainment unmasked. Both have had storied careers and are still out there doing what they do to legions of adoring fans.
Let's jump right in with this week's masks. And don't worry, before we get to the shocking unmasking, we're going to make you power through the terrible (and occasionally good) guesses made by our illustrious panel of Robin Thicke, Jenny McCarthy, Ken Jeong and Nicole Scherzinger first. We do this because we love … to torture you.
Along with the panel's guesses, we'll be sharing some internet speculation, too, so if you don't want to be potentially spoiled (because they are very good at this), you may want to skip past the guesses sections.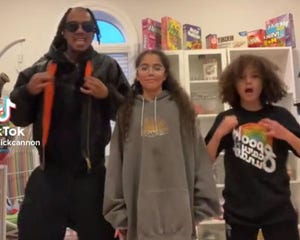 Nick Cannon Shares 'Chaotic' TikTok Dance Video with Twins Moroccan and Monroe
MEDUSA
Unable to render YouTube Video.
("Dancing Queen," ABBA) Medusa put her signature gritty scream a little oddly in places on this disco classic. It didn't always sit quite right, and was't as compelling as she was last week on Billie Eilish, but she was able to show that she really is a world-class vocalist under there. It wasn't as consistent as before, making us think she wasn't as comfortable with this theme, but she still gave it her all.
Guesses: This week's clue package offered up a few repeats from last week like those giant chess pieces, that "True Love" tattoo, Buckingham Palace and more, with the added "exhibit" of Coldplay's Chris Martin. Is that a personal relationship or professional?
Her bonus clue came courtesy of Bachelor Nation star Nick Viall. He came with a first class ticket on Flight 1996 to Tokyo. "I've taken a tour of the world and I loved it," Medusa said in response. "Wanna know where I'm from? Take a little look closer."
Nicole was getting Tove Lo vibes last week, and as she performed a song with Chris Martin, she's even more confident this week. That is, confident but not confident enough to also still be considering Lorde, even helping Robin understand Buckingham Palace has "Royals" living in it.
Robin, though, still wasn't feeling that guess. Instead, he took a more direct route to the new clue, thinking maybe it's Chris Martin's daughter with Gwyneth Paltrow, Apple. She was on-stage with Coldplay at the Super Bowl (tying in another previous clue), so could this be her "coming out" as a superstar artist?
Ken spent some time trying to convince everyone that it was Dakota Johnson and sometimes it feels like he's trying to come up with the most obnoxious guesses he can.
As for Twitter, there is one name gaining more and more momentum, and we find ourselves hearing it when she performs as well. Could this be former Black Eyed Pea — who did perform at the Super Bowl, for the record — Fergie? There is still a little support being Bishop Briggs, but Fergie is definitely pulling ahead.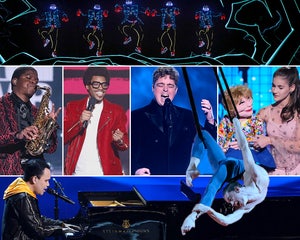 AGT All-Stars Performance Finale 5th Judge: Best of the Best Try to Take Down Kodi Lee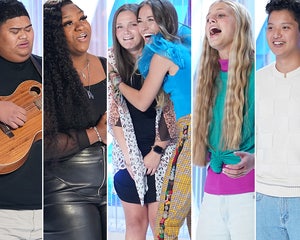 American Idol Premiere 5th Judge: Heartbreaking Willie Spence Tribute, Lauren Daigle Surprise
NIGHT OWL
Unable to render YouTube Video.
("Fernando," ABBA) Night Owl definitely commanded this performance like someone who knows what they're doing. But she also had a bit of a timid response as if she's perhaps been away from doing this for a while, or even surprised herself by getting in her nerves a bit. She has a nice tone to her voice with a pleasant vibrato. She didn't do a lot of tricks, but it was still strong.
Guesses: She talked about being the teen pop princess that paved the way for big stars like Britney, Christina and even our own Nicole, which always makes us think of the big '80s teen queen Debbie Gibson, and we could hear it, too. She talked about topping the charts at only 17 years old and breaking records which Debbie totally did.
One of those records spinning on a turntable in the clue package was titled, "ZzZzZz." She also wore a snake around her neck, which seemed another nod to Britney's iconic VMAs performance (but could mean more than that). There was also a lot of emphasis on "Long Island"-labeled iced teas.
She showed an hourglass while talking about how she'd been wanting to do the show for ages but could never get the stars to align, until literally 24 hours before this appearance. Talk about commitment, putting together this costume and performance in such a short time! We probably shouldn't be surprised as she said she's a triple threat known also for her TV, movie and Broadway appearances.
A kid dressed as Napoleon, and totally in character, strolled out with the "celebrity" clue, which was Bubble Gum. "If you're feeling blue, give this a chew," Night Owl said in response. "It's sweet and bubbly, just like me."
Jenny was all over this one with pop princess, bubble gum pop music of the '80s and all those "Zs" on the track leading her to, "Only in My Dreams" and Long Island native Debbie Gibson. She was picking up what we were putting down, as was Nicole.
But not entirely, as she emphasized there were more clues, like, "Straight Up. Now tell me, Do you really wanna love me forever?" Is it Paula Abdul? No, because Paula is much more petite. She was also throwing out Belinda Carlisle or Martika, "I have no idea."
Robin, though went across the pond to a multi-talented star who's definitely more known in the UK and AU but has broken big here and there in the US throughout her storied career, Kylie Minogue. Yes, the OG Kylie! Could she be the OG pop princess?
We must have heard things clearer through the television than most of the panel (except Jenny) because the internet toyed slightly with Tiffany, but mostly got in line behind Debbie Gibson as the most likely voice behind the mask on super short notice. We also saw a few Kristin Chenoweth guesses, but she's even tinier than Paula!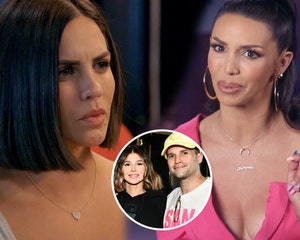 Katie Maloney Cusses Out 'Evil Little Troll' Scheana Shay for Pushing Tom-Raquel Hookup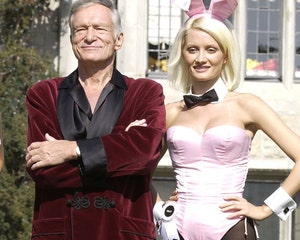 Holly Madison Says Hugh Hefner Shrugged Off Overdose Concerns Over Quaaludes
ROCK LOBSTER
Unable to render YouTube Video.
("SOS," ABBA) Rock Lobster was having an absolute blast up there, but not even trying to put together a good vocal performance. He was shouting and dramatically bouncing around the stage. It was like a bad impression of William Shatner's spoken word disasterpieces. He's clearly an entertainer or a "Jackass"-style reality star, but he's no singer.
Guesses: His penchant for elaborate pranks got him kicked out of three different schools, but he was finally able to turn his love for being weird into a career. Probably his most specific clue was that he used to be seen by 10 million people "on the daily" who watched him dance for 15 seconds.
He said that we'd seen him in movies and TV shows since we were kids (like a "Jackass" star) and that while he's still a neurotic mess — "especially recently" — he's made a career out of being uncomfortable, and he's ready to go out there and be uncomfortable again. In other words, he's ready to do this show.
Honestly, we were a little disappointed in this costume. It kind of reminded us of Nick's costume from a few seasons back, like it was hastily and lazily thrown together knowing it was probably going to only be worn once, so why put all that effort into it. Is that another negative impact of this terrible format these past two seasons?
As Rock Lobster declared, "I know who it is!" about himself, "Drag Queen" superstar Shangela brought out the latest clue, which was a gavel. "I'm a great judge of character," Rock Lobster said. "That's why I know these people have no idea who this character is."
Ken thought the scrubs in the clue package could be for "St. Elsewhere" and the gavel for "America's Got Talent," and maybe this was Howie Mandel? Jenny shut that down quick because Howie is too much of a germaphobe. Nicole was thinking maybe it was the manic Martin Short.
Robin, though, was on the same wavelength as us, thinking of the reality show "Doctor Steve-O" for the scrubs. Ken quickly jumped on that guess, with both of them thinking he had Steve-O's distinctive voice.
Social media wasn't quite as certain on this one, with quite a few people supporting the Howie Mandel idea, despite the germs, and more people making fun of the Martin Short guess. Plus, there were guesses for Alfonso Ribeiro, Ray Romano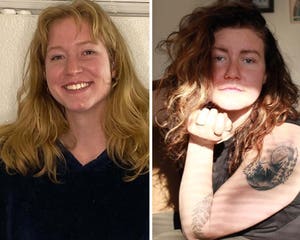 Sister Wives' Gwendlyn Brown Says Trans Sibling Leon Distancing From Family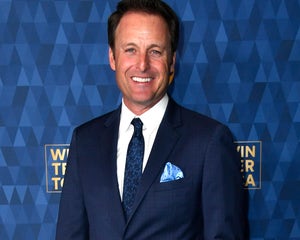 Chris Harrison on Bachelor Return Talks: 'Would Be Shocked If They Aren't Happening'
UNMASKING 3
Could anyone dethrone Medusa? Could Rock Lobster beat anyone? As entertaining as he was, it wasn't enough for us to think he or his lazy costume (was he holding up the pinchers so they wouldn't' fall off?) should survive this round. Yes, it was entertaining in a cringey sort of way, but not enough that we'd ever feel the need to hear him butcher another song.
Thankfully, the audience and panel spared us that indignity by voting Rock Lobster out of the competition. One "SOS" was enough, we didn't need to be shouting it ourselves! As hard as we're being on him, though, he was a very entertaining presence on the show and certainly appears to be an absolute blast in every way that isn't singing.
Robin Thicke: Steve-O
Jenny McCarthy: Martin Short
Ken Jeong: Howie Mandel
Nicole Scherzinger: Martin Short
Unable to render YouTube Video.
Full props to Ken Jeong for getting this one right. He tied the globe to "Bobby's World" and the playing cards to "Deal or No Deal" and was absolutely right that this was "America's Got Talent" judge Howie Mandel. He did a good job of masking his natural voice with that vocal attack. Nick, of course, used to host "AGT" so it was a sweet reunion for them.
Unable to render YouTube Video.
BATTLE ROYALE
Unable to render YouTube Video.
("The Winner Takes It All," ABBA) Medusa built to that bold, belting voice of hers just as expected. It's such a distinctive and rich tone, she really sounds like no one else. But we have to disagree with Nicole, in that she always sounds like herself, grit, growl and all. Night Owl gave a performance we could best describe as tastefully understated. It was gentler in the verse and even the chorus was big, but not brash like Medusa's take. Both were impressive in their own rights, but so very different.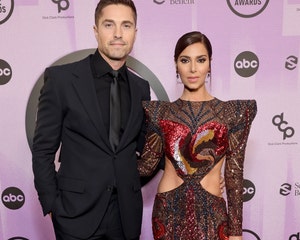 Roselyn Sanchez's Husband Addresses Backlash for 'Frankenstein Boob' Comments About Her Breast Lift
UNMASKING 4
Well, Medusa was given a run for her money this week in the Battle Royale. She wasn't as good a fit for ABBA as Night Owl. Both are such very different singers, too, some of it may well come down to personal preference as we can't say that one is a weaker singer.
By the end of the Battle Royale, we found ourselves feeling a little more drawn to what Night Owl was doing, so we'd probably give the edge to her. There's an almost desperation in what Medusa was bringing this week. It's strong and she's a great singer, but when it's down to details making the difference, we landed on Night Owl. But did the panel agree with us?
Or perhaps they'd sidestep the entire process by using their once-per-round new addition to the show this season, the all-new Ding Dong Keep It On Bell. Ultimately, they voted to again advance Medusa, sending Night Owl to elimination.
Robin Thicke: Kylie Minogue
Jenny McCarthy: Debbie Gibson
Ken Jeong: Sarah Jessica Parker
Nicole Scherzinger: Belinda Carlisle
Unable to render YouTube Video.
Jenny was still with us, tying the hourglass sand clue to Debbie Gibson performing as Sandy in "Grease." But were we right? Was anyone right? We were indeed right, as it was the OG of pop stardom from the '80s, Debbie Gibson.
Unable to render YouTube Video.
"The Masked Singer" returns for New York night next Wednesday at 8 p.m. ET on Fox.
Source: Read Full Article