It's no secret that white shoes stain easily, but using one of the best shoe protector sprays for white shoes will save you the headache of trying to salvage the white after the damage is already done.
When it comes to caring for white shoes, remember that prevention is key. Using a protectant is the quickest and easiest way to minimize the inevitable damage they'll face when you wear them outside — including scuffs, stains, and sun or water damage. Protectant sprays are particularly important for white-colored shoes that make dirt extra visible as well as those made with sensitive fabrics (think leather or suede).
They work by coating shoe fibers with a shielding outer layer that protects against weather and wear. Some are made specifically to prevent water damage or stains, while others are more apt to shield the fabric from color-fading UV rays. Keep in mind that some sprays are better suited for certain textures, so if you're planning to use yours on a finer fabric, make sure you choose an option that's safe for sensitive materials.
Here, I've rounded up the three best shoe protector sprays for white shoes. They're sure to keep your favorite white kicks looking vibrant and new — and they're all available on Amazon. Pick your favorite, below, then check out the best suede shoe cleaners to use beforehand.
1

The Best Shoe Protector Spray For White Shoes Made With Sensitive Fabrics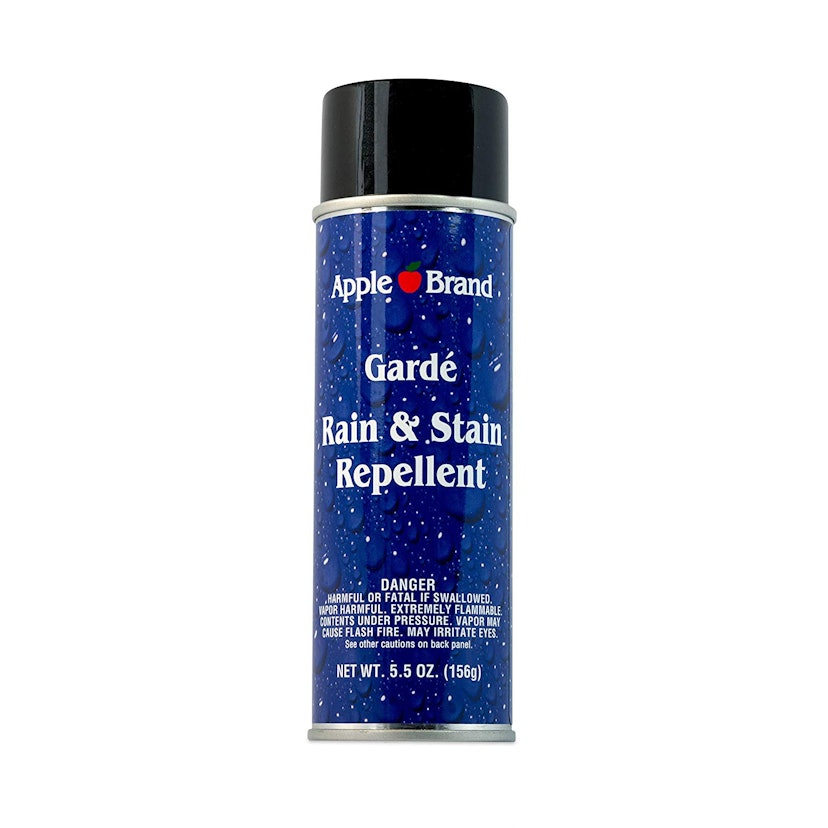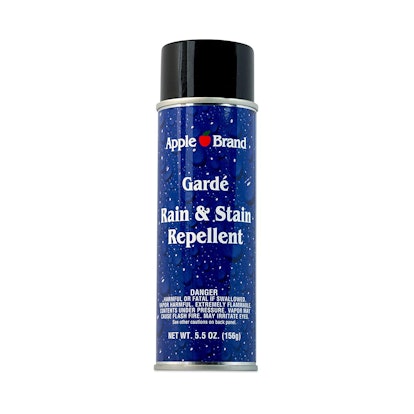 Apple Brand Garde Rain & Stain Repellent
$9
Amazon
Apple Brand Garde Rain & Stain Repellent is a versatile, quick-drying shoe protectant spray that's safe to use on sensitive fabrics and white colors. The 5.5-ounce can sprays an invisible protective coating that repels water and stains without affecting the color or texture of the material. Specifically known for its effectiveness on fine leather fabrics, this spray isn't just for shoes — it also works on other items, like purses and jackets, and is super easy to use. For best results, Amazon reviewers recommend spraying it from a distance (at least 9 inches away) and applying multiple light coats.
Need more convincing? One rave review reads: "I spray EVERYTHING with this spray and feel it protects well. I use it on shoes, purses, even beach bags. Makes everything repel dirt and clean up easier."
2

The Best Spray For White Sneakers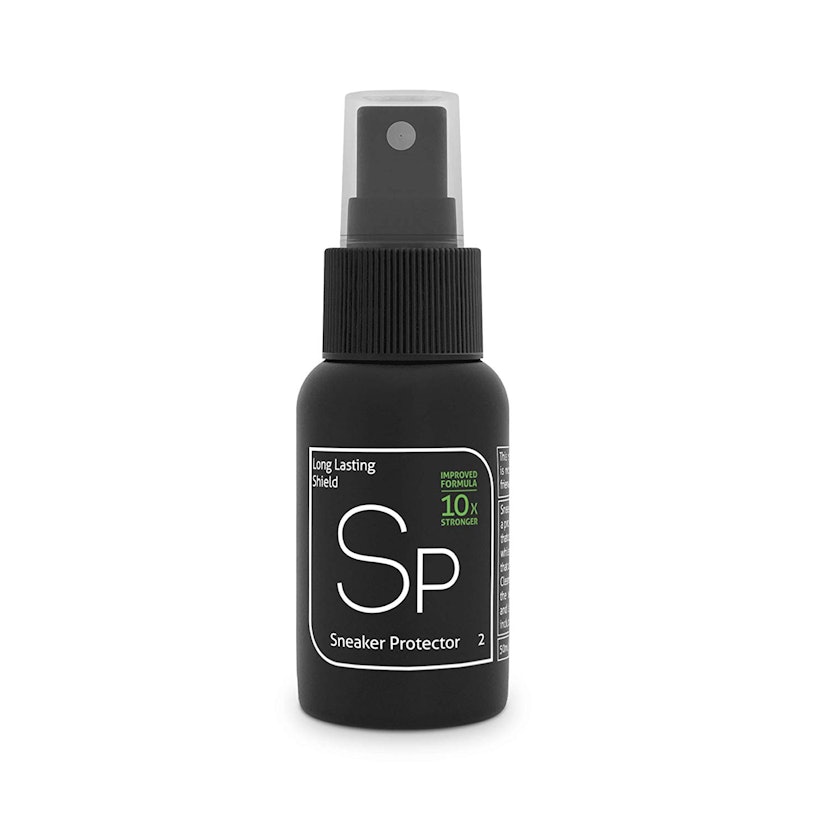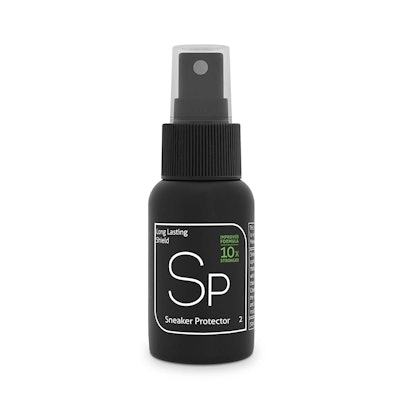 Sneaker Lab Shoe Protector Spray
$8
Amazon
Made with a unique, environmentally-friendly formula containing polymers and sunscreen, this shoe protector spray by Sneaker Lab prevents stains, water damage, and UV-related fading. It's safe to use on most materials including canvas, mesh, and knit. The travel-sized bottle (1.69 ounces), made with 100 percent recyclable plastic, is compact enough to throw in your bag and use whenever your shoes need some extra protection on the go.
"This stuff is amazing," wrote a satisfied Amazon reviewer. "Sprayed it on brand new shoes, let dry between coats. Shoes come out looking WHITE as they were before!"
3

The Best Waterproofing Spray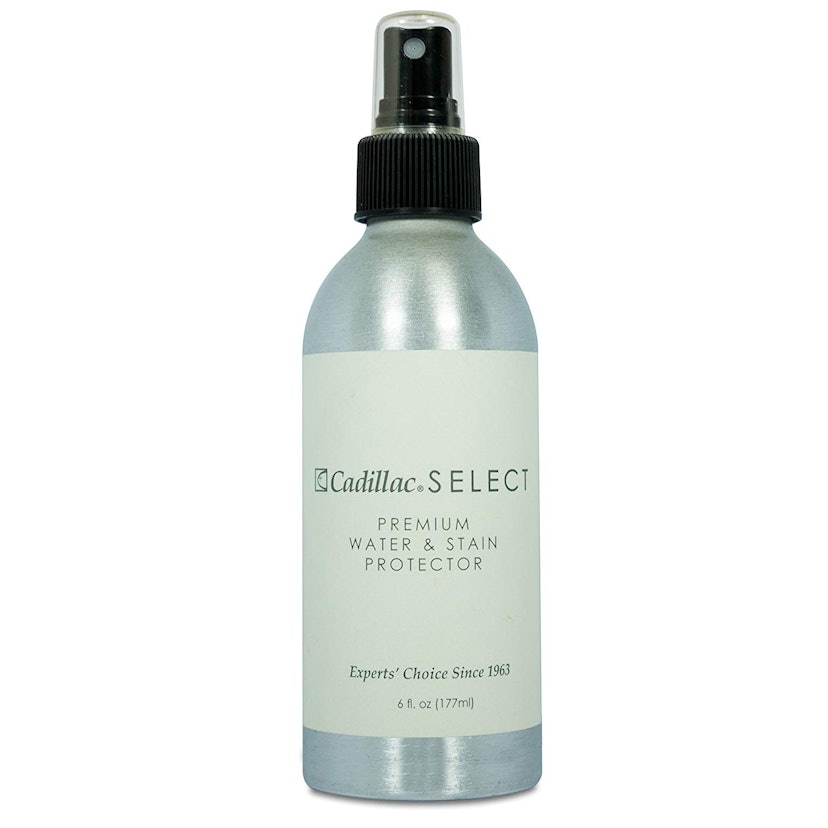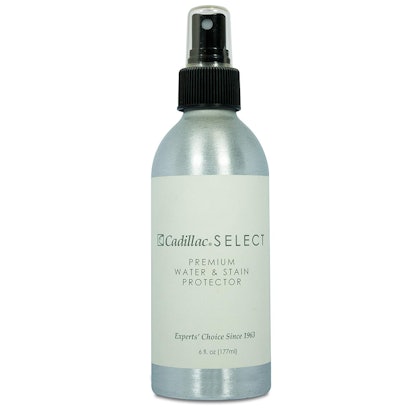 Cadillac Select Premium Waterproofing Spray
$15
Amazon
If you're specifically looking for a waterproofing spray to use on white shoes, Cadillac's Select spray is the best option. The breathable formula, available in a 6.6-ounce bottle, creates an outer barrier that repels liquid, simultaneously keeping your feet dry and protecting your shoes from potential water damage. Silicone-free and made in the U.S., this option doesn't contain harsh chemicals and won't leave behind any residue, so it's safe for use on any type of fabric. Cadillac has been creating top-quality leather and shoe care products for decades, so you can trust that this spray will work.
In an Amazon review, a fan, who used the spray on lighter-colored shoes, noted that it "worked great on all my winter boots, no discoloration or noticeable changes. Covered leather, fake leather, suede, and knit/canvas kinds of material."
Elite Daily may receive a portion of sales from products purchased from this article, which was created independently from Elite Daily's editorial and sales departments.
Source: Read Full Article