"Turn off your TV and phones for one month. Let's see how you feel. You don't get to watch any movies for a month, you don't get to watch any TV, you don't get to watch anything online."
Fair pay is at the heart of the Hollywood strike — that sees both the actors and writers unions boycotting major studios and streamers.
This sentiment was widely echoed when TooFab recently visited the picket lines outside of the Culver Studios in Culver City, California.
"I've done some streaming and I have a friend who had a major global hit on a streamer and I'm on my way back to my day job because I can't make enough money as an actor," said one picketing actor, Ana Rey.
"We need to get ahead of the curve and start establishing rules when it comes to AI because the fact that its coming is inevitable, but we need to make sure we have the proper guardrails when it comes to our jobs," she continued.
Actor John Starr also noted that, despite working since the '70s, little money comes from the residual checks that he earns nowadays.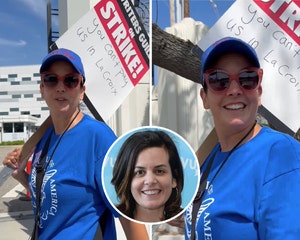 WGA Negotiating Committee Member Danielle Sanchez-Witzel On Hollywood Strike: 'We Are Having to Fight' (Exclusive)
"I joined SAG in 1975, almost 50 years. There are TV shows that I was in in the '70s, classic sitcoms, where I get residuals under a dollar," explained Starr. "50 years of those shows and that has never gone off the air."
While Nicole Ketchem, also an actor, notes that you do get paid "in the iconic ones", but adds that "in something that Ana's been in the last year or so, she's getting less than if she was in something 15 years ago."
"Everything is going to Hulu so darn fast," added Jessica Randle. "I mean, even Mandy Moore was talking about it, that huge huge show that was so recent, she was getting nothing on Hulu."
Starr also noted how the episodic television structure has changed with streaming.
"A streaming show has 10-episodes. When I was on All in the Family, we'd get 22 episodes in a year. A show that would play for 5 years on a network, each of those were doing 22-episodes," explained Starr.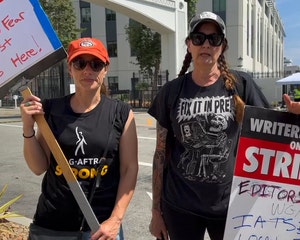 Post-Production Workers Join Actors and Writers in Hollywood Strike: 'We're All Losing Healthcare Benefits'
"You could be on a hit show on HBO Max or Amazon and they're doing 10 episodes over 3 years and those shows are done," he continued.
"The formats changed," added Randle "And we need to change along with it."
Ketchem also emphasized that it's not just "a gig job," but actor's livelihoods.
"This is something we learned to do, something we are trained for. Just like any professional where it takes you 8-10 years to finally break-in, it's the same with what we do," she said.
"We all have theater degrees," added Rey. "We didn't just stumble into it."
The group also noted that, despite their hard work, many actors have "a regular full time job" and they also note that Rey is "a semi-regular on two shows that are currently on-air," and she still has a day job.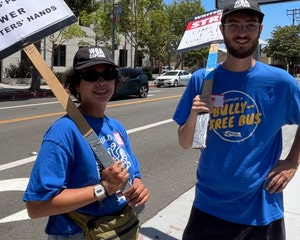 WGA Newcomers Reveal What It's Like to Strike Amid First Jobs (Exclusive)
"We are busting our ass for this job," said Randle. "We have been busting it for years, but to have a side job is a necessity."
The group had one last message for those who are still unsure about the strike.
"To everyone who doesn't understand the strike, I would say one thing to you," said Starr. "Turn off your TV and phones for one month. Let's see how you feel."
"You don't get to watch any movies for a month, you don't get to watch any TV, you don't get to watch anything online," continued Starr. "Stop telling us to stop."
"And you know who is getting paid?" added Ketchem. "The people you saw in Oppenheimer and the Barbie movie. Those people are getting paid."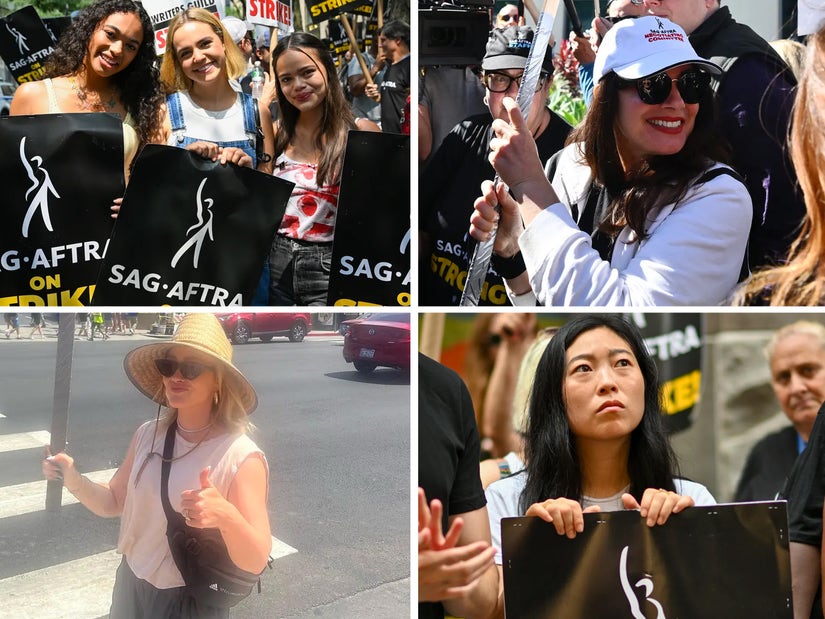 Source: Read Full Article