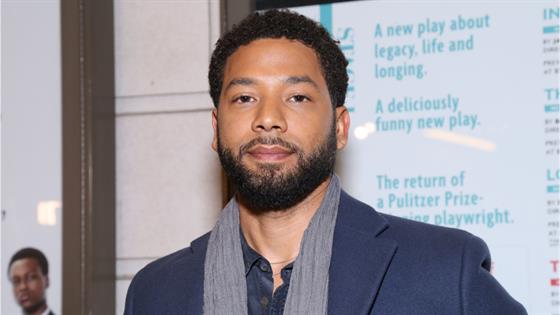 Jussie Smollett's friends and co-stars are calling for justice.
Earlier this morning, E! News learned that the 35-year-old Empire star was the victim of a possible racially-charged assault and battery in Chicago.
According to police, two suspects began to batter the actor and poured an unknown chemical substance on him. During the attack, one of the offenders also wrapped a rope around Jussie's neck.
While Jussie's team is staying quiet, many close friends and co-stars are speaking out and showing their support for the actor.
"I'm just now hearing the news about the senseless hate attack on my #EMPiRE Nephew @JussieSmollett," Vivica A. Fox shared on Twitter. "IM SO ANGRY AND HURT ABOUT THIS! THIS MUST STOP!! SPREAD LOVE NOT HATE! PRAYERS UP TO U NEPHEW!"
Danielle Brooks added, "They can try to break you physically, but they can't break your spirit. To my friend @jussiesmollett , I love you King. I am praying for you and your family. This is reality. America we must do better."
They aren't the only famous faces speaking out. See what other stars are sharing on social media below.
View this post on Instagram
We got this @jussiesmollett ?????
A post shared by Lee Daniels (@theoriginalbigdaddy) on
View this post on Instagram
Woke up to the sad & devastating news of my dear friend @jussiesmollett being the victim of a homophobic attack by two ignorant, racist, disgusting individuals in Chicago. Those of you that know Jussie know that he is one of the sweetest, kindest, most giving & most loving human beings on the planet. No one deserves what happened to him! I am shocked, devastated and heartbroken. Please pray for him and his family. Pray hard for his speedy recovery. I am so angry that this happened to him. Why? #stopthehate #prayforjussie
A post shared by Cynthia Bailey (@cynthiabailey10) on
Chicago Police asks anyone who has information on the incident to please contact Area Central Detectives at 312-747-8382 or report it anonymously to www.cpdtip.com.
"We are deeply saddened and outraged to learn that a member of our EMPIRE family, Jussie Smollett, was viciously attacked last night. We send our love to Jussie, who is resilient and strong, and we will work with law enforcement to bring these perpetrators to justice," 20th Century Fox and Fox entertainment said in a statement. "The entire studio, network and production stands united in the face of any despicable act of violence and hate—and especially against one of our own."
Our thoughts and prayers are with Jussie and his family during his recovery.
Don't miss E! News every weeknight at 7, only on E!
Source: Read Full Article