Shoving lobsters into your purse after a clambake may be a little odd, but Ramona Singer from The Real Housewives of New York City didn't want to see the expensive fare go to waste. Or maybe she was just super hungry.
Either way, Singer made quite an impression during a recent episode. She asked hostess Barbara Kavovit if she could take a plate to Dorinda Medley, who was uninvited from the shindig. Although Kavovit told her it was fine to bring Medley a plate, Singer took it as an open invitation to bring home multiple (heaping) plates.
This is going to become a meme
There is no way this incident could go unnoticed in meme-land. Upon being told to bring Medley a plate, Singer and partner in crime, Sonja Morgan staged a covert operation to extract as many lobsters from the party as possible.
Operation "Lobster Removal" went into effect. Morgan first drops this bomb on the hostess. "Hate to eat and run," she says. Kavovit seems annoyed. "You are not going anywhere," she jokes. Meanwhile, Morgan says she's going to get a to-go box for Medley.
Out comes the bucket of lobsters and Morgan is ready to load up her pretty white dress with food. Singer stands by with a plate-o-lobster and says, "Ok so this is what I'm going to take and we're good."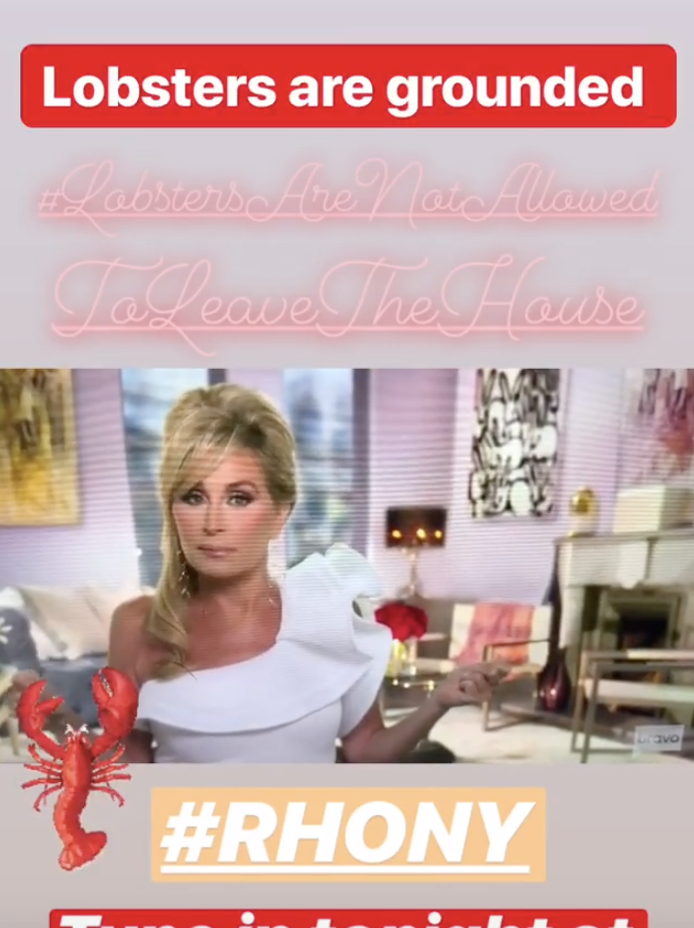 Meanwhile, Morgan is running a side game
"Oh is that for Dorinda," Morgan observes as Singer walks by with the pile of lobsters. "It's for all of us," Singer says. Even though dinner was being served at the party.
Morgan says, "OK, I get it, I'll get the second plate now. You got the fish and then I'll get the steak." Gigantic steaks are the table too. "Do you eat meat," Morgan asks Tinsley Mortimer. "We're taking our 'to-go's.' Is that rude?"
Mortimer immediately says it is rude to be taking food. "That's so rude," Mortimer says. She cringes and says she's not really sure about this. "I only feel comfortable taking a doggy bag home," Mortimer says in a confessional interview. "When I'm actually bringing it for my dog. This feels rude to me." The camera flashes to show Singer stuffing her handbag with lobsters in the kitchen. She adds it also seems rude to be taking food from the party when they'd only been there for 30 minutes.
View this post on Instagram
Tough conversation coming from a good place. Consuming as many clams as possible while doing it. #RHONY #BravoTV
A post shared by Sonja Morgan (@sonjatmorgan) on
Is it rude?
According to Antoni Porowski, the food and wine expert from Queer Eye, guests should hang around longer than 30 minutes before taking food home. "You have to stay at least 30 minutes," he said during an appearance with Morgan on Watch What Happens Live. Morgan insisted they stayed for just 30 minutes and then left.
Some agree that a doggy bag, especially if you leave the party early is just downright tacky. "It is very tacky to tote someone's leftovers out the door at their function," a person commented on a story about leftovers after a dinner party. "The host may have late guests and it is embarrassing to have to say 'thanks for the gift you brought me but sorry all the food is gone.' The host is usually hosting and doesn't get to eat. The host may decide to serve their own family the leftovers the next day considering they paid for the food. The food is for the party. The party is not a grocery store. Go buy and cook your own food for later."
Luann de Lesseps probably agreed. When she learned some of her friends were taking their dinner to-go, she reminded everyone that Kavovit brought in all this beautiful food. Meanwhile, Mortimer looks extremely uncomfortable. She mentions to de Lesseps that they didn't want to leave Medley alone, but de Lesseps was not about that. "They get no food," de Lesseps says. But Morgan has the final word. "I'm not leaving lobsters," she says in a confessional interview. "That's who I am."
Check out The Cheat Sheet on Facebook!
Source: Read Full Article