"No, I need to see her underwear. Otherwise why is anybody coming to watch this movie?"
Priyanka Chopra is not holding back about her Bollywood days.
In a recent interview with The Zoe Report the actress recalled quitting a project two decades ago over the alleged behavior of a director.
"This may have been 2002 or '03," Chopra began, and explained she was playing a character who was undercover.
Waiting for your permission to load the Instagram Media.
Instagram Media Unavailable
"I'm undercover, I'm seducing the guy — obviously that's what girls do when they're undercover," she said, describing the scene. "But I'm seducing the guy and you have to take off one piece of clothing [at a time]. I wanted to layer up."
"The filmmaker was like, 'No, I need to see her underwear. Otherwise why is anybody coming to watch this movie?'" she recalled of the incident.
"He didn't say it to me," she added. "He said it to the stylist in front of me. It was such a dehumanizing moment."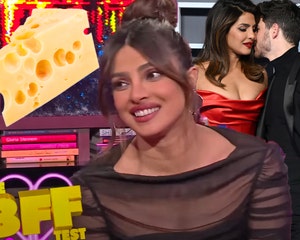 Priyanka Chopra Talks Sex on First Date, Oral Or Cheese, and Giving Fake Numbers
Chopra did not name the director or the project.
"It was a feeling of, 'I'm nothing else outside of how I can be used, my art is not important, what I contribute is not important,'" she continued, explaining how it made her feel at the time.
Finally, after only two days on the project she quit. "I just couldn't look at him every day," she said of why she walked away.
However, following urging from her dad, Chopra said she actually paid the production back for what they may have spent on her.
In the same interview she spoke about life with Nick Jonas and their 18-month-old baby Malti — as well as what it's like living in their palatial 20,000-square-foot mansion — which you can read more about here.

Source: Read Full Article