She revealed how she allegedly caught her stepdad — who's been in her life since she was 11 — as well as exposed some of his requests for her "naughty site" and his reaction when confronted.
In a video viewed more than 1.7 million times on TikTok, an OnlyFans model from Australia claimed she caught her own stepdad spending money on requests for her "naughty website" — and "ruined" her mother's marriage by exposing him.
The Newcastle woman, who goes by Tai on social media and claims to be in the top 0% of OnlyFans creators, shared her truly wild ordeal in a collection of videos posted this week to TikTok.
"I ruined my mom's marriage. I never planned on telling this story on TikTok but here we are," she began in her first post. "So when I first started my website, I had this customer who was my #1 customer, bought every single thing I sent him, he was pretty much a follower since the beginning."
Waiting for your permission to load TikTok Post.
TikTok Post Unavailable
She said the two would "talk every day" and claimed he also made a lot of "custom requests" — spending around $2,000 in Australian currency on her over a two-months span of time. She noted he allegedly had a "very specific user name" on her OnlyFans and later realized someone with the exact same name had been viewing her videos on TikTok. On TikTok, this same username was tagged as also being "From your contacts," meaning the account was tied to a number already in her phone.
"I went absolutely mental trying to figure out who this person was from my contacts, I narrowed it down to six people and one of them was my stepdad," said Tai. "I went with my gut feeling and messaged the website account and I said, 'I know who this is,' and within two minutes got a text message from my stepdad saying, 'Hey Tai, let's talk.'"
Screenshots of her alleged correspondences with her stepfather shared to The Daily Telegraph appear to show him first messaging her on OnlyFans to complain about her raising prices for videos on the NSFW site — saying, "I love your videos but won't buy much at that rate." She followed that up with a message saying, "I know who you are," before telling him he shouldn't have looked at her TikTok page and suggesting he tell her mother about the situation before she did herself.
According to the same screenshots, it appears he then started to text her, asking whether she was free to talk. She said she wasn't and told him to "speak to mum." When asked whether they could talk before he talked to his wife, she said, "I'm not speaking to you … call mum or I'm telling her right now." He allegedly responded saying he would "talk to her."
Waiting for your permission to load TikTok Post.
TikTok Post Unavailable
In a followup video, she reacted to anyone thinking she "could have made content" involving a "stepdad fantasy" by explaining he had been part of her life since she was just 11 years old.
"When I caught him, he denied it to all of his friends and obviously my mom got rid of him straight away," she continued. "If you want to talk about family trauma, my stepdad watched me have s-e-x- with my partner for two months."
In a third post (below), she also revealed some of his alleged requests on her "naughty site," claiming he always wanted to see photos of whatever underwear she was wearing each day. Tai said he also specifically requested that whenever she made "solo content" at home that she "would not do it in the bathroom or the shower," but on her bed or on the bedroom floor.
"Mind you, he had access to this room every single day," she added, noting that he also helped with washing clothes at home — which included "said underwear" from his requests.
Waiting for your permission to load TikTok Post.
TikTok Post Unavailable
Speaking with The Daily Telegraph after her initial video started to go viral, she explained that her stepdad "was out of the family home within days and nobody was in contact with him" after that.
"He is blocked from my pages on all platforms and I have not heard from him since the day I called him out," she added. "He wouldn't even come into the house to collect his belongings while I was there."
While she captioned her first post "How My Site Ruined My Mums Marriage," many of her followers were quick to point out that he was the one to blame, if everything she said was true. "You didn't ruin your mom's marriage, though. He did," read one popular comment.
When another joked, "at least stepdad was supporting you in your dreams and aspirations!" she responded, "My biggest fan X."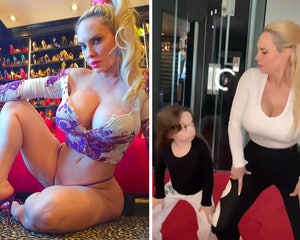 Coco Austin Poses in Thong & Promotes OnlyFans After Backlash Over TikTok with Daughter
Source: Read Full Article