I can't believe I'm saying this, but I feel like I've been waiting for Nick Jonas' wedding my whole life. The young pop star just married actress Priyanka Chopra in an Indian ceremony (their first of two wedding ceremonies) and it's surely one of the most beautiful weddings of all time. Fans are obviously living for the details. After a fairly quick engagement, Chopra is officially Mrs. Jonas (I mean, maybe, she might not change her name) and I simultaneously can and can not believe it. Nick Jonas and Chopra Priyanka's Indian wedding ceremony will make you want to pack your bags and head to India to get hitched ASAP.
Jonas and Chopra have been an official item since they announced their relationship in May 2018, but they certainly sparked dating rumors a year prior to that when they stepped out on the 2017 Met Gala red carpet together. Shortly after fans were catching up, Jonas popped the question. Chopra first posted a photo rocking her engagement ring in August, though it's speculated he asked her to be his wife sometime in June.
Fast-forward to December, and the pair finally sealed the deal. Following a Christian ceremony on Saturday, Dec. 1, Chopra and Jonas' Indian wedding ceremony took place on Dec. 2 at Umaid Bhawan Palace in Jodhpur, Rajasthan, per People. Taking a cue from brightly colored Mehendi and Sangeet party looks, Chopra wore a red sari and Jonas donned a traditional outfit and turban, per the mag.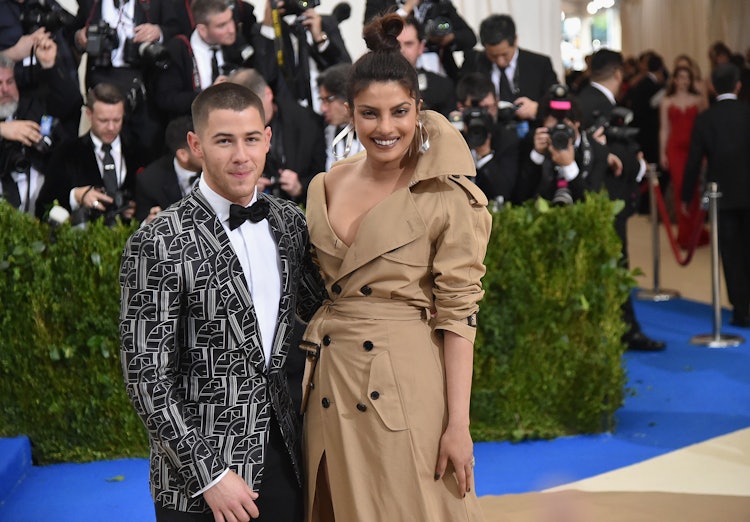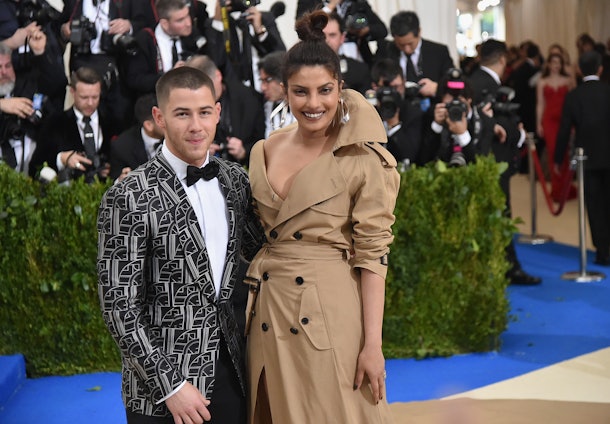 Previously, it was revealed Jonas and his parents traveled to Mumbai to participate in a roka — a traditional Indian ceremony which marks the union of the bride and grooms family. In August, Chopra's mother, Madhu, told DNA India there was no rush to schedule the official wedding. She said, "It's too soon… Both of them have work commitments right now which they need to finish. They will take some time to decide where they want it and when they want it."
Madhu also seemed to have no concerns about her daughter jumping into an engagement with Jonas. "Nick is calm and mature. He's a wonderful person and everyone in the family just loves him. He's so polite and respectful towards elders," she said. "What more can a mother want!" Jonas also talked about the special occasion during an appearance on
As it turns out, Madhu was due for her new son-in-law sooner than she thought. In October, a source revealed to Entertainment Tonight Chopra had already been planning the wedding "for a couple of months." At that time, the insider claimed, "Priyanka and Nick are ready to tie the knot sooner than later. The couple has had an accelerated relationship, and are very comfortable with one another… Priyanka and Nick are on the same page about wanting to get married earlier rather than later, and are telling friends it will most likely be next year."
LOL, next was apparently too long to wait for these two.
More to come.
Source: Read Full Article